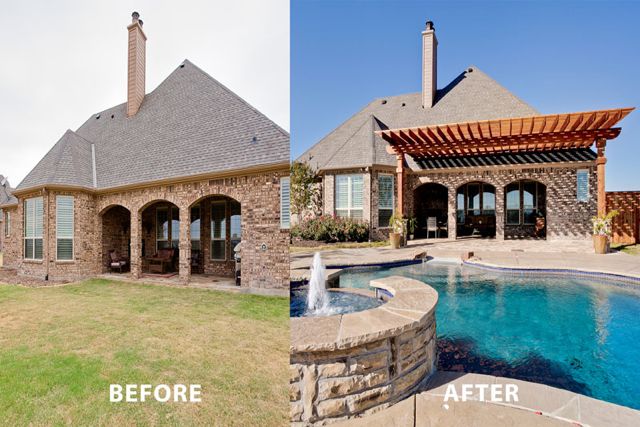 Summer is a great time to spend outdoors. With a little fresh air and Vitamin D from the sun, our bodies — and our dispositions — just seem to be better.
With the right outdoor living space, getting some much-needed outdoor time is so much easier. If your outdoor living space leaves something to be desired, then give it the face-lift it deserves before winter rears its ugly head.
Add A Pool
The addition of a swimming pool can increase a homes value by around eight percent, according to the National Association of Realtors, especially if other homes in the area have backyard pools. In fact, except for a small percentage of families who have small children (and would therefore consider a pool a hazard rather than an amenity), most families view a pool in their outdoor living area as one of the best places to relax and have fun around the home. You could even see as much as 50 percent of its initial cost returned should you decide to sell.
Build A Fence
Swimming pool dangers can be greatly reduced by surrounding it with a fence. This fence should be locked when not in use and positioned away from the back door of your home to create optimum safety.
By having a fence professionally installed around your pool or outdoor living space, your property will be safer and more beautiful, especially when installed as a part of an overall landscaping design.
Improve Landscaping
Adding ponds, shade trees and flower patches throughout your outdoor living space is a great way to add immediate appeal to your home. Carefully planned paths and permanent sitting areas, fire pits or dining areas are all great investments for your outdoor living space and will increase your home's value for many years to come.
Add A Kitchen
Weatherproof kitchen areas are great for entertaining. They not only make it possible for everyone at the party to stay together (as opposed to being split between the outdoors and the kitchen inside), but can also help reduce your summer cooling bill by keeping your cook top's heat outdoors where it belongs.
If you plan on installing an outdoor kitchen, first decide on what you would like to include. For a small-scale cook area, a grill and small counter top may be all that is required. If you would like to significantly improve your home's resale value, however, the addition of a refrigerator and sink could make the area qualify as a second kitchen thus increasing the value of the property. Just how much value it will add, however, largely depends on the real estate market at the time of sale.
Arbor or Covered Patio
In the heat of the summer, having ample shade outdoors is vital to comfort. When planning your outdoor living space, remember to include shaded areas in the form of an arbor or covered patio. You can even go so far as to add lighting or a ceiling fan.
Spending time outdoors is great for so many things, and having a relaxing place to do so will only make it better. If you would like to improve your outdoor living area, consider some of these outdoor projects this summer.
Together with your contractor, you can plan your ideal outdoor living space and attack it all at once or work in phases until the job is complete, because with all of the be hustle and bustle of life, sometimes the best medicine is a little fresh air and warm sun to remind you how important it is to stop sometimes just to smell the roses.
For more information on how DFW Improved can help with your outdoor living project, request an estimate online or call us at 972-377-7600 today!