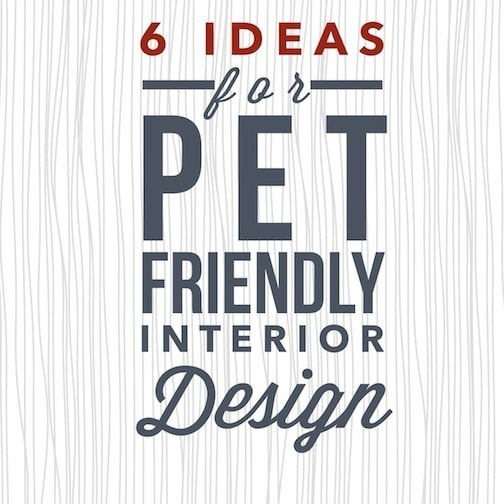 When you genuinely care about your pet's happiness and safety, pet friendly interior design becomes just as important as designing for your own comfort and tastes. Because many pet friendly remodeling upgrades make the job of caring for your dog or cat easier, these design options have benefits for both of you.
1. Gain Greater Freedom With a Pet Door
Adding a pet door is one of the easiest and most budget-friendly things you can do to improve your pet's quality of live. That's to say nothing of the trouble it will save you when you no longer have to let your pet in and out all throughout day.
A pet door can be installed in a door or wall. Look for an energy efficient model with an airtight seal to keep out wind and bugs. If you have pets of different sizes, you'll need to size the door to be high enough for the largest to fit through, yet low enough to the ground for the smallest to step into.
2. Make Bath Time Easy With a Pet Shower
Instead of hauling your pooch into the kiddie pool or your bathtub to rinse off, consider building a pet shower. Ideal locations include the laundry room or garage. Premade units are available, but you can also build your own using a shower base, tiles, and fixtures such as a sink faucet and spray hose.
3. Give Your Dog Room to Run
The exercise space you build for your dog could be anything from a single kennel dog run to a fully-equipped agility course, depending on the available space and your dog's needs. For your dog's safety and comfort, choose concrete, rubber or specially designed kennel flooring pads for your run and kennel.
For a little extra bonding time with your dog, install jumps, tunnels, weave poles, and other agility equipment. Integrate your dog run into your pet friendly interior design by connecting the run directly to your house or garage so your dog can come in any time.
4. Choose Pet-Proof Flooring
This is one pet friendly interior design choice that's primarily for you. For floors that will look good for the long term, steer clear of carpets and opt for wood flooring or high-end linoleum with a light to medium scratch-resistant finish. If you want carpeting, choose a stain-resistant, non-toxic material. Installing high-priced flooring may not seem like a smart idea at first glance, but quality flooring is often easier to maintain.
5. Design Your Walls for Greater Convenience
Ease of cleaning is your first concern when choosing how to decorate your walls. Semi-gloss or satin wall paint is the easiest to clean without damaging the finish. Scrubbable paint is also available from some manufacturers. Paint designed for use in the kitchen and bath is often especially durable.
To get more use out of your walls, build a wall-mounted or built-in pet station organized to hold grooming supplies, toys, and other essentials.
6. Hide That Litter Box
As important as the litter box is, it can really detract from your carefully planned interior design. To keep the box accessible to your cat yet of sight, consider enhancing your pet-friendly interior design with a litter box cabinet. Attractive pieces of furniture on the outside, these cabinets hide a cat door and space for the litter box inside.
Whether you are working on a custom home design or getting ready to remodel, keeping pet friendly interior design in mind from the beginning will make your home more enjoyable for both you and your furry friends.
If you are interested in a custom remodel that will benefit both you and your furry family members, give DFW Improved a call at 972-377-7600 today!