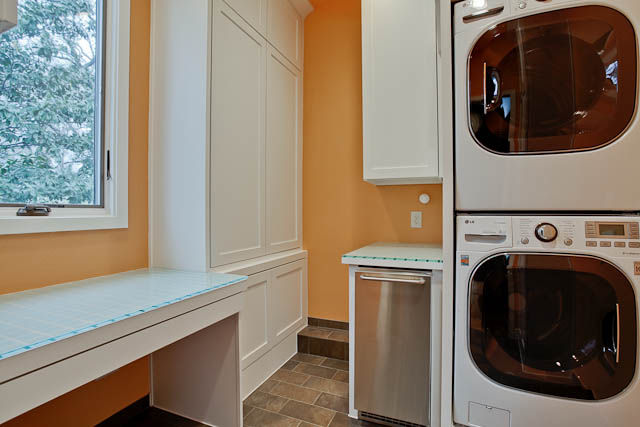 Even though it's frequently overlooked when it comes to home design or re-design, the laundry room is a fairly important space. Laundry is one of those never ending chores that we all wish we didn't have to think about, so it's nice to have a clean, organized, and pleasant space to perform this never ending task. If you're thinking of a remodel to the utility area in your house, here are some laundry room ideas to consider that will make doing laundry less of a chore.
1. Laundry Chute. This is a great option to streamline the laundry doing process. The laundry chute can be installed in a bedroom, bathroom, or even with a discreet door in a hallway, as long as it's directly above the laundry/utility room. A laundry chute is a great way to get all your laundry right where it needs to be when it needs to be there. No more hauling a cumbersome basket downstairs, and the laundry is always right there when you're downstairs working, making it a lot easier to throw a load in when it's convenient.
2. Laundry Room Sink. When considering laundry room ideas for a remodel or redesign, a popular choice is a laundry room sink. It's a great addition for soaking and pre-treating stains so you don't have to haul wet laundry from the kitchen or bathroom to the laundry area. It's also a relatively easy addition since plumbing is already piped in for the washer.
3. Custom Cabinetry. This is a great way to organize the laundry room space as well as being aesthetically pleasing. Adding cabinets can give you storage space for supplies, as well as tucking the washer and dryer out of sight when not in use. There is a great deal you can do with custom cabinets: drying racks, shelving, storage, and much more.
4. Counter Space. As well as installing cabinets and shelving, adding counter space for a work area is one of the laundry room ideas that can really make a difference when it comes time to do laundry. This can include giving you a folding area for getting clothes folded and organized promptly out of the dryer, as well as an ironing area for pressing. Setting up the space carefully can give you a designated area for every stage of the laundry process, making this necessary chore a little less onerous.
5. Durable Floors. If you have a dedicated laundry room, it is fairly easy to turn it into a multi-purpose area. When people are thinking of laundry room ideas they often like the room to double as a mud room or pet area. Including a durable floor material will give better protection in case of a washer leak, hold up to higher foot traffic of kids and pets, and be easier to clean and maintain.
6. Efficient Use of Space. When space is a concern, your laundry room ideas have to take into account the limited space, making organization and efficiency essential. Consider stacking your washer and dryer to maximize your space for storage or shelf space. If you have no space for a counter, install one over your side-by-side washer and dryer for a folding station.
Are you feeling inspired? Contact DFW Improved today to see how we can help implement your laundry room ideas. Click here to request an estimate, or you can reach us at 972-377-7600.