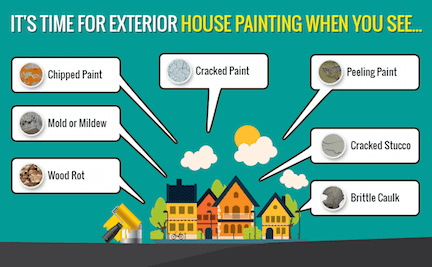 Preparing your home for exterior painting is far more important than either the paint or the painters. This is because the most expensive paint and most diligent professional house painters cannot overcome a poorly prepared surface. Even a modestly priced paint, however, can give your home a welcome facelift when applied to a clean, dull, dry surface. Get your home ready for the professional exterior painting contractors with these seven steps.
1. Know Your Exterior Material
Your home may be sided with wood clapboards, aluminum, vinyl, or a harder material like brick or stucco. You may have vertical board-and-batten wood siding, or wood above brick foundations. Your home may have a mix of materials if it has been expanded over the years. Trim may be wood, vinyl, or extruded foam with fiberglass or other plastic as an overlay.
Survey your home's exterior and trim. Examine the sunny facades and notice how they have aged differently from the northern exposures. Is existing paint chipping, crazing, or peeling? Have nails popped? On aluminum siding, is the color turning chalky and pale, so that you can brush it off with your hand?
2. Gather Your Tools
Cleaning your home's exterior in preparation for exterior painting is mostly muscle work. As tempting as power washers may be, your best results come from scrubbing by hand. This is because power washers in the hands of an inexperienced amateur can force water up and under siding in particular, where moisture stay in your home's walls. This can lead to mold and mildew.
At a minimum, each person helping to clean your house (the more helpers, the better) will need:
Bucket and water
Cleaning agent—the best overall cleaner is trisodium phosphate, or TSP
Putty knife—these come in both flexible and stiff models, in different widths; having a variety is best
Sandpaper, sanding block, or power sander
Scrub brush
Wire brush
Work gloves
For touching up problem areas after cleaning but before priming for exterior painting, you will need:
Caulk in tubes
Caulking gun
Exterior spackling compound
Hammer
Window glazing
You also need drop cloths, stakes, and ropes to protect plants.
3. Prepare the Ground
Clear away lawn debris from the foundation and walls. Use drop cloths and ropes to tie up and pull bushes or small trees away from your house. Stake the rope ends into your lawn. Use rakes to clear the ground so dirt and dust do not get stirred up and settle on the freshly painted walls.
4. Prepare the Exterior
Begin by giving your house a bath that includes a cleaning agent and gentle, thorough rinse. Wash and rinse at a downward angle to prevent water infiltrating behind the siding. The bath alone may be sufficient for aluminum or vinyl siding. For wood siding specifically, follow the bath with hand scraping and the wire brush. You may need to use a sander or electric paint remover to remove all loose paint.
5. Prepare the Trim
Follow the same steps to clean your trim prior to exterior painting. Consider removing your home's shutters to prevent their contrasting color from contaminating your home's walls as you clean. Remove any decorative metal, such as house numbers and light fixtures.
6. Clean Again
After brushing, scraping, or sanding off as much paint as possible, wash the surface a second time to leave it clean, dull (not shiny) and dry.
7. Prime
Discuss the best primer with your exterior painting contractor. Generally, prime with the opposite of your finish coat, so if you intend for the professionals to paint with high quality latex, prime with an oil base. Priming is essential for sealing the surface, preventing bleed-through, and providing a smooth, uniform base for the finish coat.
Does your home's interior need a facelift too? Click here for tips on choosing the perfect interior paint.