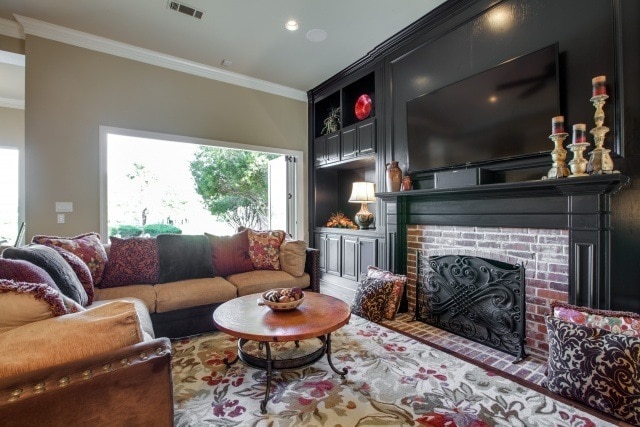 Whether you are looking to define a certain space in a room you have recently remodeled, spotlight your key accessories such as a piece of artwork, or accentuate an architectural feature, an accent wall can create a unique design element.
Color on an accent wall alone can make a bold statement, all without being overbearing. These accent wall ideas will help you in creating the perfect look for any of your rooms.
How To Pick the Best Wall
Accent wall ideas really aren't helpful unless you start with picking the right wall. The best accent wall is the one in the room that stands out. This is the wall that, for what ever reason, draws your attention. If you have trouble determining which wall is the focal point, ask a friend. Which ever wall they say their eyes focus on first is the winner. There are a few walls that will be easy to detect.
The wall with interesting architecture
A wall with a fireplace
The wall with your headboard
A wall with a nook
The wall that contains your bookcases
Picking the Right Colors for the Job
Generally, when it comes to the color, accent wall ideas usually deal with picking a color that is a few shades darker than the rest of the walls. If you want a more gentle contrast, this will do the trick. But, you can take it a step further. Pick bold, colorful shades that accentuate the space. This gives you the chance to add a color you really love but wouldn't use in a whole room. When picking your color ask yourself these questions. This will help you pick your accent wall color.
Will you enjoy accessories in that same color?
Will it work with the main wall color?
What is the most appealing color in your decor?
Painting Techniques
Some accent wall ideas include DIY faux finishes, wall coverings, stenciling, and other paint techniques. Just experiment on a small area of the wall before you commit to the technique. Here are a few accent wall ideas to help get your creative mind flowing.
Stenciling. When it comes to stenciling it's all up to you and your taste. One great idea is to paint the accent wall your choice color in a matte finish, then use your stencil with the same color in a gloss finish.
Murals. In some rooms, such as a nursery, murals can add the perfect touch to the accent wall.
Faux Finishes. Many different effects can be accomplished with paint and tools. Some faux finish techniques include dry-brushing, sponging, color washing and texture.
Wallpaper. Wallpaper is making a come back. As far as accent wall ideas go, pick a wallpaper that is the same color as your room. With wallpaper you are looking for the pattern to accentuate the accent wall.
Paneling. Installing a stained plywood or wood paneling can create the perfect accent wall.
Adding Details and Other Accessories
A key component when considering accent wall ideas is to keep your accessories in mind. There are a few other great accent wall ideas and tips that will help with accessories and the details of the accent wall.
Some of the accessories around your space should match the accent wall color.
When adding art work, make sure it "pops" rather than blending into the wall.
You don't have to add accessories to the accent wall, especially if there is a large focal point there already.
Too many clashing colors will take away from the color of the wall. Keep accessories on the accent wall the same color scheme.
As cliché as it sounds, the possibilities really are endless! You can go as far as your creativity and ingenuity will take you. As long as you end up with something you love, your mission has been accomplished.
Whether you are remodeling your current home or desire to build a new one, DFW Improved has the resources to create the accent walls and feature walls you desire to make your space unique! Click here to view our project gallery for ideas. If you are ready to get started on your project, request an estimate online or give us a call at 972-377-7600 today!