We're Celebrating ARC Awards 2012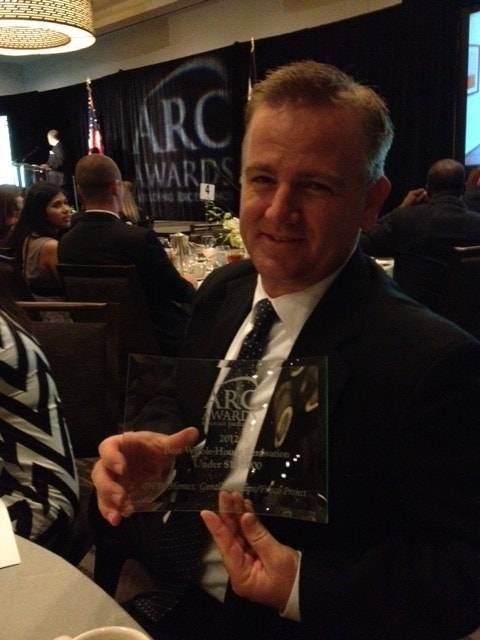 This past Saturday, August 18th, the Dallas Builders Association held their Annual Associates, Remodelers and Custom Builders Awards ceremony at The Westin Galleria Dallas. Everyone had a wonderful time and yielded great success for some of the DFW Improved team members – Ben Stewardson and Jason Bailey.
Ben was honored with the award of Best Whole House Renovation Under $100,000 for the Gerald Phillips residence. Jason Bailey was awarded the Employee of the Year award. Each of these gentlemen is very influential not only for DFW home builders and remodeling but also to DFW Improved and our clients. We thank you, Ben and Jason, for your continued value to our team, our clients and local homeowners.
The Dallas Builders Association, chartered in 1944, is a trade association representing all segments of the residential building industry in the Dallas Metropolitan area.
The ARC Awards were created for Associates, Remodelers and Custom Builders. The Dallas Builder Association recognizes areas of unique achievement in both custom building and renovation in approximately 60 different categories. DFW Homes by DFW Improved was proud to be considered with several nominations. We are proud of our team for helping us continue to serve our clients and win awards for doing so.
DFW Improved continues to lead the way with innovations in the home improvement and home construction industry. Our focus remains on designing, building and remodeling homes throughout the DFW area. DFW Improved continues to receive awards from major industry followers including Angie's List, Houzz, DIY Network, and others. Learn more about our Custom Homes, and visit us on Pinterest, Facebook, Twitter, and YouTube.