Bathroom Remodeling Design Trends of 2014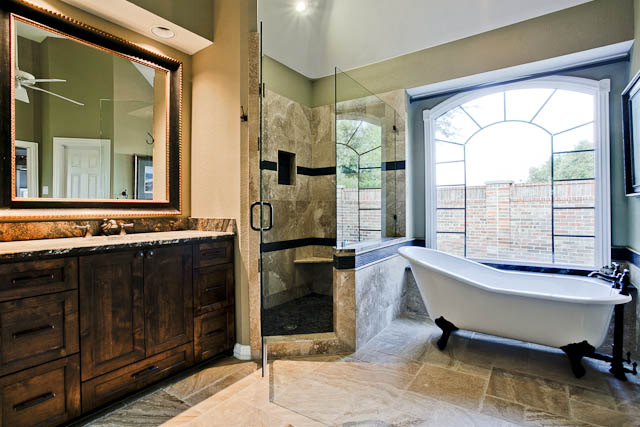 Bathroom remodeling is a scene that is evolving. New colors, new patterns, and new design trends are in constant change as old ones go out of fashion. If you're a homeowner or business owner with an active interest in investing in bathroom remodeling on your property, you'll want to stay abreast of the trends.
DFW Improved has design professionals that are part of the latest trends of interior design and uses of materials.
Some of the Latest Design Trends in Bathroom Renovation:
White and lighter color design trends are definitely in! If you're a lover of natural stones and granite, it's your turn to flaunt that love of all things natural. Accents of metallic, blacks and greys do a great job of keeping it grounded.

With regard to fixtures and lighting design trends, it's really still up to personal preference whether you would like to use antique brass, oil rubbed bronze, or brushed nickel. It seems, however, that brass is re-gaining popularity in the northern American states of late.

A seamless design is key. Flooring that flows right into the shower, offers a clean, beautiful approach; especially in smaller areas.
In 2014, designers are getting creative and using every square inch of space. From building in medicine cabinets and tub-side shelving, even integrating ledges for keeping useful items close at hand.
As always, vintage and one-of-a-kind pieces will make it your own. It's the curiosities that make a house a home!
Last but not least, there is a trend towards interchangeable and seasonal accents. Instead of settling on one fixed look, people are going for a more neutral base and using bigger impact accents to easily change out their decor.
These are some of the ideas for bathroom design that are topping the design trends blockbuster chart in the present-day home remodeling and renovation market. Use these ideas wisely to make sure your property's bathrooms are as up-to-date, modern, and sensational as they should be.
Check out some of our recent bathroom remodeling projects and do some dreaming of your own in our Ideas and Pictures Gallery. DFW Improved has professional partners that can make all your dreams come true.
For more information on today's bathroom remodeling design trends and other home remodeling services by DFW Improved, call us at 972-377-7600.