Choosing From All the Countertop Materials Available Today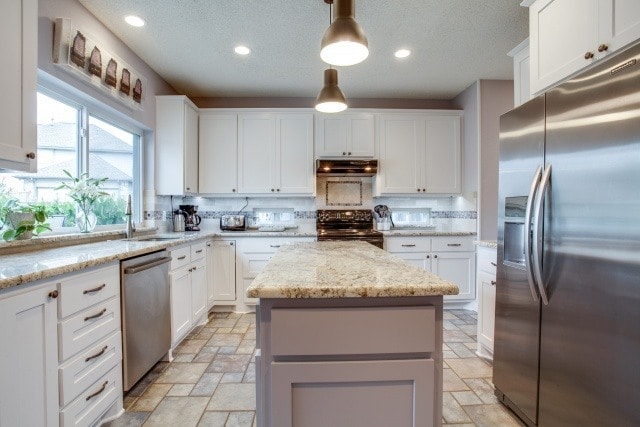 Choosing the right countertop material is one of the most important aspects to consider when you are remodeling your kitchen or bathroom. From Stainless Steel to Marble there are a number of different countertop material trends you should know about to find the right one for your home. Learn more about the Top 10 Countertop Materials we've seen trending lately.

1. Stainless Steel
Easy to clean and very trendy. Stainless steel is a sleek and modern countertop trend. Its popularity is easy to understand, as it's possible to get a perfectly matched kitchen when you choose stainless steel appliances as well. It is nearly indestructible, and resists heat and bacteria. The cons may be fingerprints and possible denting.
2. Recycled
This countertop trend appeals to the environmentally conscious. Using recycled fibers to create the composite materials that are used helps to keep them out of landfills while still providing an attractive and durable surface for food prep and serving.
3. Concrete
Another durable trend today – concrete countertops are a relatively new design trend that combines attractive materials with a high level of practicality. These attributes make concrete a popular material for kitchens.
4. Ceramic Tile
Ceramic tile provides you with the means to have a solid color countertop or one that is bursting with bright colors and patterns, making it one of the most popular countertop trends today. It stands up well against heat and sharp blades, and resists stains. If a tile or two chips or cracks, they're fairly easy to find and replace.
5. Filled Travertine
Available in different finishes, filled travertine enables you to design your kitchen with a fresh but rustic look that is both pleasing and whimsical.
6. Wood
Wood or Butcher Block as a countertop trend takes the ever popular wood cutting board concept and can apply to your entire countertop area or just a portion of it. Rich and warm, this material makes a kitchen feel cozy and like home. It works especially well in traditional, country and cottage-style kitchens.
7. Quartz
Quartz countertops come in a variety of different colors, and can add a sleek, polished and modern look to any kitchen. It is considered to be a great compromise between the beauty of stone and the easy care of solid surfacing.
8. Granite
Each piece of granite is unique, making this countertop trend ideal if you want a kitchen that is as unique as you are. Granite must be sealed every so often to avoid stains.
9. Solid Surface
Unlike some other countertop materials, solid surface countertops do not require sealing. This feature makes them relatively low maintenance and able to resist heat. Solid surface countertops are made primarily from acrylic and polyester (often referred to as Corian, but now there are many other brands).
10. Marble
Marble is unmistakably elegant. It stands up well to heat and is a favorite for those who love baking. However, marble can be very susceptible to scratching, chipping and stains, even after sealing. Many times it's used in one or two small areas.
DFW Improved can help you with the countertop trends that will fit your needs.
If you are in DFW area and would like to know more about countertop material trends, call us at 972-377-7600!