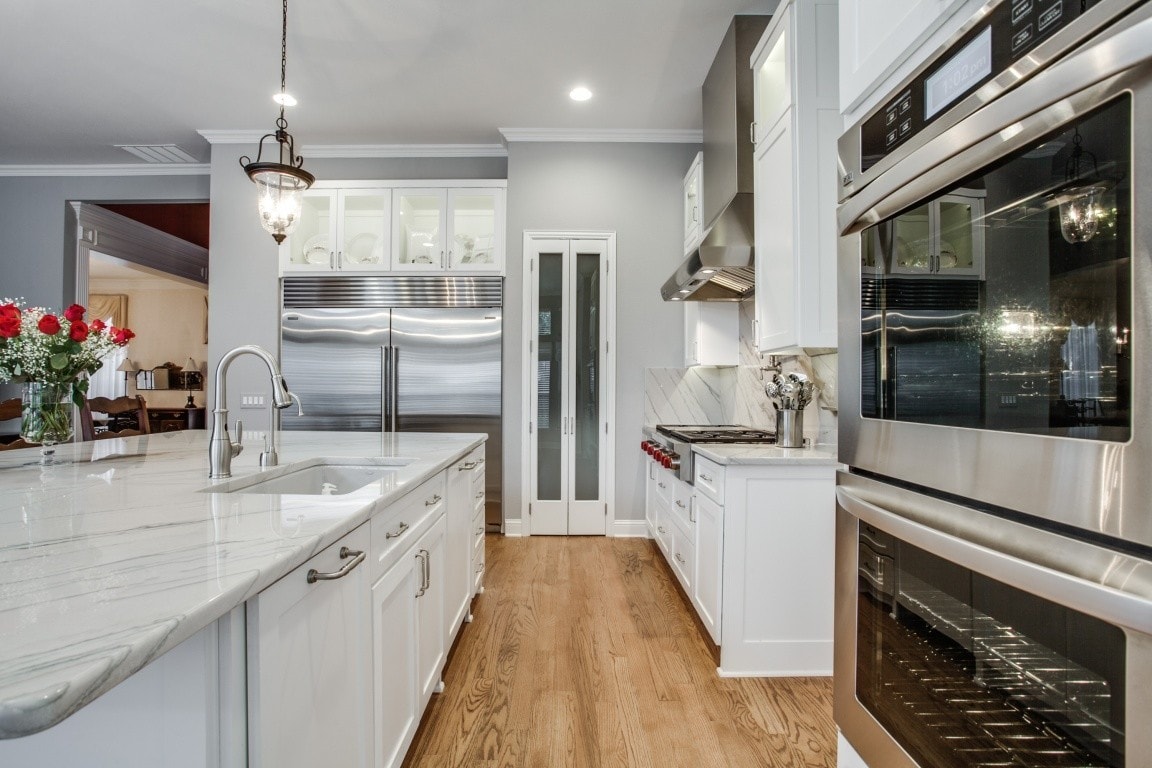 Are you tired of running after the latest home fashion trends? If you merely want to dip your toe into the waters of modern design, transitional design would be a great fit for your home remodel. The transitional style is a blend of traditional and contemporary furniture, finishes, and materials that work together to create a timeless design. This results in a simple yet sophisticated look.
Countertops in transitional kitchens can lend sleek, clean lines to your overall design. Furthermore, the trend is to take similar principles and elements from your transitional kitchen countertops into the rest of the home. It couldn't hurt to choose similar types of countertops for your bathrooms, laundry rooms, and wet bars.
Materials and Maintenance
Transitional kitchens are all about mixing and matching materials. Don't forget to do so with your countertops, too. For example, consider putting a butcher block top on your kitchen island and use granite for your remaining countertops to create a sleek, timeless look.
Granite countertops are generally easier to maintain since they naturally have a hard surface.
Beautiful Carrara marble is trending, and if sealed and maintained properly will not stain. However it can etch easily, making it more difficult to maintain than other surfaces. You will need a special paste that removes etching and polishes the marble to keep your countertop looking its best.
Butcher block is timeless. However, when sealed it can't be used for cutting and, if left unfinished, it can warp from excess water.
Concrete countertops give an artisan look to a transitional kitchen. They can be left in their natural color or they can be stained. Add seashells fragments or colored glass into the wet cement to design a custom, unique feature. Concrete is so durable that it may last a lifetime.
Colors and Patterns
Neutral colors in your kitchen lend to a classic look so your changes won't be outdated as quickly. Solid colors like white, light gray, or black will go with any kitchen. Busy, intricate patterns probably will not stand the test of time, so keep it simple.
Overhang
With a transitional design in your kitchen, you don't need to have the traditional countertops with an overhang. Save space and simplify your kitchen by installing countertops that are flush with the cabinets below. However, clean up may be a bit tricky, since an overhang usually exists to keep spills from dripping down to lower cabinets and drawers. Dura Supreme Cabinetry explains that, "With transitional design being such a popular look, some designers and homeowners are opting for countertops with no overhangs, to emphasize the flush, sleek design. This can be a stunning look as long as the homeowner is aware of the disadvantage of not having an overhang and is willing to sacrifice function for design."
Other Design Ideas
Countertops have generally been utilitarian in nature. But, gone are the days when countertops must lie on top of cabinets or a kitchen island, consisting of one thickness and square corners with an overhang. Varying the thickness of a transitional countertop or having curved corners can lend toward an overall successful transitional design. Also, consider having your countertop material run vertically down the sides of a cabinet in a waterfall feature to showcase your countertop material and offer a seamless look.
Updating your countertops is a great way to update your space without doing a full renovation. Choosing countertops with a transitional design helps your home stay current, while giving it a timeless quality that will last.
Contact DFW Improved today for a free estimate on your new countertops!
Related Images: