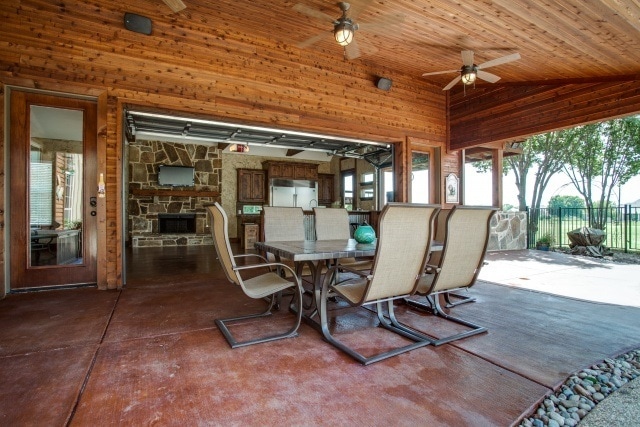 Outdoor living is a lifestyle dependent on the seasons. If you've been anticipating the warmer months of spring, well, you're not alone. Spring is the start of outdoor grilling, afternoons on the patio, and entertaining in the garden. While the spring and summer seasons will soon chase away the cooler winter weather, your backyard may not be ready to usher in a new season of entertaining. Luckily, it's easy to get your outdoor area organized and styled for outdoor living.
Prep and Clean Your Patio and Patio Furniture
Furniture Cushions. Pull your furniture cushions out of storage and give them a good washing. Removable covers can be laundered, while vinyl covers can be wiped clean with warm, soapy water. Remember to test a small section of the fabric with cleaner, and always follow the manufacturers cleaning instructions.
Patio Furniture. Clean the dirt and grime off your furniture with a cleaner made specifically for the materials your furniture is made of. Popular materials for patio furniture are wicker, teak, iron, and aluminum, each type requiring specific cleaners and cleaning methods.
Patio Surfaces. Use a high-powered sprayer to wash down patio surfaces, planters, fountains, and any other decorative elements you may have. Adjust the water pressure as needed to protect delicate objects.
Give Flower Beds Extra Attention
New Plants. Refresh your planters with spring and summer blooms, or plant small trees and taller plants to add vertical interest to your landscape.
Fresh Mulch. Spread mulch in your flower beds to beautify the dry soil, as well as protect your plants from the cooler temperatures that may occasionally blow through.
Eye-Catching Planters. Consider adding decorative planters poolside, around seating areas, and beside entryways. For a beautiful addition to any outdoor area, wine barrels are a sturdy, classic option for planting ground cover, seasonal flowers, or dwarf trees. They are relatively inexpensive and match almost any decor.
Remodel Your Outdoor Living Space
Pergolas. Building a pergola in your patio or backyard area is an elegant way to add an extra room to your outdoor living space, and can be as simple or ornate as you like. Drape your pergola naturally in flowering vines and plants, or drape it in light fabrics and sheers. However you decide to decorate, a pergola is a functional, beautiful addition that adds privacy and romance to your outdoor living area.
Outdoor Kitchens. Bring your dinner parties outside by adding an outdoor kitchen and grilling area. Outdoor kitchens are fun and functional, ranging from full-sized professional kitchens to smaller casual cooking spaces. In addition to stovetops and grills, an outdoor kitchen can be quipped with a countertop, refrigerator, sink, and pizza oven.
Fireplaces and Fire Pits. Outdoor fireplaces and fire pits are a great addition for your outdoor living area. Depending on the size of your patio, you have several styles and sizes of fireplaces or fire pits to choose from. Like a fireplace, fire pits can be situated above ground, and are an excellent way to keep your outdoor living area warm during cooler weather. You might also consider sinking your fire pit into the ground to create conversational seating areas and open viewing spaces.
Landscape Lighting. Enhance your landscape with new or redesigned lighting. Hanging lanterns, patio lights, and candles are all beautiful ways to illuminate your outdoor living area. Motion activated deck lights add safety and visibility to stairways, while outdoor lamps and ceiling fans add beauty to a functional necessity.
The spring and summer months will be here quickly. With a little planning, you'll be ready for the transition from cold, bleak, winter days to the fun and entertainment of warm and gorgeous spring/summer nights.
Contact us today for an estimate on your custom outdoor living space.