Whether you're building a new home or remodeling your existing one, a chef-grade kitchen can combine the ultimate in efficiency and convenience with beauty and style. It is often said that the kitchen is the heart of the home. With the following amenities, your kitchen is sure to be a gathering place as well as a showpiece that will help increase your home's value.
Appliances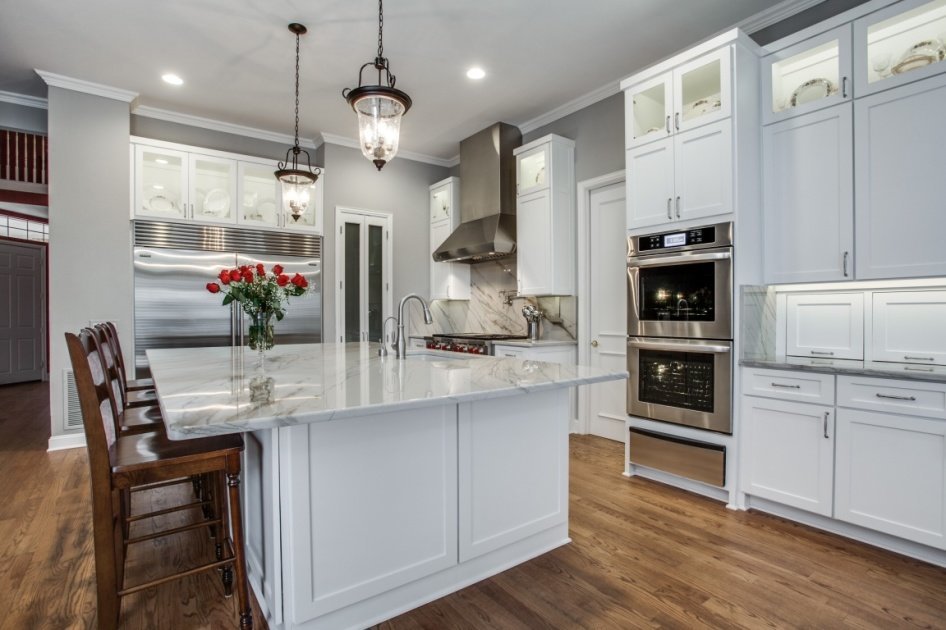 Professional-grade appliances often have more space and features than traditional ones. For example, you might choose a double oven with warming drawers, or a range with six burners as well as a grill and griddle. A chef-grade refrigerator may have more precise temperature controls for different types of food and drink.
Drawer-style dishwashers can have extra-large, expandable racks to easily accommodate dishes and pots and pans from a family meal or entertaining a crowd.
Stainless steel is a popular, durable finish, but many homeowners are also opting for integrated appliances that blend in with the cabinetry.
Many also like to add an additional dishwasher, or even refrigerators or refrigerator drawers, if they have larger families or frequently host parties.
Lighting
Chef-grade kitchens are not limited to just one or two types of lighting. Layers of light help make the kitchen shine and provide just the right amount of illumination exactly where you need it.
You might choose recessed lighting and a skylight to provide ample yet ambient light to the entire kitchen. Consider adding task lighting over prep and cooking areas and pendants over eating areas. Cabinets can even be outfitted with LED lights that turn on and off when you open and close their doors.
Sinks and Faucets
Double bowls that are deep and wide, with flat side and slightly curved corners, provide plenty of space and make cleanup easy. Touchless faucets turn on and off by waving your hand underneath, which is incredibly convenient if your hands are messy from food preparation. You can even have a restaurant-style sprayer with a high-pressure nozzle that pulls out.
For the ultimate in convenience, consider a pot filler faucet. These mount on the countertop or wall near your stove and fold neatly to move out of the way when not in use. You will be able to fill up a pot with water right at your stove instead of lugging a heavy pot from the sink.
Extra Space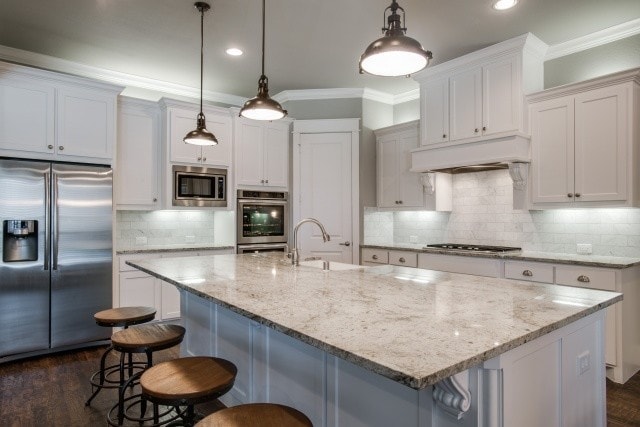 An island or peninsula can be customized to suit your needs, giving you plenty of extra space for preparation and clean up. A faucet and sink can be added for convenience. Large, deep drawers will add to your storage area, and open cabinets can be an attractive way to gain additional space. You can even have a wine and beverage cooler built into your island for everyday use and ease with entertaining.
An additional cooking surface can be added, and you can also add bar seating for an informal dining area.
Open Floor Plan
Chef's grade kitchens take advantage of an open floor plan to maximize space and efficiency. An open floor plan allows the kitchen to flow seamlessly into living spaces. This design makes it easy for family and friends to move in and out of the room, interacting with you as you prepare a meal.
Open floor plans are also ideal for entertaining, since you and your guests can conveniently refill plates and drinks while still being a part of the group.
With features like these, it's easy to see why chef-grade kitchens are a must-have item for your home.
Click here to receive your free estimate, or call us directly at 972-277-7600.
Related Images: