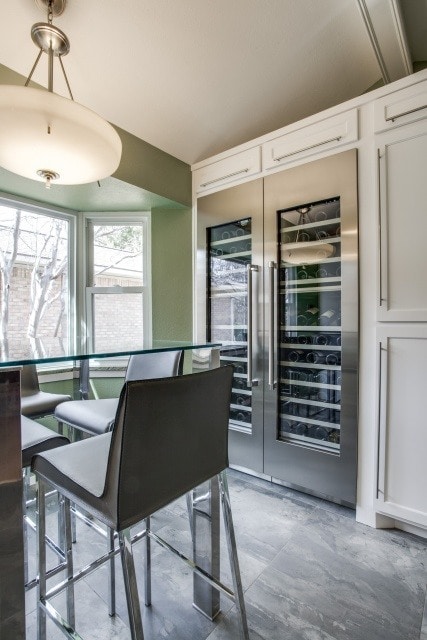 As one moves from wine lover to connoisseur, there comes a point when your wine collection needs more space than a simple wine rack can possibly accommodate. When graduating from rack to wine cellar, be sure to customize the design of your new space to best suit your collection and any other needs. With a few personal touches, you can transform an otherwise storage-oriented space into one for simultaneously maintaining your collection, entertaining guests, and finding excitement in your home.
Designing Your Wine Cellar
The variety of cellars available may seem overwhelming, from small refrigerators to walk-in coolers and larger, temperature-controlled spaces. To get started, consider the amount of available space in your home and whether it would be possible to include both a wine cellar and a full home bar or personal tasting area. At the same time, research the best conditions for your wine, including temperature and humidity, and for your collection, including size and storage type. For instance, while amateur wine aficionados may do well with a simple refrigerator or small wine rack, more experienced collectors will require wall-mounted racks or multiple wine refrigerators. Check out this gallery of wine rooms for more inspiration.
Choosing the Basics
Once you have a sense of the scope for your cellar, consider which options will best suit your needs. The most important choice is likely to be your type of refrigeration, as wine cellars should be kept between 55 to 75 percent humidity and 55 to 58 degrees Fahrenheit. Other basic options include:
Wood color, grain, pattern, and finish.
Refrigeration type, from small and self-contained wine cabinets to separate, integrated climate control.
Rack depth, size, and type, from simple building blocks of metal, wood, and/or glass to modular systems that can be adapted to best suit your needs.
Lighting, including accent, recessed, or table lighting for your tasting area.
One of the most popular options is a glass-enclosed wine cellar, which maximizes refrigeration and humidity through seamlessly sealed and insulated panes. Another more secure option for collectors of rare wines is a secured wine locker that can be locked either with a single key or multiple locks and combined with other storage units by stacking or placing side by side.
Customizing Your Wine Cellar
With a plan for the basics of your wine cellar, you can turn to the aesthetic and other additions that will transform the space into something truly unique. Whether you choose a common theme or go your own way, you should consider:
Tasting Areas. Think about what materials you will use for countertops and tables, and make sure you have appropriate stemware, including carafes and other accessories.
Decorative Details. Include features decorative ceilings, intricate trim work, and columns.
Cellar Door. Consider wood, glass, and iron doors to make a grand entrance.
Art. From paintings to tile mosaics, stained glass, or etched mirrors, your art will add the character you desire to create anything from a French cave à vin to a Napa retreat.
Custom Wine Racks. These combine your design style with expert engineering to craft functional yet aesthetically interesting storage spaces.
Ladders and Stools. Rolling ladders and step stools add another touch of character to the design of your wine cellar and create a delightful way to reach your most prized bottles in your collection.
Secret Passage. Hidden doors to your wine cellar can add an element of surprise and a little bit of mystery for your wine cellar and entertaining space.
Although the classic designs for a wine cellar will likely never go out of style, customizing your space is essential to making it uniquely suited to your home. Whichever options you choose, always be sure that they are the best for your wine collection and the kind of entertaining you want to do in the space.
Schedule a visit to our design center and showroom to plan your perfect wine room! Click here to set up an appointment or call us at 972-377-7600.