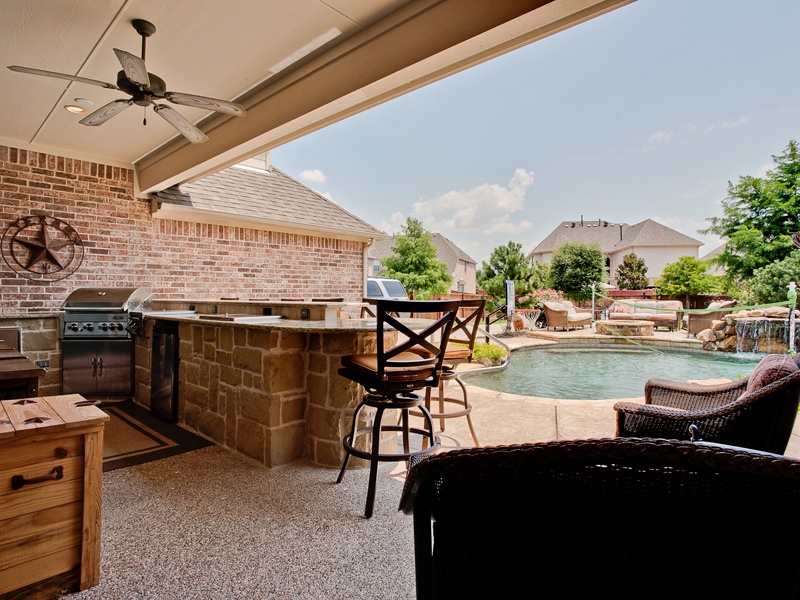 4 Tips to Know When Designing Your Outdoor Living Area
Designing an outdoor living area can be fun and rewarding for you and your family. Unfortunately, it can also be stressful and costly. Since we Texans get to enjoy most of the year outside, designing an outdoor living area has become a very popular item on the family wish list. There are several things you can do to prepare, so here are some Tips for Designing an Outdoor Living Area.

Choosing a Contractor to Design and Build Your Outdoor Space
1. Establish a Budget
Too often families find pictures on HGTV, Houzz, or other websites and begin preparing and creating their outdoor living dreams only to find out later that their $30,000 budget was much less than the $60,000 design they found. Therefore, the first place to start is to determine your budget and whether or not you are paying upfront or financing. If you are considering financing, many times your mortgage company can help or even other financing sources.
2. Determine the Space and Accessibility of Your Outdoor Living Area
When you invest in an outdoor living area, you want to make sure you have the space for the design and build in an area that is easily accessible from the house. In other words, you don't really want to have to walk too far from your house to get to your outdoor living area or it will become an inconvenience for your family and will not be used as much. Space is also important when it comes to selecting the design. After all, if your design requires far more area than your space has available, the design of your outdoor living area will not work.
3. Make Sure Your Design Compliments Your Home Design
One of the challenges of selecting ideas for HGTV, Houzz and other websites is that it might not compliment your home. While the outdoor living area you view looks great on the Internet or in a magazine, it might not marry up with your home's look and feel nearly as well as it does with the home in the picture. Make sure the designer you choose helps you visualize what will and what will not look great for your home.
4. Be Confident You Can Keep the Landscape Around the Area Immaculate
One thing we have seen hurt the look and feel of an outdoor living area is a poor landscape surrounding it. Make sure you are building your outdoor living area in an place where you can keep the landscape looking great. Consider the location of your larger trees and shrubs and what impact they might have on the location of your outdoor living area.
To get more Tips for Designing an Outdoor Living Area and to learn more about how DFW Improved can help you, connect with us on our social communities at Facebook, Twitter, YouTube, Google+ and LinkedIn. You may also learn more about the quality of our work on Houzz and Guild Quality.