DIY Update – Brass is Back!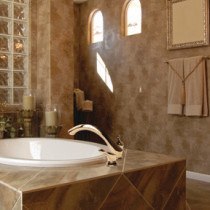 Gold and brass hardware and fixtures are continuing their comeback in 2014. Replacing the hardware in your home is a great way to change or update a look without investing a lot of time and money.
Have you seen some of the latest gold and brass hardware finishes? We're sure not in the 1970's any more…the elegant looking rubbed and brushed finishes are totally awesome!
Are you interested in bathroom remodeling or just replacing the cabinet knobs, door hinges, light fixtures, etc. with better-quality, durable metals, such as brass in your home? If so, read on for some tips on how to go about new brass hardware and fixture replacement.
Remodeling, Updates…all of it = "COST"
You might think, "Am I seriously going to PAY to replace 15 perfectly functional, good-quality door knobs in my home with brass ones simply to keep up with interior design trends?" However, the visual impact will be much greater than the cost.
One key problem that many homeowners and business owners find themselves facing today is cost. Some attempt to resolve the "cost" issue (at least some of that "cost" issue) by the ol' DIY solution…that stands for "Do-It-Yourself" for some of us that can struggle with acronym use!
To avoid getting overwhelmed in DIY, we recommend that you might want to approach the transition one room at a time.
Here Are a Few DIY Tips:
Always measure before you buy and measure again before you install – get it right the first time. My Dad always told me to "measure twice and cut once"…I should have headed that advice more; don't be a slow learner!
Do it like a Pro! Create and use a template for drilling and installation. Not only will this the job easier, it will help to avoid costly and time consuming mistakes. And yes, it takes a few minutes to do this, but the time and aggravation you save makes it more than worth it.
Super glue the knob at installation! Knobs that fasten with a single screw such as rectangular, round or oblong knobs, often loosen and begin to twist over time. Prevent this by putting a single drop of super glue on the back to keep it secure.
What if You Want to Have it Done For You?
If you're wondering whether to go the DIY route or not, how much will the labor and carpentry work will cost for DIY brass hardware replacement?
On average, the time required for a task of this nature will likely start around $1,000. That may seem like a lot…but this cost will vary depending on several factors.
For example, if it's a Bathroom that needs brass hardware replacement, there are obviously far more doors, cabinets, fixtures, etc to be replaced than in a Dining Room. One way to normally see some economy in the charges involved would be to have several rooms or all the rooms in your home done rather than just one.
What Are You Dreaming About?
It's so much fun to change things and know that you are at the same time investing wisely in your home. Do some DREAMING of your own in our photo gallery for some ideas today.
For more information on brass hardware and fixture replacement or other home remodeling services by DFW Improved, call us at 972-377-7600.