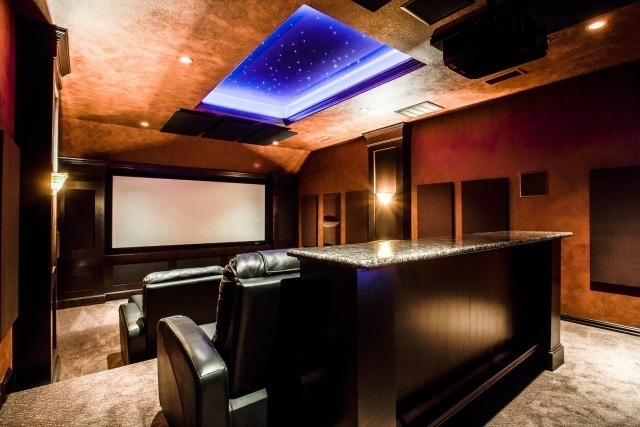 A man cave is an area designed specifically to be a male getaway to relax in or have the guys over. What you include in a man cave will vary somewhat depending on the individual tastes and the intended purpose of space. Regardless of whether the man cave is intended to be a media room, a hobby room, a sports room, or a gaming room, every man cave should include a few basic essentials no matter if it is a renovation or new room addition.
Audio Visual Equipment
Every man cave needs some type of audio visual equipment, whether it be a large screen TV or a surround sound stereo system. If the focus of the man cave is visual, a large viewing screen is essential. Instead of spending a few thousand dollars on a large flat screen TV, consider a projector, which can use a 150-inch screen for about the same price.
Another thing to consider is sound equipment. Investing in speakers and a good surround sound system is essential to any man-space. Depending on where the room is located, sound-proofing the walls might be a good idea.
Mini Kitchen Appliances
Every man cave should include a fully equipped mini kitchen. Ideally this will include all the necessities such as a sink, adequate counter space, a mini-refrigerator, a kegerator, and a microwave.
A man cave should include either a wet bar or a dry bar. If it will include a wet bar, a sink with running water is essential. If that is not possible, a dry bar should be included with ample counter space and shelving.
Work Space and Storage
Nearly every man cave should include a desk or table designated as a working area, depending on the intended use of the man cave.
A desk should be included for those who prefer to work from home and need a quiet office space. This way you can work from your favorite room in the house. A desk is also helpful for using the room during off-work time where you can set up a desktop computer or laptop. A table may even work better than a desk if you intend on using your man cave for hobbies that require a larger workspace.
Regardless of the intended use of the man cave, every man-space needs bookshelves and cabinet space. Ideally, these should built in, although portable shelving will work just as well. The amount of cabinets and bookshelves needed depends on what they will be used for as well as the available space.
How would you deck out your man cave? Click here for more inspiration.
Contact DFW Improved today at 972-377-7600 to get started on your man cave design!