Exterior Painting – Is It Just for Looks?
Repairs and Preparation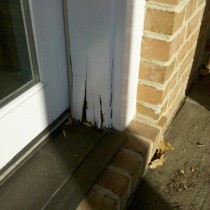 Preparation is key to every Exterior Painting Job. If the paint on your home has deteriorated to anything resembling the photo to the left, then you'll need more than just a new coat of paint.
You'll need to first remove old paint by scraping and sanding.
Old and damaged caulking will need to be removed and replaced as needed. Make certain that a good, "paintable" acrylic caulk is used or it may crack and pull away from the joints, completely useless in providing the protection needed. A good caulking job is essential to the protection of your home.
You will also need to identify the cause of any damage that you will find. If it's just normal wear and tear, that's one thing, but if your peeling paint is the result of a leaky roof or overhang, that damage must be repaired or replaced prior to painting the house.

It's important to take into account what the house is made of. The fixed colors of a house are the roof, wood, stucco, masonry, and stone. It's possible to paint wood, brick, masonry, or aluminum siding. However, if you have vinyl siding, it should only be painted the same color or a lighter color. Dark paint will absorb the heat and ultimately cause the vinyl to warp in the heat.
If you have a stucco house you may have been told that it will last forever and you will never need to paint it. Sadly enough, this statement is based on true stories, but nothing lasts forever. If your stucco finish has hairline cracks it is definitely time to paint. Hairline cracking in stucco is like having paint peeling off your wooden siding. If water is allowed to go into those cracks, then it will reach your wooden studs and can lead to dry rot.
So what is dry rot?
Dry rot is caused when moisture is allowed to saturate exposed pieces of wood for extended periods of time, but is not directly caused by the moisture.
Dry rot is caused by one of several species of fungus that infiltrates the bare wood, which is carried in and propagated by the water. The fungus contained in the water begins to digest the wood.
If you suspect that you may have a board that has the above-mentioned symptoms, take a screwdriver and with moderate pressure poke at the area. If the screwdriver sinks into the wood then it needs to be replaced before painting.
Proactive or Reactive?
A good rule of thumb with exterior painting is to treat it proactively vs. reactively. It is best to paint your home proactively, before it really looks like it needs it. When you first see that your home shows any sign of dry rot, paint peeling, chalking or any other signs of degradation above, do not wait! It will only get worse, and normally it happens very quickly.
Having your house painted may be something you dread having to do, but having to have parts of your home rebuilt because you waited to long, is far worse of an alternative than exterior painting as a preventive measure.
By now you may be sitting here reading this blog and wondering, "Does the exterior of my house need to be painted?" Well if you had to ask yourself that question, the odds are that you probably do. A high-end exterior painting job can last you about 10 years, and sometimes more depending on various factors.
Unfortunately, most contractors out there don't do high quality work, but remember that the preparation done before the painting is as important as the painting itself.
We hope these tips help you determine if it is time to paint your home.
If you have decided that the time is right to repaint, the important thing is to do it right the first time.
DFW Improved
Our seasoned professionals have the experience to deal with complex projects and tight schedules. Do some "Dreaming" of your own as you stroll through our Photo Gallery for concepts and ideas.
Check out our channel on YouTube and "Like" our Fan Page on Facebook or connect with us through Twitter or LinkedIn to be notified when completed projects are posted.
DFW Improved is the right contractor for your home repairs, interior or exterior painting projects, bath remodeling, kitchen remodeling or addition project.
Call us today at 972-377-7600 to discuss your next project.