Home Improvement Work Necessary at the Mary Kay Mansion in Dallas TX
Even Mansions Deserve Home Improvement Projects
Exterior Painting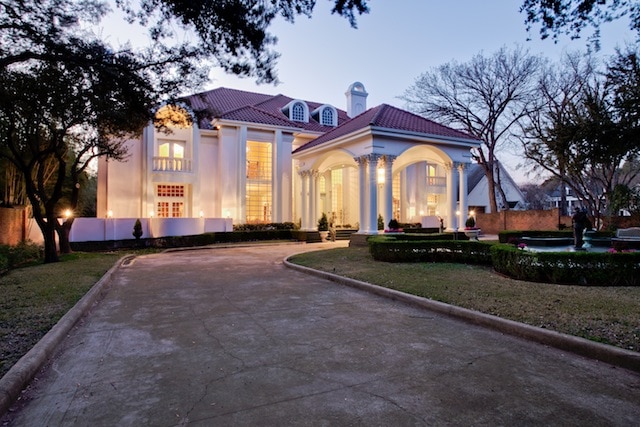 The original Mary Kay Mansion is in the old, prestigious Preston Hollow in Dallas. We performed a project of home improvement including a complete interior and exterior repainting of this home.
The house had been vacant for a couple of years and was being readied to put back on the market. DFW Improved was asked to make it show ready.
The home is approximately 12,000 square feet and it took us a little over nine weeks to complete both exterior and interior areas.
It was repainted with the original Mary Kay signature soft pink paint color and the exterior of the home alone took around 130 gallons of paint. As you can see, the exterior of the home has a lot of columns, intricate detail, water features and sculptures, along with massive tall elevations.
The project required an enormous amount of scaffold, scaffold building, tear down and moving. Some areas on the home required cleaning and home improvement repairs prior to painting. Naturally, all the repairs had to match existing work…
Mission Accomplished!
What an Interior!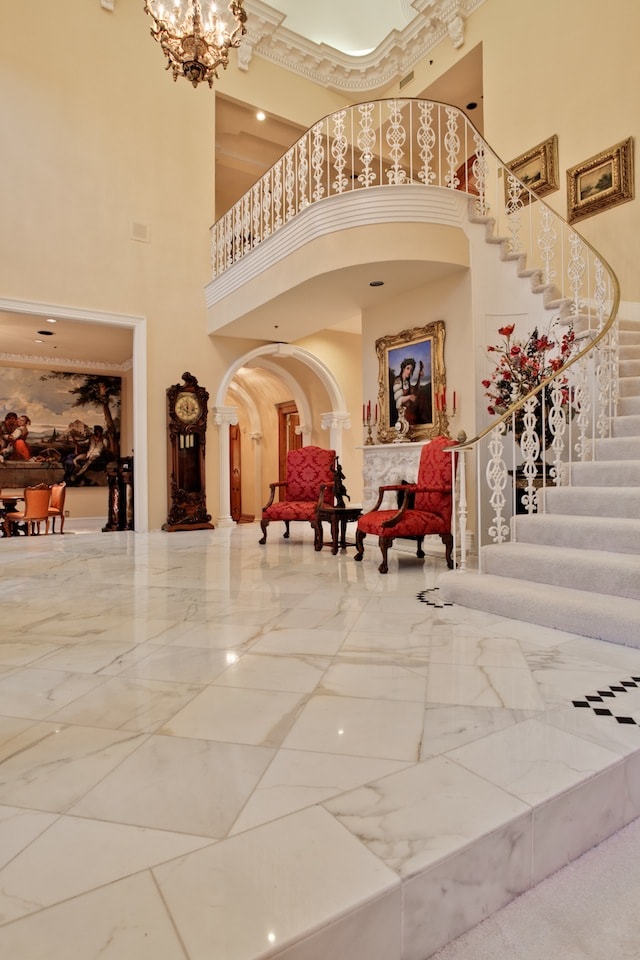 This home is one of the best known landmarks in all of the DFW Metroplex. For the first week or so we were in there, we continued to find new rooms that we didn't even know existed. We spent quite a bit of time going through the entire home.
Pink marble commodes and bathtubs with 24 karat gold fixtures in the six bathrooms and as well as the half-bath.
Ceiling heights in some of the interior rooms on the first floor were about 40 feet tall. There were massive walls of beveled divided lite glass. The amount of attention to detail when the home was constructed was very evident with all the trim, the finishes, etc. It took the same kind of attention to get it all painted right.
The second floor ceilings were almost all nearly 20 feet tall. Many of them were coffer type ceilings with wood trim dividing the various surface angle changes.
The home had lots of home improvement drywall repair and refinishing, and then repainting everything. It also required a substantial amount of TLC to the cabinetry and other stained wood finishes such as in the Library.
Complete At Last!
We worked hard on this project for more than two months and it's certainly one we're very proud of.
It was a very interesting project to say the least!
DFW Improved-Your Home Improvement Specialists!
Our seasoned professionals have the experience to deal with complex projects. Do some "Dreaming" of your own as you stroll through our Photo Gallery for concepts and ideas.
Check out our channel on YouTube and "Like" our Fan Page on Facebook or connect with us through Twitter or LinkedIn to be notified when completed projects are posted.
DFW Improved is the right contractor for your home improvement repairs, interior or exterior painting projects, bath remodeling, kitchen remodeling or addition project.
Call us today at 972-377-7600 to discuss your next project.