Home Maintenance Checklist for Spring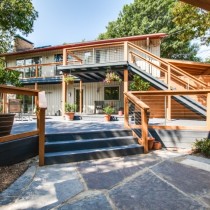 Spring is the perfect time to perform some home maintenance tasks.
Designed to keep your home looking and running smoothly, these tasks help clear away the cobwebs that set in during the long winter months while also preparing your home for entertaining during the upcoming warmer months.
Winter storms and icy conditions often bring down leaves, branches and trash that can clog up gutters. It is important to put clearing out these gutters on your home maintenance list before the spring rains hit in earnest. Otherwise, they might overflow which can lead to problems with water running down the exterior walls of your home, resulting in rotten walls.
Pressure Wash the Exterior
Getting all the grime and buildup from the previous year off your exterior walls allows you to start the season of entertaining on a more upbeat note. Making plans to pressure wash the exterior of your home is a good home maintenance routine to get into as tackling this job often helps ensure that discoloration does not occur. It also provides a great opportunity to better inspect the condition of the exterior paint on your home. This will help you determine what shape it's in and when you might begin considering a new paint job for the protection of your home's exterior finishes.
Even if you have a rule about taking shoes off at the door, it's inevitable that dirt and grime will get tracked into your home. This is especially true during the cold, wet winter months. Cleaning your carpets as part of your spring home maintenance gets that dirt and grime out before it can become too deeply embedded and gives your home a fresh and clean look.
Service Your Heat Pump or HVAC System
Gearing your HVAC System prepared for the warm months ahead is something that should be on every home maintenance list. In addition to giving the technician the opportunity to check the condition of the unit after the long winter, this servicing period allows for a tune up and lubrication before the unit is pressed into hard service during the hot summer.
For more information on Spring home maintenance and other home remodeling services by DFW Improved, call today at 072-377-7600.
Related Images: