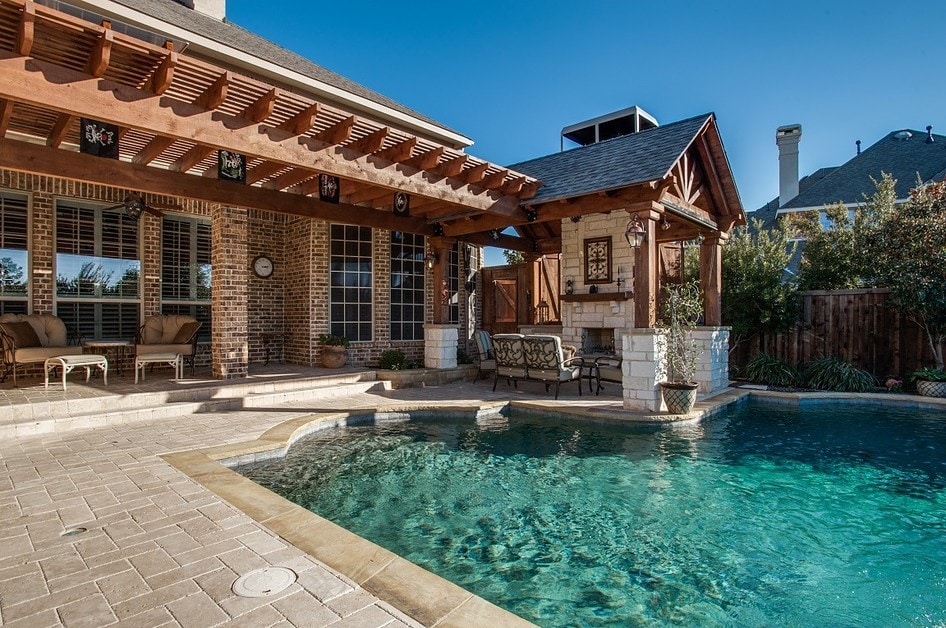 With spring just around the corner, now is the perfect time for home remodeling projects so you can enjoy spending time outdoors during spring and summer.  Whether you prefer backyard barbecues, pool parties, or lazy afternoons on the patio, you'll want your home to look great.
Inspect Your Roof
After snow and ice have melted and warm weather arrives, make sure you inspect your roof for winter damage. You will need to carefully climb up on your roof or hire a professional to assess the situation. First, get rid of fallen branches and any roof debris that has accumulated from winter storms and winds. Leaving it on your roof can cause damage to the roof shingles and gutters. Next, look for damaged roof shingles; split, dented, or broken gutters; and chimney cracks. Home remodeling repairs will prevent further damage to your home's roof and exterior paint or siding.
Repair Drainage Problems
Since spring brings lots of rainfall, it's the perfect time to look for drainage problems in your gutters and yard. Standing water in your gutters can cause roof and siding damage. Standing water in your yard can cause spring grass and plants to die, as well as bringing unwanted mosquitos and pests to your home. If you spot drainage problems, have them repaired as soon as possible. Often, adding a French drain to a poorly draining yard can fix the problems without too much expense.
Repair Or Update Windows
Inspect all of your windows and glass doors for winter wear and damage. If you have old, wooden windows, it's a good time to re-caulk and look for signs of damage to the glazing that holds the glass to the wood. Windows can take a beating during winter storms, so look for cracks, chips, and small dents in the glass that will require repairs. If you do have old windows, this may be the perfect time for home remodeling to replace them with new energy-efficient windows that will update your home's appearance and save you money on energy costs.
Get Rid of Winter Guests
Winter is not only hard on your home's exterior, it's also hard on small animals like squirrels, birds, and rodents. You'll want to inspect your house to make sure these critters have not taken refuge from the winter cold in your house. Hidden, unused spaces in the attic, basements, and crawl spaces under the house make perfect nesting grounds for small animals during the winter. It doesn't take much space for them to get in, so look for small holes and cracks in your roof and foundation walls. If you see signs of these unwanted critters you may need to call a professional to get rid of them and clean up the area. Repair any damages and seal up areas where they got into the house right away.
Prepare Your Outdoor Spaces
Early spring is a great time to prepare your outdoor spaces for family gatherings and entertaining. If you've been dreaming of home remodeling projects like a new patio or deck, an outdoor kitchen, outdoor fireplace, or a swimming pool and spa, now is the perfect time to get started. Take some time during the winter to consult with a professional contractor who can give you ideas and prices on larger outdoor projects and special features you want to add to your home. You can also discuss any interior renovations to your kitchen, bathroom, or living spaces that you've been considering. By finalizing plans during the winter, you can start your projects in early spring and enjoy your new outdoor spaces during spring and summer.
What home project is on your spring to-do list? Contact us today to request a quote.
Related Images: