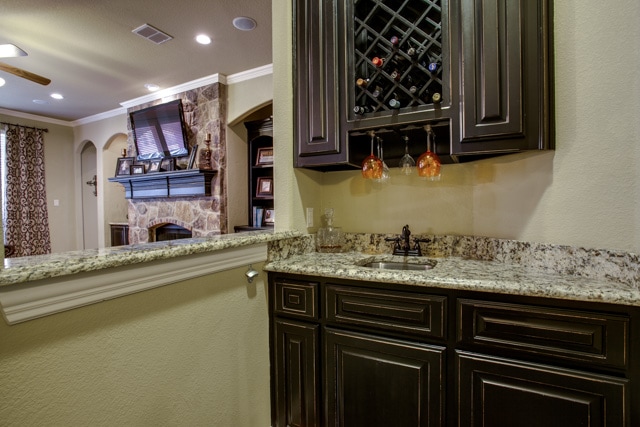 Owning a home is no fun without social gatherings or birthday parties. Is your house prepared to handle a crowd? Are you thrilled at the prospect of wining and dining your guests but have no idea where to start? These essential elements will help you host a party that your guests will be talking about for months to come.
1. Preparing to host a party means having various staple liquors stocked in your wet bar: rum, vodka, gin, Bourbon and/or Scotch whiskey, and tequila. Such classics as the Martini, the Michelada, and the Old Fashioned are easy to make for your party guests. Mixers that every host should have are regular-flavored colas and tonic waters.
2. Every host needs the appropriate wet bar tools to successfully host a party in their home. Take note of the following tools you will need in order to make delicious beverages:
Blender and Boston Shaker – For those who like their drinks shaken, stirred or simply have an affinity for frozen margaritas.
Hawthorne Strainer – Recognized by its coil strainer, this tool helps evenly mix drinks as they are poured into glasses.
Cocktail napkins – Essential for every cocktail party. Have them monogrammed or color coordinated to your decor for added pizzazz.
Fancy Toothpicks – For those fancy garnishes that give an air of sophistication.
Drinking glasses – Otherwise known as a "no brainer."
Bar Towel – Because a spill is inevitable.
3. Once you've decided your house is a prime place to host a party, you need to decorate for it. Dress up your dining room table with a floral centerpiece, fine china and silverware, and candles to make everything seem warm and inviting. Decorate your wet bar with decorative shot glasses and cocktail napkins.
Although you may have invited your close friends, relatives, and neighbors who see you on a regular basis, make sure to dress the part and wear something nice. Remember to smile, graciously greet your guests with a firm handshake and walk your guests to the wet bar to offer refreshments.
Now you are ready to host a party in the comfort of your own home with style and finesse.
For information on wet bar renovations or other remodeling services, contact DFW Improved today! You can request an estimate online or call us at 972-377-7600.
Related Images: