What Do You Need in a Chef Grade Kitchen?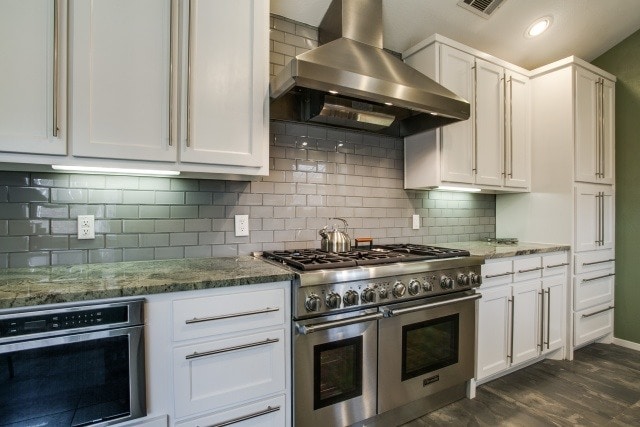 If you are serious about your cooking, then you might consider upgrading your kitchen so you can enjoy a chef grade kitchen. Your kitchen is not only where you prepare delicious meals and snacks enjoyed by all, it has evolved into a gathering place for family and and a friendly entertainment spot for friends.
To design a chef grade kitchen that is truly functional and looks great at the same time, you might consider some of these options:
Open Display
Shelving in your kitchen that allows for an open display of its contents provides a quicker way to reach what you need. This trend is gaining in popularity because it truly makes your Kitchen a showplace.
Mobile Islands
Installing mobile islands in your chef's grade kitchen makes it easier to establish the zones that work and provides flexibility for the way you cook. Adding an island also gives you extra storage and coveted counter space, two things that any good chef will put to use right away.
Specialty Cabinets
Having your own chef's grade kitchen built means you can fully customize it to your specific needs. From specialty cabinets designed to hold the spices that you use most often to a pantry that keeps everything organized. These features can help streamline your efforts in the kitchen and save you critical time in the preparation process. Designing specific cabinets and countertop space for particular needs is ideal.
Chefs Knives, Pot and Pan Racks, high-end Food Processors, multi-burner range/grill combinations, high capacity appliances…these items are all not just necessary, but become showpieces in your new kitchen that can be highlighted with the right specialty cabinet designs and craftsmanship.
Prep Space
While prep space is certainly important in the average kitchen, in the chef grade kitchen, it is vital. With several different stages of food prep occurring at the same time, it is necessary to design a kitchen that can accommodate this. The strategic use of the kitchen's many spaces, both small and large, can help do this efficiently.
Setting up and designing a chef grade kitchen will make your life as a chef much smoother and allow your creativity to flourish! Working with an experienced contractor ensures that your dreams of such a kitchen are realized.
To get an estimate for a chef grade kitchen or for other kitchen design and remodeling services, call DFW Improved at 972-377-7600. We can help you realize your dreams!