Home and Kitchen Remodeling – It can be a Challenge!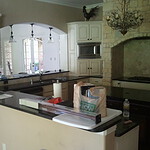 Kitchen Remodeling. How it can all begin…
When we first discussed "opening up" a kitchen with a previous customer, it was just a passing comment. We had finished a master bath renovation just 4 months prior that had turned out to be everything they expected. From this "passing comment", we quickly found ourselves crunching numbers on a major kitchen remodeling project.
Clear expectations were established by the owner on the needed time frame for completion. It meant that the kitchen remodeling project must be started by October 1 to be completed before the Christmas Holidays.

Project Schedules
Projects and Project Scheduling are similar to art. Just as an artist has techniques and procedures that work there is still a sequence of events.
Depending on the medium or type of art, those events may differ slightly, but the overall painting or sculpture must have a plan. The more successful artists vary less and less from that plan as they gain experience, but they also know where to start, what they need to accomplish and, most importantly, where they will end.
Scheduling and executing on a project is much the same for a contractor. There is a "perfect" sequence of events or tasks that a project should follow. Some of those events or tasks are critical to complete before other tasks can even begin and are called "Milestones". Correct sequencing of all remodeling projects becomes increasingly critical as time frames or schedules are shortened.
Experienced professionals know and understand this and yet we all know that there are possible adjustments that may have to be used to overcome unforeseen circumstances. Add all the plumbing, electrical and appliances, each with specific sizes and uses, and you can better understand how a kitchen remodeling project can become overwhelming to an inexperienced and unprepared contractor.
Along with the structural revisions required to the home necessary to accomplish the expected effect, it was a very tight window.
Cabinets.
Cabinets are the nucleus of a kitchen remodeling project.
Once we know when our cabinets will be ready (an example of a Milestone), we know when it makes sense to start the project.  Cabinet drawings were approved, and we found that we had 3 weeks until our custom kitchen cabinets would be ready to install.
Demolition and Structural Changes
We had to remove the Saltillo tile on the floors; about 1300 square feet of it.  Return air grills were covered with temporary filters, windows were open, and we were hard at it for 3 days!
Dust, dust, and more dust.
After demolition of the floors came the beams.
Because this kitchen remodeling project required that we remove an entire wall between the family room and kitchen, we needed structural engineer involvement. The engineer met us at the home and we discussed what was needed to support the ceiling framing while the wall was removed. The engineer also calculated the effective sizing of the beam and vertical supports that would be required. Decisions were made, and we continued with Demolition.
Based on the design received from our engineer, we tackled the shoring or support of the ceilings and taking the wall down between the two rooms.
Deep breath…it went GREAT!
The new structural beam was received on time and installed. The look and feel of the entire space instantly changed.
Wow, what a great feeling!
After necessary framing changes, it was time to get the electrician and plumber involved.  Switch placements, can light placement, under cabinet lights…we talked about it all.
Rerouting a few plumbing lines for the new kitchen remodeling layout came next.
Still on track!
But not for long!
Our next installment of this article will show how quickly a train can fall off that track…
DFW Improved
Our seasoned professionals have the experience to deal with complex projects and tight schedules. Do some "Dreaming" of your own as you stroll through our Photo Gallery for concepts and ideas. Check out our channel on YouTube and "Like" our Fan Page on Facebook or connect with us through Twitter or LinkedIn to be notified when completed projects are posted.
DFW Improved is the right contractor for your next home, bath, kitchen remodeling or addition project.
Call us today at 972-377-7600 to discuss your project.