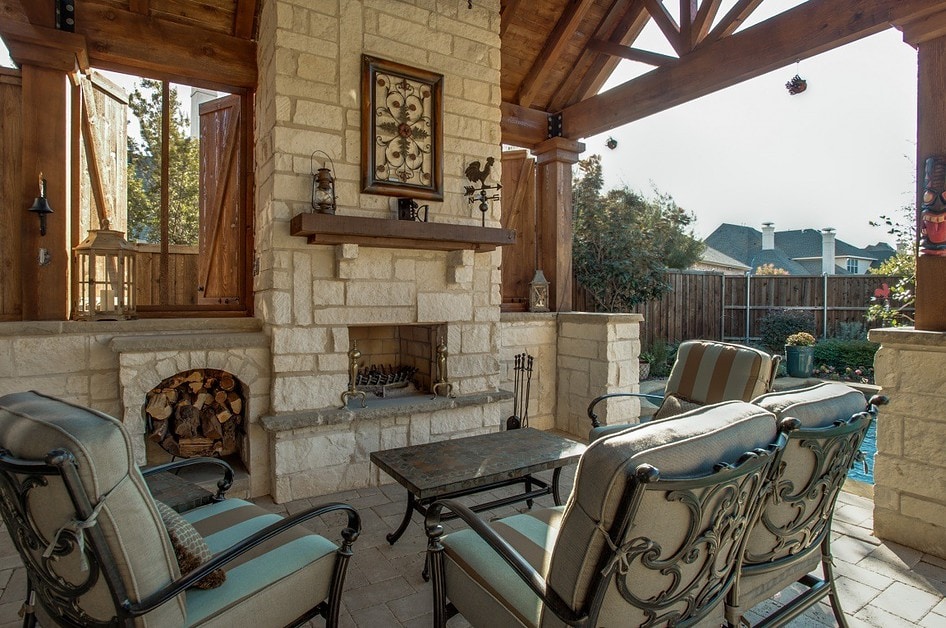 With the warm days of spring and summer just ahead, it's time to start thinking about ideas that will take advantage of the natural beauty of the outdoors, while also providing a unique outdoor living experience for family and friends. Especially in the northern part of the country, many seasonal activities are confined to the indoors for the fall and winter. With the return of warmer weather, a burst of creative thinking is the perfect way to celebrate more favorable conditions. Here are a few ideas to get you started.
Outdoor Fireplace and Wet Bar
One great way to spend a spring evening is sitting around an outdoor fireplace with friends, sipping a cocktail, and enjoying good conversation. An outdoor fireplace can easily become the focal point of the entire yard, and can last a lifetime when built well. It can be constructed of the same stonework as that of the home, although it isn't necessary. If you prefer the traditional look, brick is the way to go, and if contemporary styling is more your thing, stacked stone works well. A wet bar setup nearby is not only a convenient touch for entertaining, but adds elegance to the whole scene.
Patio or Deck Seating Area
Setting up an area on your deck or patio can be a wonderful way of enjoying the outdoors during occasions you might normally think of as indoor activities. For instance, you can arrange some cushioned seats around a rustic wooden table and have a great outdoor dining area, or you could configure an outdoor living room by adding a comfortable sofa and a few chairs on an outdoor rug with a coffee table in the middle. Either of these ideas would be terrific for entertaining visitors or enjoying with your family.
Patio Covers and Pergolas
Pergolas can add a beautiful respite from the heat of summer as a free-standing structure in your yard by providing shade from the sun and a separate area to enjoy your surroundings. Patio covers can protect you from the elements while you still experience the weather and the views, whereas pergolas might be simple covered areas that have attractive vines or flowers growing around them to enhance the yard's beauty.
Outdoor Shower
This unique idea can be installed as simply as setting up two wing walls with a center pole that has the necessary plumbing attached. What a refreshing way to cool off in the heat of summer! It can have many other uses too, for instance as a way of cleaning off before jumping in the pool, or for doing the same thing after a swim to remove the chlorine.
Outdoor Kitchen
Installing an outdoor kitchen is a great way to enjoy outdoor living while performing the unavoidable daily task of food preparation. The beauty of the idea is that you can be as basic or as elaborate as you want, all dependent on your needs, space limitations, and budget.
If your outdoor kitchen is placed far away from your indoor kitchen, you should include some storage area so you don't make endless trips back and forth when cooking. And definitely include a large enough usable counter for placing things like pans, dishes, utensils, and food items. Other popular items to turn your outdoor cooking area into a true kitchen are refrigerators, warming drawers, wine coolers, and pizza ovens.
Looking for more ideas? Check out our project gallery for inspiration!