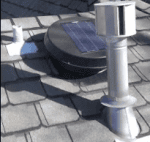 Why are Roof Maintenance Inspections Important?
We believe that a roof inspection is important and should be conducted on a regular basis (we recommend at least yearly) to review the condition of the roof and all the accessories that cover and protect your home. These inspections allow the Homeowner to better monitor the normal ageing process and resulting deterioration. A professional can provide this inspection and normal maintenance of the roof components and many times this will prevent roof leaks before they become more serious.

How Do You Find Roof Leaks Before Water Damage Finds You?
In addition, storms and animals can sometimes damage a roof without any noticeable differences to the interior living conditions or the Homeowner. A regularly scheduled maintenance inspection may be necessary to find these types of issues that can cause serious roof leaks and damage or deterioration.
Roof Components
Roofing inspections cover several "components" or "systems" that are present on most residential roofs and all are critical to your roof's overall performance.
Plumbing Jack (Lead) – the main purpose of this type of vent is to prevent a sewage backup in your plumbing system. Any time waste and water go down a drain, it obviously creates suction behind it as it flows down the piping designed to carry it away. These small vents prevent that suction from occurring and helps keep everything flowing properly.
The example in the Video is an old-style lead jack (or boot) that is in fairly good condition. While this type of roof jack normally holds up pretty well, the downside is that raccoons, squirrels and other animals have a tendency to chew on the lead and the jacks can then become the source of roof leaks.
This jack is pretty clean and in fairly good shape. The wrinkles in the upper portion of the lead jack at the top are common and are a result of folding the top of the jack over the top of the PVC plumbing pipe. There is a small a gap on the sides that might allow some water leakage in a directional, wind-driven rain. The base of the jack can probably be pushed down against the roof shingles or use some roof sealant, but overall, it's in pretty good shape. We will take care of that minor repair while we are up here.
Electric Attic Fan (Solar Power) – in this instance, there is a Solar-Powered Roof Vent Fan in the adjacent area. The primary purpose of this device is to pull hot air out of your attic. This action also creates draft to draw (pull) cooler air into attic from soffit or gable vents. An integral thermostat is used to switch the fan on/off maintaining the temperature inside the attic within prescribed ranges.
It's apparent that this roof fan has been added recently and it looks like whoever installed it did a good job. They sealed their nail holes and the base flashing is flush on the shingles. The condition of this component and it's installation would send us elsewhere to look for possible roof leaks.
HVAC Gas Vent (Natural or Propane Gas) – located just to the right of the Attic Roof Vent Fan is an HVAC Vent. This vent will be connected to a gas-fueled water heater or furnace portion of an HVAC System to prevent unburned gaseous accumulation within your home.
A common problem with these types of vents is usually the skirt or collar just above the "boot" or base flashing. This vent manufacture/configuration has a tendency to separate at the top of that "boot" and can open up allowing water to run down the pipe and directly into the attic.
The example in the Video is holding up pretty well but you can still see where the sealant is beginning to separate at that connection. This vent requires a little maintenance before it later creates problems or roof leaks.
Roof Inspection Summary
Keeping or maintaining the entire roof system that protects your home is critical for all homeowners and their possessions. Each of these systems is important to your family's safety and comfort. Roof leaks of any kind can result in loss of value to your home.
Another one of our articles reviews roof flashing that, along with other components or types of flashings, are likely to contribute to other types of roof leaks that allow water damage to the interior of your home.
About DFW Improved
DFW Improved is proud to be a member of the business community in Plano TX, providing high quality construction expertise to homeowners in the Dallas / Fort Worth Metroplex. We are an award-winning contractor highly recommended on Angie's List. We provide home remodeling, home improvement services and repairs that include bathroom remodeling, kitchen remodeling, outdoor living, and room additions throughout the North Dallas area. To see photos of our remodeling projects in Dallas and the surrounding areas, visit our photo gallery, visit us on Pinterest or connect with us on Facebook.