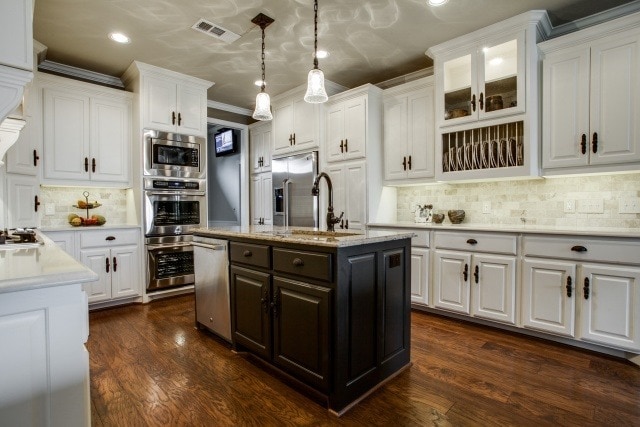 A kitchen remodel offers excitement for many homeowners. After all, your kitchen is the heart of your home-the place where family gathers for a cup of coffee or quick breakfast before starting the day, and the place to which you all return to recharge your batteries when work and school are over at day's end. You want your kitchen remodel to be perfect. The heart of your home deserves to be refreshed and renewed. But when is the best time to schedule your kitchen remodel?
The ideal time to engage in a kitchen remodel is in the summer. Once the school year is over, families tend to take a free-and-easy approach to formerly full calendars, leaving days and weeks of unscheduled time to work around your remodel. Unlike the weeks and months leading up to fall and winter celebrations and holidays, typically the busiest time for kitchen remodel work, the summer months are often easier. Scheduling work crews, obtaining the necessary supplies, appliances and fixtures is a piece of cake compared to fall.
Kicking off your project in the summer means fewer interruptions to your schedule. Most remodeling projects take about a month, which would inconvenience you and your family during the busy school year. Planning your remodel for a time when school, extracurricular activities, and homework already cause a time crunch can quickly turn an exciting project into a source of familial stress.
The season's climate makes summertime perfect for firing up the grill and enjoy your meals outside when your kitchen isn't available for meal prep. Many families use a kitchen remodel as an opportunity to get away for a beach trip or to visit family, leaving the contractors in place to work on the kitchen remodel. Summer's longer days mean more daylight hours for your contractor to work on your remodeling project, ensuring a timely completion.
So if you and your family are looking for an optimal time to engage in a kitchen remodel, consider the summer season. Planning your project for summer means less stress, fewer interruptions, and your beautiful new kitchen will be in place for the holiday season.
For assistance with planning your kitchen remodel, request an estimate on our website or call DFW Improved at 972-377-7600 today!
Related Images: