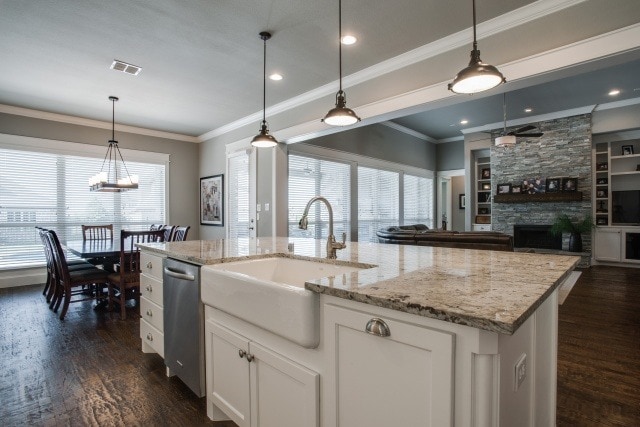 The time has come to choose the new interior paint for your home. With rows of choices how do you know which paint is best for your house? The color scheme will vary on your personal preference, style, and type of home. If your house is brand new or you are just trying to make your home look more up-to-date, there are some basic factors to consider before making your interior paint purchase.
Sheens
The sheens will vary among the different manufacturers.  No matter the brand you decide on, the sheens usually share mutual characteristics. Higher sheens can give a room a more intense color. The choice will depend on what you have envisioned for the final creation.
Flat Interior Paint
If you have an older home where the walls are less than perfect, flat paint will work to hide these little imperfections.
The paint will have less of a gloss.
Touch ups will look seamless and blend in with the previous coats.
Flat interior paint is not a good choice if you are trying to clean off scribbles made from children, because it will not stand up to multiple washings or scrubbings.
Eggshell Interior Paint
Has a lower luster with some reflectivity.
Cleans up better than flat paint.
Satin Interior Paint
The most preferred paint.
Can be washed.
Higher sheen than either flat or eggshell finish.
Versatile paint for walls, doors, woodwork, and hallways.
Semi-Gloss Interior Paint
Has a subtle shine.
Can be scrubbed.
A good option for moldings, trim around windows, kitchens, and the bath area.
High Gloss Interior Paint
Has the most shine.
More durable, which is good for high traffic areas.
Can take multiple scrubbings.
Provides protection against stains such as food splatters or scribble marks from children.
More difficult to touch up.
Volatile Organic Compound (VOCs)
VOCs need to be considered when making your final interior paint purchase. Volatile Organic Compounds are the pollutants which are released into the air while the paint dries. For numerous people, VOCs can cause headaches or dizziness. Picking an interior paint with no VOCs or low VOCs should be considered if the room being prepared is for small children, pregnant women, or the elderly.
Checking For Lead
If your home was built prior to 1978, the home should be checked for lead paint usage. Lead paint can cause all types of health problems in children including learning and behavioral issues. The effects of lead paint on adults can lead to other health risks.
A test kit can be purchased at numerous hardware stores or building supply stores and is low in cost. The kits are simple to use and produce quick results.
Redecorating your current house or painting your brand new home should be a fun and exciting experience, allowing your inner vision to be fully realized. When you consider all of these factors, you will end up with a result you love that perfectly fits your lifestyle.
Contact DFW Improved today for all of your interior and exterior home painting needs.