Award Winning Bath Remodeling Project & Website Design
2013 ARC Awards Event in Dallas, TX
Every year, the Dallas Builders Association hosts the ARC Awards for Associates, Remodelers and Custom Builders in the Dallas/Ft. Worth area to recognize outstanding achievements in four major categories – Remodeling & Renovation, New Construction, Specialty, and Individual Achievement. This past Saturday evening, the Dallas Builders Association ARC Award winners were announced at The Westin Galleria in Dallas and DFW Improved was excited to be named amongst the finalists and winners.
Best Bathroom Remodeling Project Under $35,000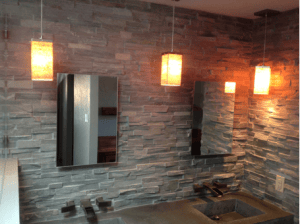 Thanks to our team of home remodeling experts, designers, partners and most importantly clients, we won the award for the "Best Bathroom Remodel Under $35,000" for our Chapman Cypress Hill project.
This project has become special to us in many ways. From the unique concept for the vanity cabinetry, a concrete countertop with concrete lavs and floating mirrors, to the ledger stone wall that extends into the shower, the innovative design and materials selection will not soon be forgotten…or ignored. The light fixtures and locations were carefully chosen to best present this one-of-a-kind remodeling project.
The change from the original bathroom and it's layout was unbelievable. When remodeling a bathroom, one of the critical criteria is to find ways to maximize the utilization of space and make it as efficient as possible. Not only did we radically change the room's look and feel, but we were also able to accomplish this drastic transformation within the original bathroom's space.
Best Website Award
Our website was also recognized under the Specialty category as the Dallas Builder Association's "Best Website" for 2013. The site's clean layout helps visitors clearly understand the amount of care we take with each remodeling project and the quality of our finished products. Client Testimonials validate the overwhelming satisfaction with both the service and quality achieved by the professionals at DFW Improved, and our Photo Gallery is representative of so many of our recent projects.
We'd like to extend special thanks to the team at Social180 who designed, built, and also manages our website along with our presence across the social web's many platforms.
Thank you again to our clients, our team of home construction and design professionals and our partners for helping us continue our growth trend and our recent recognition.
DFW Improved
DFW Improved's seasoned professionals have the experience to deal with even the most complex projects. Do some "Dreaming" of your own as you stroll through our Photo Gallery of concepts and ideas.
Take a few moments to check out our channel on YouTube and "Like" our Fan Page on Facebook. You may prefer to connect with us through Twitter or LinkedIn and 'Opt-In' to be notified when completed projects are posted.
DFW Improved is the right contractor for any of your bath or kitchen remodeling, outdoor living or addition project or other typical home improvement project you might want.
Call us today at 972-377-7600 to discuss your next project.