Transform Your Bathroom with an Expert Bathroom Remodeler
DFW Improved's expert bathroom remodelers can help elevate your space and increase your home's value. Say goodbye to your outdated bathroom and hello to a stunning, functional space that matches your taste and lifestyle.
Bathroom Remodeling with DFW Improved
Our bathroom remodeling team understands the importance of having a bathroom that reflects your style, taste, and needs. Our team of skilled professionals takes a unique approach to bathroom remodeling that focuses on your vision and goals. We work with you from beginning to end, ensuring your bathroom remodel is a stress-free experience that delivers exceptional results.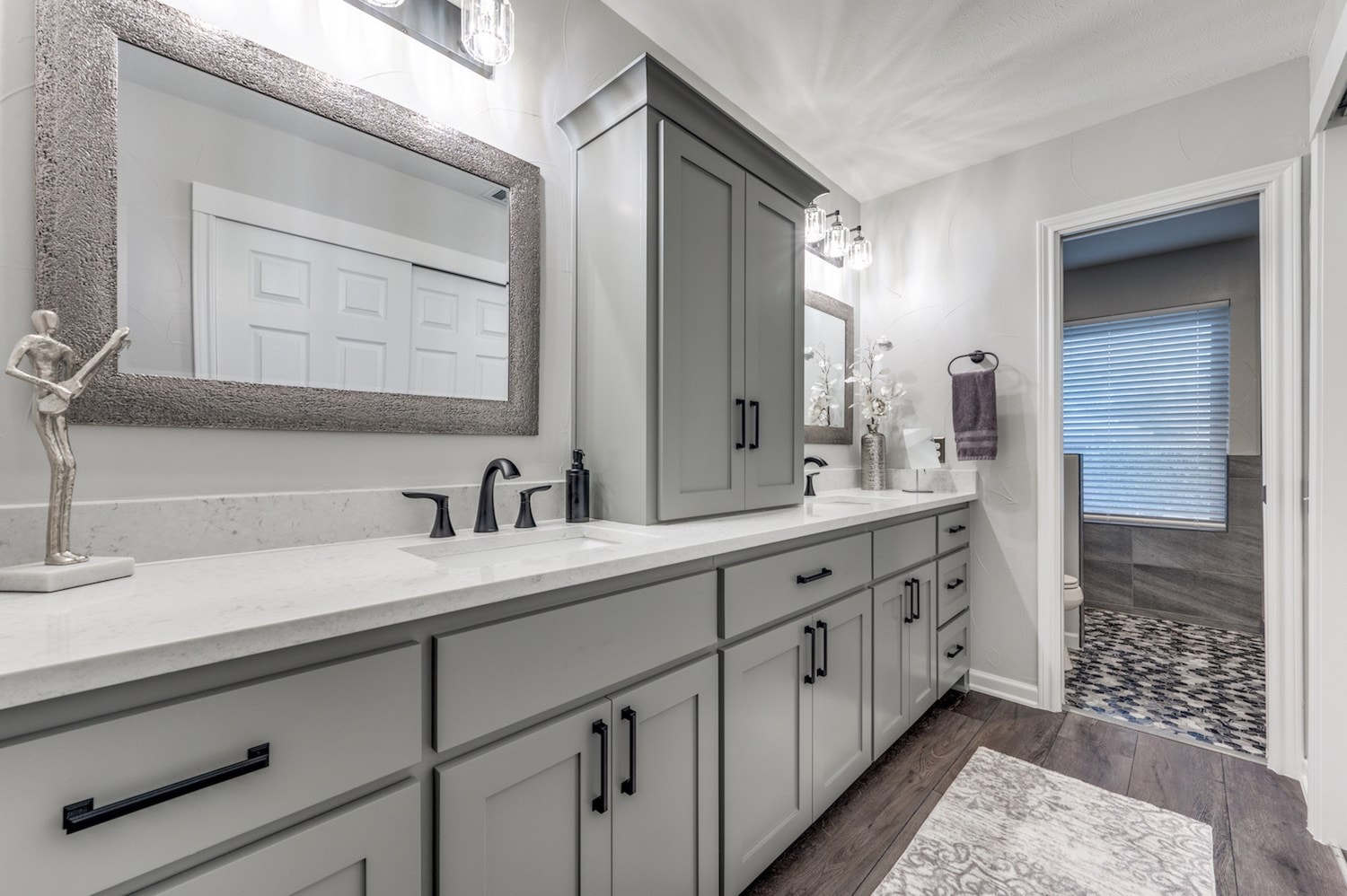 Examples of Our
Bathroom

Remodels
No matter how you want to update your bathroom, we work with you every step to ensure a stress-free experience and a stunning end result. We provide custom bathroom remodeling services that are tailored to your style. Browse through our gallery to see examples of our work and get inspired for your own remodeling project. From custom cabinetry to beautiful tile work, we pay close attention to every detail and use only the highest quality materials and finishes to create a functional and beautiful space.
Check out our Reviews to see what our clients say about our bathroom remodeling services. Our client's satisfaction is our top priority, and our commitment to excellence is evident in the quality of our work. Let our bathroom remodeling team transform your outdated bathroom into a modern, functional space that you'll love for years
Anna Karapetyan
We have had the pleasure of working with DFW Improved on two renovations, the first being our bathroom, and then two bedrooms and a study. Both times, the projects went well thanks to our project manager, Ray Rodriguez. Ray answered all of our questions and oversaw every step of the work, providing us with a working schedule that was followed almost precisely. Our designer, Tiffany Confer, was also great to work with and did a wonderful job. We appreciated her kindness and expertise. Overall, our experiences with DFW Improved have been exceptional, and we would highly recommend them.
Thomas VerEecke
DFW Improved remodeled my powder room and I am extremely pleased with the outcome. From my salesperson, James St. Peter, to my design consultant, Tiffany, and my project manager, Carlos, along with his assistant Alonso, all of them did a fantastic job! I'm very happy with the results and will definitely recommend them to anyone looking for remodeling services.
Bathroom Remodeling Services
Tailored

to You.
We take pride in our delivery process, from the initial estimate to the construction phase. Our experienced team of professionals will work closely with you every step of the way to ensure that your dream bathroom renovation is delivered to your exact specifications, on time and within budget.
Frequently Asked Questions
---
How much does it cost to remodel a bathroom?
When considering a bathroom remodeling project, it's important to think about who uses the space. Consider the personal needs of the user, function and practicality, design style and budget. With so many beautiful and innovative fixtures and materials available, bathroom remodeling selections and the associated prices can become overwhelming. It'll likely be important to narrow down your choices. A bathroom remodel in North Dallas can typically average from $15,000 to $50,000 and beyond, depending on your material and fixture choices. That means you want to get it right. Read more about
How much it costs to remodel a bathroom
.
Our Service Area
Proudly Serving the North Dallas area, including Collin County and most of Denton & NE Tarrant Counties
On any given day, you might see one of DFW Improved's branded trucks traveling across our service area to check in on a remodeling project in cities like Frisco, Plano, McKinney, Allen, Little Elm, Rockwall, Prosper, Celina, Flower Mound, Southlake, Colleyville, Keller, Grapevine, Highland Park, and so many other fine residential communities in North Texas.
---
Request Your In-Home Estimate Now
Experience Luxury and Comfort with DFW Improved's Bathroom Remodeling Services
---
T
he most important thing to remember when starting your bathroom renovation is your lifestyle and how you will be using the space. Bathrooms, once simple utilitarian spaces, can now resemble plush spas with relaxing ambiance and rejuvenating features. Whether unwinding from a long day in your master bath, entertaining overnight guests or making the most of a shared kids bathroom, homeowners want a space that they can feel is a continuation of the lifestyle and luxury their home represents.
---
Request Your In-Home Estimate Now