Elevate Your Space with a Professional Kitchen Remodeler
DFW Improved's skilled kitchen remodelers can help transform your outdated kitchen into a modern, functional space that reflects your style and meets your needs.
Kitchen Remodeling with DFW Improved
Our kitchen remodeling team understands the importance of having a kitchen that reflects your style, taste, and needs. Our team of skilled professionals takes a unique approach to kitchen remodeling that focuses on your vision and goals. We work with you from beginning to end, ensuring your kitchen remodel is a stress-free experience that delivers exceptional results.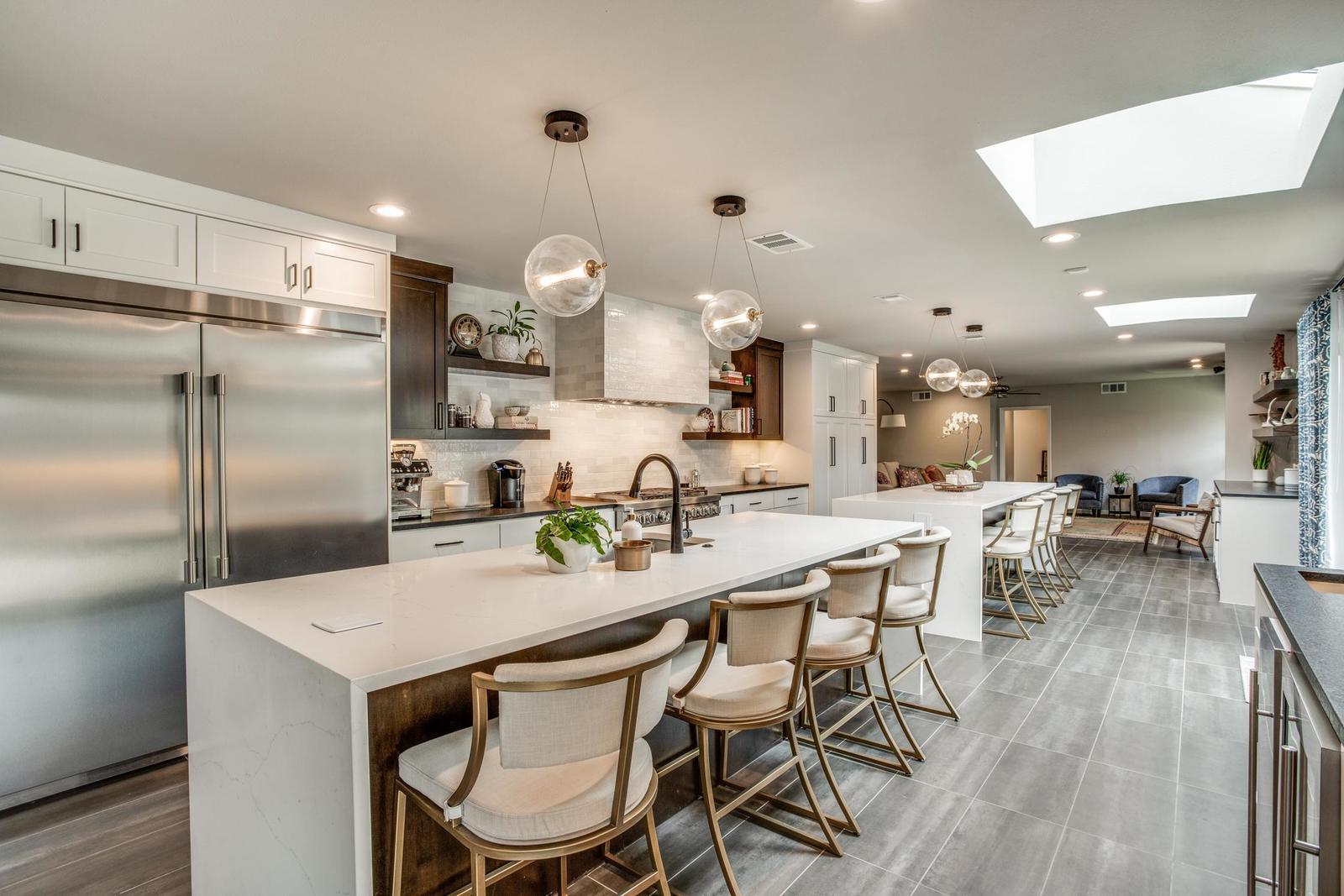 Examples of Our
Kitchen

Remodels
We take pride in our work and are committed to delivering exceptional results that exceed your expectations. Our team of skilled professionals takes a unique approach to remodel, focusing on your vision and goals to create a space that reflects your style, taste, and needs. Whether you're looking to transform your outdated kitchen or bathroom, we work with you every step of the way to ensure a stress-free experience and a stunning end result. Browse through our gallery to see examples of our work and get inspired for your own remodeling project. From custom cabinetry to beautiful tile work, we pay close attention to every detail and use only the highest quality materials and finishes to create a functional and beautiful space. At DFW Improved, your satisfaction is our top priority, and we're proud to have a track record of delivering exceptional work that our clients love.
Check out our Reviews to see what our clients say about our kitchen remodeling services. Our client's satisfaction is our top priority, and our commitment to excellence is evident in the quality of our work. Let our kitchen remodeling team transform your outdated kitchen into a modern, functional space that you'll love for years
Greg Kelley
DFW Improved did an great job with our kitchen remodel. Initially, we were concerned about the project timeline and potential delays, but the project team did an outstanding job of keeping everything on track. Throughout the project, there was always someone at our house working on something, and the end result is fantastic. We are extremely satisfied with the outcome and would highly recommend DFW Improved to anyone. We would use them again on a future project.
Sarah Taffe
Working with Shane and DFW Improved was such a joy! I never thought I would come out at the end of a kitchen remodel and call the process a joy, which speaks volumes. All the crews were experts in their domains and handled my constant barrage of questions with grace. I highly recommend DFW Improved for any remodel needs.
Selecting the materials for your remodeling project can feel overwhelming. We turn stress into excitement with a personalized showroom experience.
Remodeling contractors can be spotty when it comes to communicating. We provide you with a dedicated team you can rely on everytime you need them.
Paying for work that wasn't done correctly is frustrating. We guarantee all of our work with a warranty, so you don't have to worry about losing money.
Your Bathroom Remodel Shouldn't End in Regret
Avoid these negative experiences by working with a contractor you trust.
Kitchen Remodeling Services
Tailored

to You.
We take pride in our delivery process, from the initial estimate to the construction phase. Our experienced team of professionals will work closely with you every step of the way to ensure that your dream kitchen renovation is delivered to your exact specifications, on time and within budget.
Frequently Asked Questions
---
How much does it cost to remodel a kitchen?
When it comes to a kitchen remodel in North Dallas, prices can range from $15,000 to $50,000 or more depending on material and fixture choices. Keep in mind that the cost will vary based on the scope of the project, and it's best to consult with a professional contractor who can provide a detailed estimate tailored to your specific needs. Learn more
here
.
What are some kitchen design trends that will add value to my home if I plan to sell it soon?
If you plan to sell your home soon, some kitchen design trends that can add value to your home include opting for classic and timeless designs, choosing high-quality materials and appliances, and creating an open and functional layout that will appeal to potential buyers.
What should I consider when planning a kitchen remodel?
When planning a kitchen remodel, you should consider factors such as your budget, the layout of the space, the materials you want to use, and the functionality you need from your kitchen. It's also important to work with a professional contractor who can help guide you through the process and ensure your project is completed to your satisfaction.
Our Service Area
Proudly Serving the North Dallas area, including Collin County and most of Denton & NE Tarrant Counties
On any given day, you might see one of DFW Improved's branded trucks traveling across our service area to check in on a remodeling project in cities like Frisco, Plano, McKinney, Allen, Little Elm, Rockwall, Prosper, Celina, Flower Mound, Southlake, Colleyville, Keller, Grapevine, Highland Park, and so many other fine residential communities in North Texas.
---
Request Your In-Home Estimate Now
Transform Your Kitchen into a Dream Space
---
W
hen embarking on a kitchen renovation, it's crucial to consider your lifestyle and how you'll be using the space. Kitchens are no longer just utilitarian spaces for cooking; they can also serve as a gathering place for family and friends and a hub for entertaining guests. From cooking meals to hosting dinner parties, homeowners want a kitchen that reflects their style and provides a seamless continuation of the luxury and comfort of their home. Whether you're looking to create a modern and sleek cooking space or a cozy and welcoming atmosphere, your kitchen renovation should prioritize your needs and preferences.
---
Request Your In-Home Estimate Now