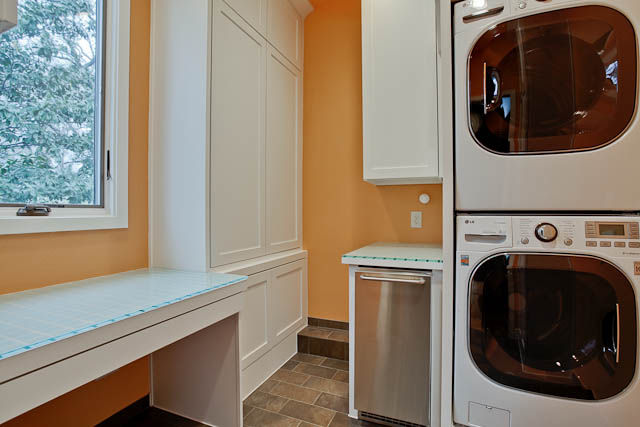 Traditionally, a "mudroom" was a small room at the back of the home, accessible from the kitchen or the back door. It was meant for shoes, work clothes, hunting coats, etc., and often doubled as a pantry. As homes became more modern with appliances like washers and dryers, the mudroom in older homes began to transition into the laundry room. With the combination of purposes in today's homes, the laundry/mud/pantry room can often feeling disorganized and stressed out.
Keeping this space in order and finding the elbow room to work can be a bit of a trick. Without a system or smart storage, the room becomes a catch-all that you have to deal with every time you need to do the laundry. To help you get organized and stay that way, we've come up with 5 tips to help you combat the chaos.
Fold-Out Drying Racks & Closet Rods
The great thing about fold-out, slide-out, or collapsible anything, is that it remains hidden and out of the way when not in use, but is easily accessible when needed. Having a few options is a major plus when doing the laundry.
Slide-Out Work Surface
Even if you have a cabinet with a nice counter top, it still may prove inadequate–especially if you are multi-tasking, like folding the dry clothes while pre-spotting the dirty ones. A secondary, slide out work surface is the perfect addition to any laundry room.
Shelving & Cabinets
A modern mudroom is the hub of the home; adjustable shelving and cabinets will help organize any mess by providing a place for everything. Cabinets with big drawers are great for storing extra towels, or even blankets. Many laundry rooms double as pantries for extra food, and shelving creates room for just about anything you want to store or keep out of the way.
Utility Sink
Having the convenience of a utility sink makes all the difference in the world. Once you've grown used to one you'll wonder how you ever got along without it. They're great for pre-soaking or pre-spotting, and hand washing items that can't be machine washed.
Over-The-Door Shoe Rack
It may not seem noteworthy, but something as simple as an over-the-door shoe rack can create space, solve storage problems, and encourage kids to be a bit more responsible. These can be used for shoe storage if your laundry room doubles as a mudroom, as well as to store cleaning and laundry supplies.
It's often simple ideas that make life easier. With a few slick tricks, any laundry room can be more productive, and far more comfortable.
Let us transform your laundry room. Click here to request an estimate, or give us a call today at 972-377-7600.