Accordion Folding Door System – We're Back!
Doors and Windows Function Like Never Before
Remember the old accordion folding door system at your school or your church growing up? Well the systems that are designed and manufactured today are definitely not the same.
Giving Back
This particular project was done jointly by DFW Improved with Vanilla Ice as part of the "Ice My House" program. DFW Improved donated most of the materials, labor and supervision to help complete this project for a deserving family.


Open Your Room to the Outdoors
Think back to the last time you entertained a group of family or friends at your home. Some may have been gathered in the kitchen or lounging in the family room. Others might be relaxing outside on the deck – enjoying the great weather and beautiful views of your property and the scenery beyond. How often have you wished for a larger opening to the outside from your kitchen, family room or even your bedroom?
You're probably nodding your head at this point, especially if you've entertained a large group where you and your guests are frequently both inside and outside. Whatever the case may be, many of us wish we could bring the outside inside (or the inside outside!). Now it's possible.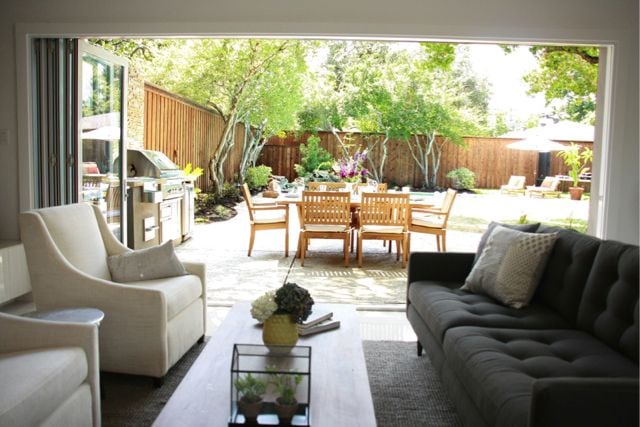 With the introduction of an increasingly popular accordion folding door system, we were able to open up a room to the outside while creating large openings and spacious views. Often called "NanaWall" after one of the popular manufacturers, these door systems provide the appearance of floor-to-ceiling glass windows but are capable of sliding open and closed with simple ease.
A handful of manufacturers have perfected these exceptional door systems. These systems come in a variety of finishes including aluminum, wood or aluminum-clad wood. The doors are weather resistant to air, water and temperature, and are constructed to be either top supported or floor mounted.
Either way, the ease of sliding these doors open is quite remarkable. Many of our clients discover that this creates an inviting atmosphere for parties and gatherings that they've only been able to dream of.
If this is your dream or you have another, let us visit with you and help create the perfect atmosphere that you want in your home.
DFW Improved
Our seasoned professionals have the experience to deal with complex projects. Do some "Dreaming" of your own as you stroll through our Photo Gallery for concepts and ideas.
Check out our channel on YouTube and "Like" our Fan Page on Facebook or connect with us through Twitter or LinkedIn to be notified when completed projects are posted.
DFW Improved is the right contractor for any of your interior or exterior painting, outdoor living or addition project or other typical home improvement project you have whether or not it includes the use of an accordion folding door system installation in your plans
Call us today at 972-377-7600 to discuss your next project.
Related Images: