Outdoor Living Space Remodeling Ideas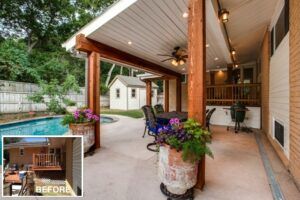 To make your backyard outdoor living space the best it can be is simply a thoughtful design to take advantage of its natural landscape and beauty. By starting at your back door, and working your way out, you can finish up with a finished product that is as functional as it is beautiful.
Use the following DFW Improved home remodeling ideas to get your creative juices flowing.
Home remodeling ideas for your deck range from the simple to the complex. If you simply want your deck to provide a place for you to reach your yard, a well built space that provides a sturdy entry point to your home is ideal.
Many people, though, want their decks to be an extension of their homes. Built in seating, a covered alcove for outdoor dining opportunities and the ability to have a dedicated place for cooking equipment are all popular home remodeling ideas that make your deck a pleasure to be on.
Whether your back door is directly at ground level or you need a walkway leading from your deck to points beyond, the home remodeling ideas for this area abound. Many people stick with the tried and true method of laying gravel. Another idea is to choose gravel in a color that coordinates with your home's décor.
Large stones or pavers are another popular walkway material that provides a distinctive area onto which guests are to walk. A wooden walkway allows you to make the walkway more evenly aligned even over those surfaces that might otherwise be a challenge to walk along.
Your backyard should be a place of peace and tranquility. For many people, this means planting flowers, trees and shrubs. Other people want to plant a garden in their backyard. Fountains, benches and pools are other home remodeling ideas that allow you to relax and enjoy nature in your own backyard.