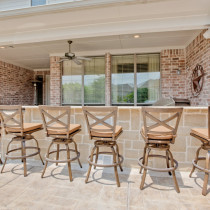 An indoor outdoor bar is a great investment as it can transform an ordinary living space into the perfect social environment. Entertaining guests, hosting parties, and enjoying the beautiful weather with friends are just a few of the many benefits that an indoor outdoor bar provides.
Choosing A Window
By installing a window you can transform part of your kitchen into an indoor outdoor bar since it will provide direct access to your patio, deck or porch. When choosing a window it is important to consider your personal preferences and style in order to achieve the desired look. These window styles include options such as roll up, accordion, casement and much more. The ideal window will seamlessly integrate both the indoor and outdoor living space, which in return will provide you with easy access to both the kitchen and outdoor area.
Designing A Serving Area
In order to achieve a true bar-like feel it is crucial to install a serving area that will tie in your kitchen with the bar. An outdoor countertop will provide you with the perfect surface to serve your guests with cocktails and other beverages. When choosing a serving area, many homeowners prefer the look and classiness of granite as its earthy tones pair well with the outdoors. For a more rustic look, materials such as wood or metal may be preferred instead.
Adding The Final Touches
After your indoor outdoor bar has been created you'll want to add the final touches that will enhance its overall look and feel. Choosing the right seating, such as bar stools, will ensure that your guests can enjoy your new indoor outdoor bar comfortably and in style. The addition of a patio overhang should also be considered as it will protect the outdoor portion of the bar from the elements. For the ultimate indoor outdoor bar, a cooling system or misters can be installed to create a highly functioning area.
By creating your dream bar you can make the most out the warm weather, and social engagements, while also improving the aesthetics and overall value of your home.
For more information on creating your own indoor outdoor bar or other home improvement services, call DFW Improved today at 972-377-7600 or request an estimate on our website.
Related Images: