Home Remodeling Projects are Helping Homeowners Protect Their Investments
Are You Interested in Investing in Your Home? Now May Be the Time!
Home Remodeling spending will continue on it's upswing through 2013. This statement is based on overall data collected by the Census Bureau through the 1st Quarter (Q1) and updated estimates from most contractors and manufacturers. This recent update, released on July 30, 2013, is from the "Joint Center for Housing Studies of Harvard University".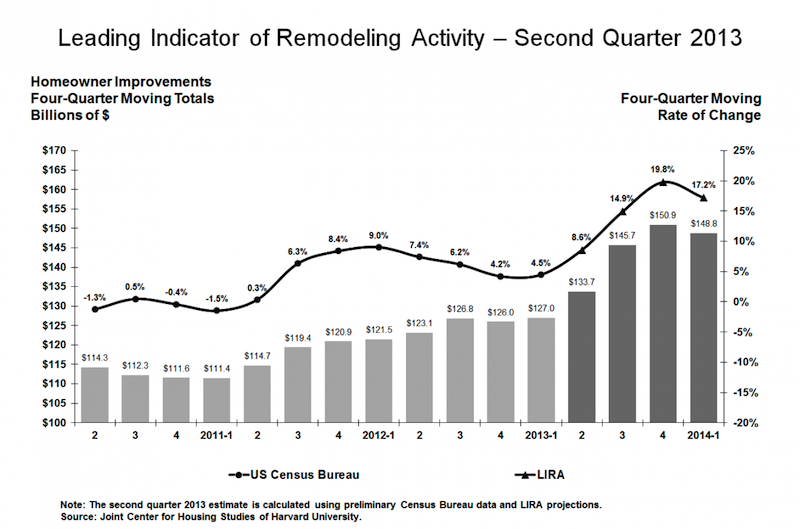 The report further states, "Remodeling contractors have been reporting improving market conditions for the past four quarters, and are seeing strength in future market indicators. Spending trends have been on a solid upward slope, with the Leading Indicator of Remodeling Activity (LIRA) projecting continued strengthening of the market through the end of this year and into the first quarter of 2014."
It appears one of the biggest contributors to the trend is recent home buyers of existing homes. Home remodeling and improvements to these recent home sales create opportunities for buyers to make changes to the home to reflect their tastes and personality. Most consumer confidence surveys also reflect more stabilization and upward growth in the prospects of investing in their home again.
This study was initiated and has been continually updated since 1995.
DFW Improved has seen this market growth and based on the types of projects they are being asked to do, believes it to be what they would call a "quality" recovery as well. Most of our customers are really interested in upgrading the quality of the materials and products within their homes.
Give us a chance to help you on your next home remodeling project! We know how to listen to your ideas and then help you make them become a reality.
DFW Improved-Your Home Improvement Specialists!
Our seasoned professionals have the experience to deal with complex projects. Do some "Dreaming" of your own as you stroll through our Photo Gallery for concepts and ideas.
Check out our channel on YouTube and "Like" our Fan Page on Facebook or connect with us through Twitter or LinkedIn to be notified when completed projects are posted.
DFW Improved is the right contractor for your home remodeling, your interior or exterior painting projects, kitchen and bathroom remodeling, outdoor living or addition project.
Call us today at 972-377-7600 to discuss your next project.