Geometric flooring patterns have been popular since the days of ancient Greece and Rome. Delicate mosaic tiles were used in squares, triangles, hexagons, octagons and other designs to decorate floors.
Today, these patterns are just as popular in bathrooms, kitchens, swimming pools, and outdoor walkways when remodeling or building a home. Parquet floors feature geometric patterns in wood. The flooring defines the room and gives it a personality, and good floor covering always adds value to your home.
Geometric patterns may be made from individual pieces of tile, wood, vinyl, and even carpet. Carpet squares can be printed in geometric patterns, or you can arrange different solid colors in a custom geometric pattern of your choosing. Graphic vinyl designs add dimension and depth to floors giving the impression of steps or cubes on the flat floor.
Designs and color combinations are unlimited for any space. Here are some materials you can use to create a unique geometric feature in your home.
Vinyl
Vinyl is popular in kitchens and bathrooms, but it can be used throughout the house as well. Graphics technology creates faux wood in a variety of patterns and geometric shapes in durable vinyl.
Straight wood slat designs in light gray to dark mahogany tones are always popular. Newer graphic designs feature the faux wood in squares framing diagonal pieces for a parquet look.
Vinyl comes in all colors to complement walls, furniture, and window coverings. Large and small squares continue to be popular but small squares bordered by larger ones are trendy. Circles, triangles, ninety-degree lines and diagonal designs are available in vinyl sheets and tiles. Squares of vinyl can be set in any pattern, and color combinations are infinite. Vinyl can also imitate the stone and porcelain tile look.
Tile and Stone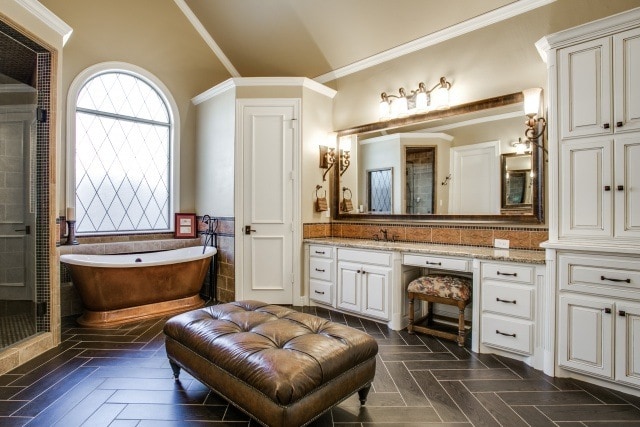 Tile that looks like wood is popular in herringbone and chevron designs. The rustic, distressed wood look is available in porcelain tiles that resist water and stains better than real wood. Straight, alternating planks in different color combinations fool the eye, giving the impression of real aged wood.
Porcelain tiles come in all sizes and colors with graphics in geometric designs. This is one of the latest trends for bathrooms and kitchens. Diamonds or circles are set in squares. Lines zigzag in different directions. Tiles are usually square although hexagon tiles are back in style.
The little black hexagon and octagon tiles popular in the early 20th century have resurfaced in the 21st century. The white hexagon bathroom tiles with the black insets are back with the black tile border, and this look can be carried onto the walls. It complements the footed bathtub in traditional bathrooms, though it also works well with contemporary fixtures.
Granite is trendy with different sized stones used to create unique designs. This includes borders in small stones and larger stones set in the center. Design concepts from ancient Greece include mosaics using stones in diamond patterns with straight line borders.
Stone can be used in geometric shapes for patios and walkways, set in patterns based on color tones and sizes.
Wood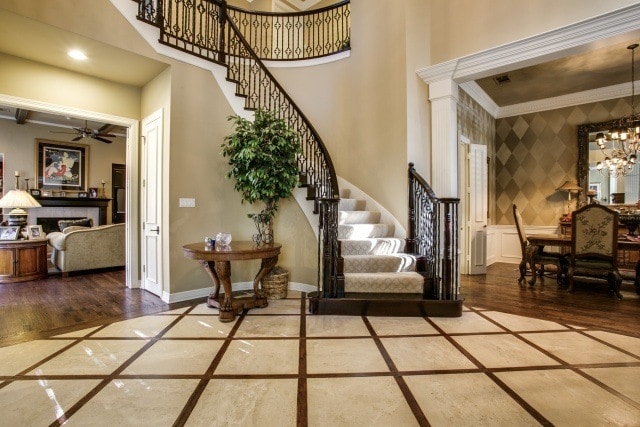 Genuine wood flooring combined with stone or tile is a popular trend. The tiles can be inset in the floor for a geometric design or they can border the wood. The combination uses the rectangular wood slats with square tiles in complementing color tones. Wood can also border a stone floor or carpeting.
Wood and stone combinations are popular with entries and staircases. Wood steps may have a stone border.
Wood designs using color variations have always been popular for formal rooms and entries.
Geometric designs will continue to be popular for hard surface flooring.
Contact DFW Improved today to include a custom geometric floor in your remodel or custom home plan.