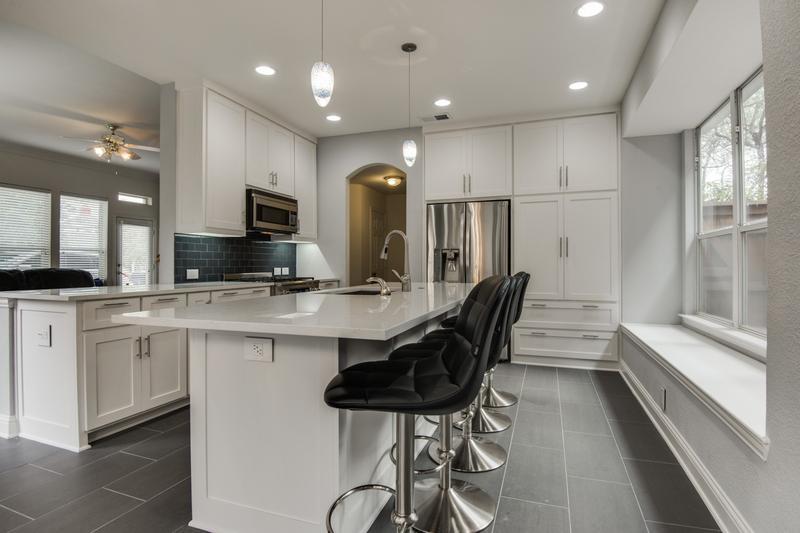 There are numerous options of decorative and functional hardware for your home, but there is no secret formula for deciding what is right for you. While this may seem like one of the easiest decisions to make during a home remodel or build, there are actually a lot of things to consider.
Most homeowners use both knobs and pulls; ideally one type for the doors and another for the drawers. It is not essential that you select knobs and pulls from the same collection, however you will typically want hardware with complementary styling to maintain continuity throughout your home.
Your hardware should also be easy to use. It should essentially attach firmly to the door while being easy to grasp. Being comfortable with the feel of your hardware will ensure that you don't get tempted to open your cabinets in a way that could damage them.
Options in hardware styles these days are limitless. You may go for antique knobs painted with farm animals, frosted turquoise resin pulls, or elegant leather-bound cup pulls. To help make your decision easier, here are 10 of the most popular styles of hardware:
Cool Contemporary. It is no surprise that stainless steel reigns supreme. However, plastics often make solid choices as well. Popular shapes include elongated pulls and geometric knobs.
Warm Contemporary. You can project a warmer, softer look by going for material that is a little less harsh, including brushed and satin nickel, materials with a matte finish, or bright colors in resin or artisan glass. Choose from elongated pulls that are curved without sharp angles, or T-knobs.
Cottage. If your home is cottage style, especially in the kitchen area, you will want to go for these knobs. You may also opt for porcelain and embossed stoneware. Woven designs using bamboo or wire are also authentic choices.
Country/farmhouse. This doesn't need to be complicated; rustic brass cup pulls and wooden knobs are all you need. In this style you may also see faceted glass knobs or glazed porcelain. Alternatively, if you are more inclined towards kitschy rather than period-style, you will want to consider decorative hardware made to resemble fruits, vegetables, and farm animals.
Georgian. For this style, you may go for such hardware that has classic turnings in brass, nickel, or weathered copper. Look for styling reminiscent of fine furniture.
Old World. This essentially mimics old European chateaus. Look for hefty hardware with an aged patina. You may also consider wire frame knobs in cast iron having a rusty finish, ivory polyresin knobs with an oil-rubbed bronze shaft, or distressed ceramics.
Rustic Retreat. It is no secret that nothing beats earthy. For this purpose, consider going for wood or natural stone products in weathered and aged finishes, or even hammered designs. To complete your theme, you can opt for twig pulls or leaf knobs.
Tuscan. you can bring the Mediterranean look to life using handcrafted ceramic knobs in warm limes, rust colors, and blues, coupled with jewel-tone glass hardware that is overlaid with silver.
Victorian. This style can be achieved by using faceted, clear glass knobs, which essentially impart elegance while maintaining an heirloom feel.
Arts & Crafts. This involves using hardware finishes that are largely darker in color, especially those with hammered faces. Metal is the ideal material for this, including silver, aged iron, or bronze hammered knobs and pulls, as well as backplates with geometric cutouts.
In the end, the goal is to select a style that suits your personal preference and taste, even if it doesn't exactly fit in with the above description. Use these styles as a guide, but ultimately pick something that functions well and has the look you've dreamed of.