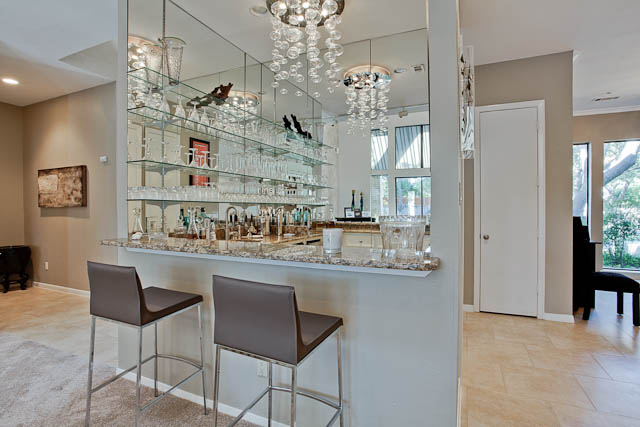 If you are the kind of person who enjoys cocktails or a nightcap, especially with company, you may want to incorporate a home bar into your next remodeling project. While there are numerous ways of designing a home bar, you should select a design that essentially suits your purpose. For instance, your intentions could be entertaining just a few friends. Alternatively, you may be contemplating using the bar for more activities rather than just a beverage station. Below are some essential ideas for designing a home bar.
Select the Right Bar Stools
The purpose for which you are creating a home bar should be a major deciding factor in the type of fixtures and furniture you should select for your home bar. For instance, you can either go for simple wooden bar stools, or such stools that have extra features like a small back support and upholstery. The most popular bar stools are able to swivel, have a mechanism to adjust the height, and a foot rest.
While deciding on the type of stools you want for your bar, you will want to consider both the comfort and ease of movement of the people using the bar. Stools come in a variety of colors as well, so select a color that matches both your personal taste and the style of the rest of your house.
Install Sound and Video Systems
Installation of sound and video systems can greatly enhance your enjoyment and relaxation, as well as that of your guests. Music can help set the mood based on the type of gathering you are having. It can be soft jazz or classical music for a dinner party cocktail hour, or something more upbeat like classic rock if you are enjoying a backyard barbecue in spring or summer. In addition, a television or video screen will enable you and your friends to have a watch party for the big game or a favorite show.
Include a Refrigerator
Just like any other bar, your home bar will require a refrigerator or a portable cooler for stacking the cold drinks and ice, as well as any other condiments you might require for mixing drinks. You may also want to get a sink with flowing water, and a shelf for stocking the bottles. Consider including a glass rack for holding your stemware, and open shelving or cupboards for coasters, appetizer plates, and cocktail napkins.
The Lighting
While you may use the existing room lighting for your bar, you should consider installing adjustable light fixtures for setting the mood according to the needs of different occasions. For instance, you typically want to have brighter lighting for lively activities and soft lighting for the more relaxed occasions. The most common lighting methods for bar areas are recessed and track lighting.
The Building Material
Most home owners will choose wood when constructing their bars. You can however decide to have your customized bar built with stone, marble, or even wrapped in leather. The beauty of having a custom remodel or addition is that it can become whatever you want it to be.
The most recommended method of incorporating a bar into the interior design of your home is to have one custom built for you. This will allow you to perfectly match the wood, color, and style of the bar to the rest of your architectural details with seamless transitions, allowing it to blend into the surroundings.
A great room remodel with a home bar can make your home feel like new. Contact us today for an estimate.