Are you considering home remodeling in 2023? Updating your home can be a great way to increase the value of your property and make it more comfortable and functional for you and your family. ​​With options from a fresh coat of paint to kitchen upgrades to outdoor living spaces, there is something out there to suit everyone's needs. In this article, we'll explore some popular home remodeling ideas for 2023 that are sure to inspire!
Table of contents
Kitchen Upgrades
The kitchen is one of the most important areas in a home. It's where families gather to share meals, entertain guests, and make memories. To ensure that your kitchen remains functional and stylish for years to come, consider making some upgrades this year.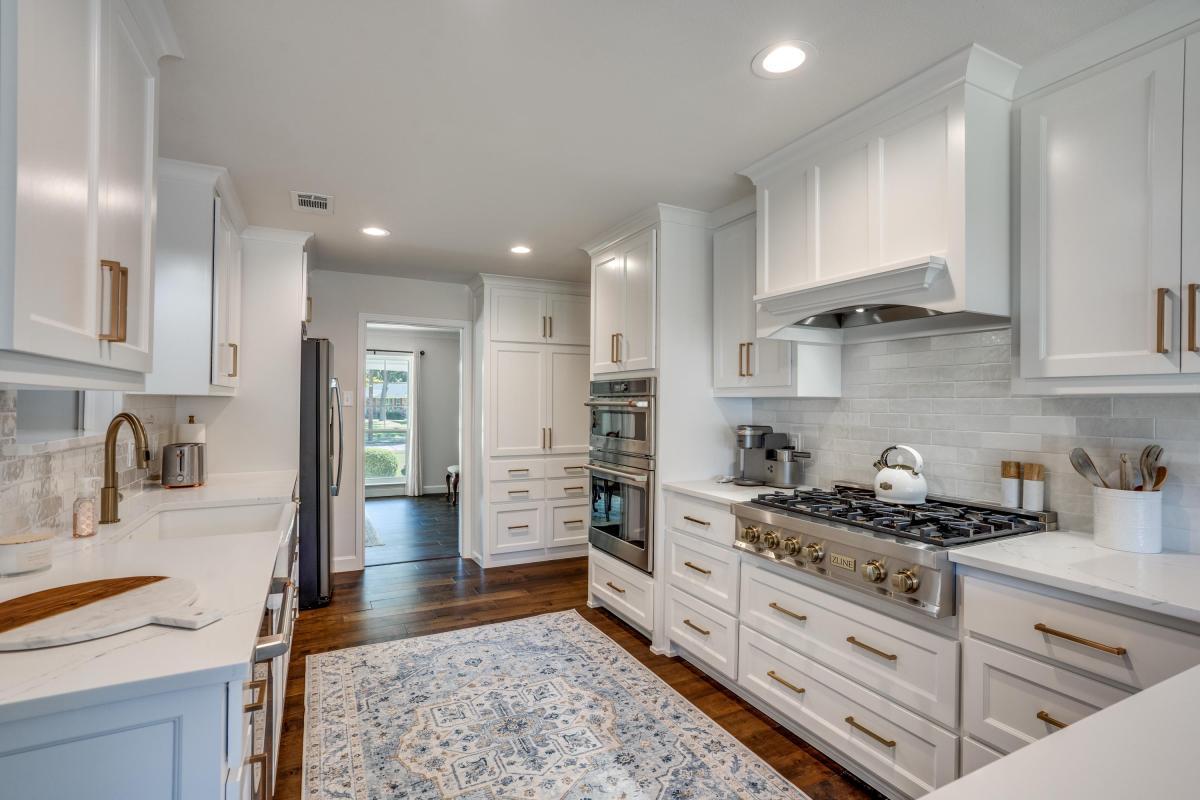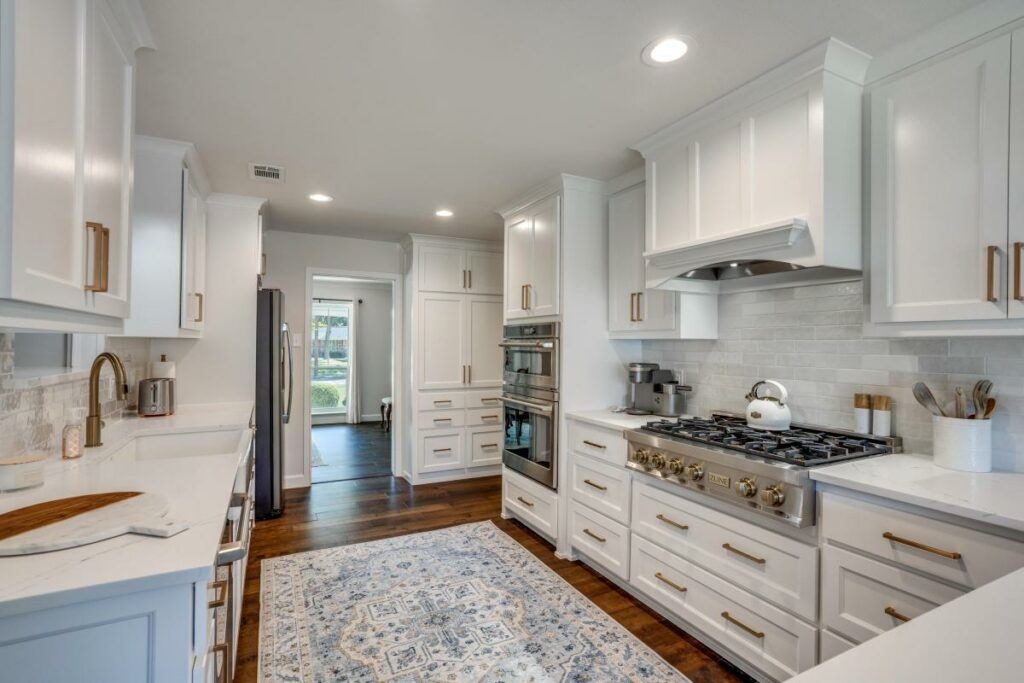 One great way to upgrade your kitchen is by adding a multi-functional island. An island can provide extra counter space and storage for pots and pans or other items you need close at hand while cooking. Many homeowners are also saving space by installing their dishwashers, sinks, and trash pullouts in islands instead of taking up valuable cabinet space with these appliances. An island can also serve as an informal gathering place for family members or friends who drop by during meal preparation or want to chat while dinner is being cooked.
Another way to spruce up your kitchen is with new cabinets or drawers that offer more storage options than ever before. Consider replacing outdated cabinets with sleek modern designs featuring soft-close hinges and drawers that slide out easily, so you don't have to reach into the back of them every time you need something stored away inside them. If budget allows, add additional shelves within existing cabinets, so there's no wasted space between items on different levels inside each cabinet door. Additionally, look into customizing drawer organizers so everything has its designated spot – from utensils like spatulas and ladles down to measuring cups – keeping clutter off countertops when not in use but still easy enough access when needed quickly!
Finally, if you're looking for a quick fix without breaking the bank, try changing out old hardware, such as knobs and pulls on cabinetry doors and drawers – it's amazing what a difference even small details like this can make. New lighting fixtures are another simple yet effective update; choose ones designed specifically for kitchens (like undercabinet LED strips) which will help illuminate hard-to-reach places like behind stovetops and refrigerators, plus create ambiance throughout the entire room too.
Upgrading your kitchen is a great way to make your home look and feel more modern in 2023. Next, let's discuss bathroom remodeling ideas for 2023.
Spa Inspired Bathroom
A spa-like bathroom can be a great way to create a calming and luxurious atmosphere in your home. With the right design elements, you can transform any ordinary bathroom into an oasis of relaxation. Start by considering the size of your space and what features you would like to include. A large bathtub is ideal for those who want to take long soaks after a stressful day. Stand-up showers are perfect for those who prefer quick morning routines or don't have enough room for a tub. Low lighting will help set the mood, while bold tile patterns add visual interest and texture to the walls and floors.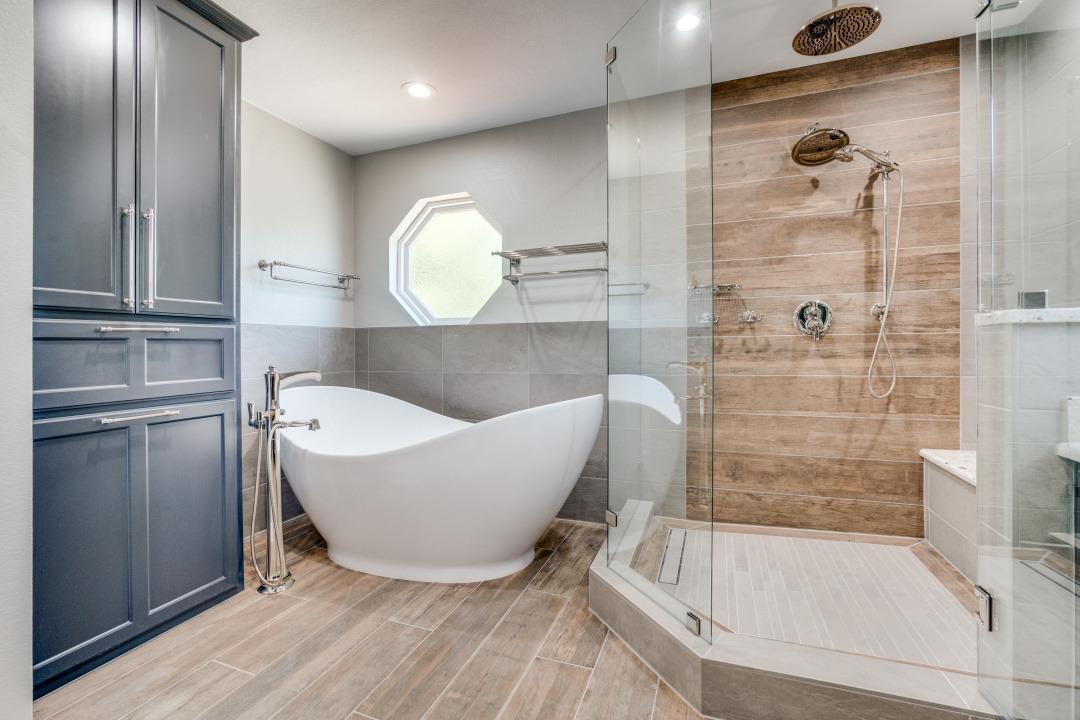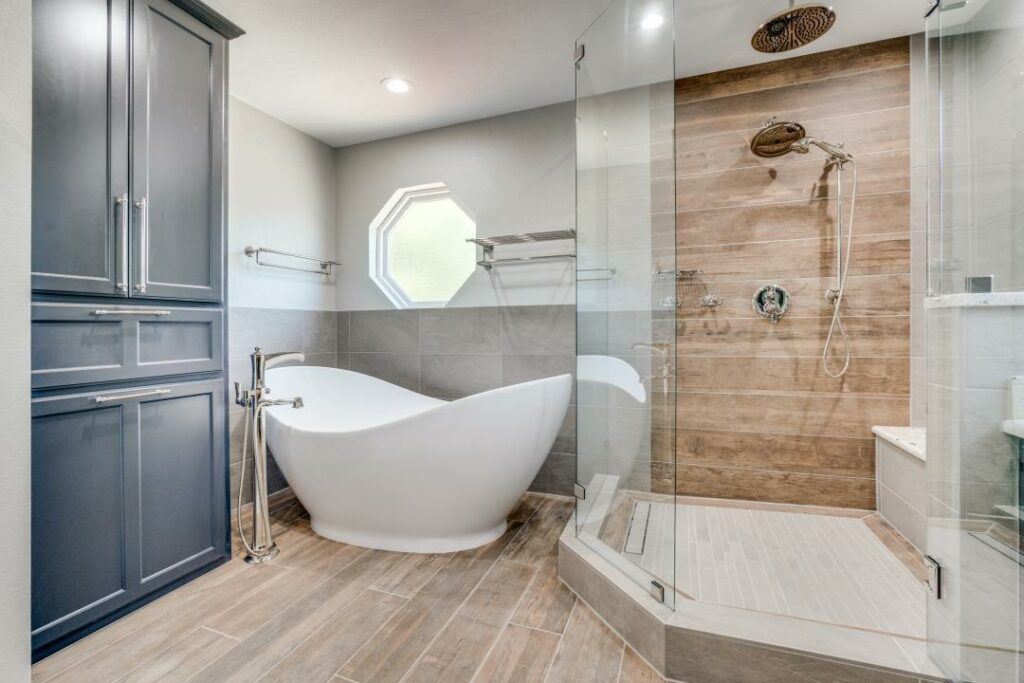 When selecting colors, opt for neutral shades that evoke feelings of tranquility, such as light blues, grays, whites, tans, or greens. If you're feeling adventurous, you might try adding pops of color with artwork or accessories like towels and rugs in bright hues that will bring life into the room without overwhelming it visually. Finally, ensure all fixtures are up-to-date; upgrading your plumbing fixtures can increase their longevity and provide energy-efficient benefits. Whether you're looking to gain more space, install a low-flow toilet, or want a new faucet, new fixtures are a great way to transform your bathroom into a tranquil retreat.
Room Additions
Room additions are a great way to make your home more functional for your family's needs. Whether you're looking to add an extra bedroom, create a multi-generational living space, or want extra room to relax in, there are many possibilities.
One popular option is adding a bedroom for guests or aging parents. This can be done by expanding existing rooms or building up or out from the side of your home. Consider converting an attic into a livable space if you have one available. Adding an extra bathroom can also be important when creating guest quarters, so everyone has a private area for bathing and storage.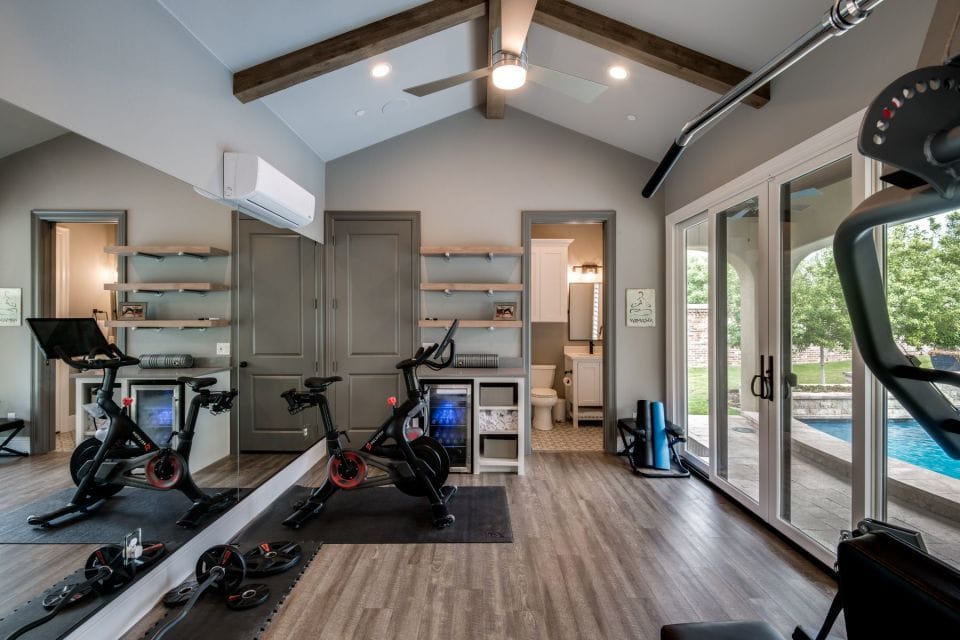 Multi-functional rooms are another great option for homeowners who want more than one purpose from their addition. For example, you could build a media room that functions as a game room, guest space, and workspace, depending on the time of day it is used. Alternatively, you could combine two smaller bedrooms into one larger room that can serve as a playroom during the day and a sleeping area at night if needed by visiting family members or overnight guests.
Built-in storage solutions and bunk beds are always helpful when considering room additions. They allow you to maximize every inch of usable space in your home without occupying too much floor area with bulky furniture pieces like dressers and armoires. Built-ins come in all shapes and sizes, so it's easy to customize something that fits perfectly within any wall cavity or corner nook while still providing ample storage capacity for books, toys, linens, clothing items, etc.
Adding a room to your home can be an exciting and rewarding way to increase the size of your living space. With so many options for design, materials, and finishes available in 2023, you'll have plenty of ideas for creating the perfect addition to your home.
Built-In Storage
When it comes to home remodeling, built-in storage is a great way to maximize the use of your space. Built-in storage can be used in any room of the house, from mudrooms and bathrooms to laundry rooms and pantries. With cleverly designed custom cabinetry, you can create an organized and efficient living space that will make life easier for everyone in the family.
Mudrooms are often one of the most cluttered areas in a home. Installing custom cabinets with plenty of shelves and cubbies allows you to store items like shoes, coats, hats, umbrellas, backpacks, and more without clutter on the floor or countertops. You can also add hooks for hanging bags or backpacks, so they don't end up cluttering other parts of your home.
In bathrooms with little extra space, built-in cabinets provide additional storage while keeping things tidy. From medicine cabinets with mirrors to vanity drawers filled with toiletries – having everything organized and tucked away behind closed doors helps keep counters free from clutter and makes it easy to find what you need when you need it quickly!
Laundry rooms are another area where custom cabinetry makes sense because there is often limited wall space available due to large appliances already taking up most of it. Installing upper cabinets above washers/dryers creates ample room for storing detergents & cleaning supplies as well as sorting baskets for different clothing items (e.g., delicates).
Finally, kitchen pantries offer even more opportunities to add built-in storage solutions, such as pull-out shelves that allow easy access and adjustable shelving units that enable customization based on individual needs, like canned goods versus boxed foods. This organization system keeps food items neatly arranged while freeing up valuable countertop real estate.
Built-in storage is a great way to maximize space and make your home a place for rest and relaxation. With the right design, you can create an efficient and stylish space that will last for years.
Outdoor Living Spaces
Outdoor living spaces continue to be popular as homeowners look for ways to extend their living space and make it more enjoyable. Decks, patios, and outdoor kitchens can provide a great way to entertain guests, watch the big game or relax with the family.
Decks offer a space from which you can enjoy the outdoors while still being protected from the elements. They also provide a great place to host barbecues or parties for friends and family. With so many materials available such as wood, composite, and more, there is sure to be something that fits your budget and style preference. Decks come in various shapes and sizes, making them perfect for any yard or patio area.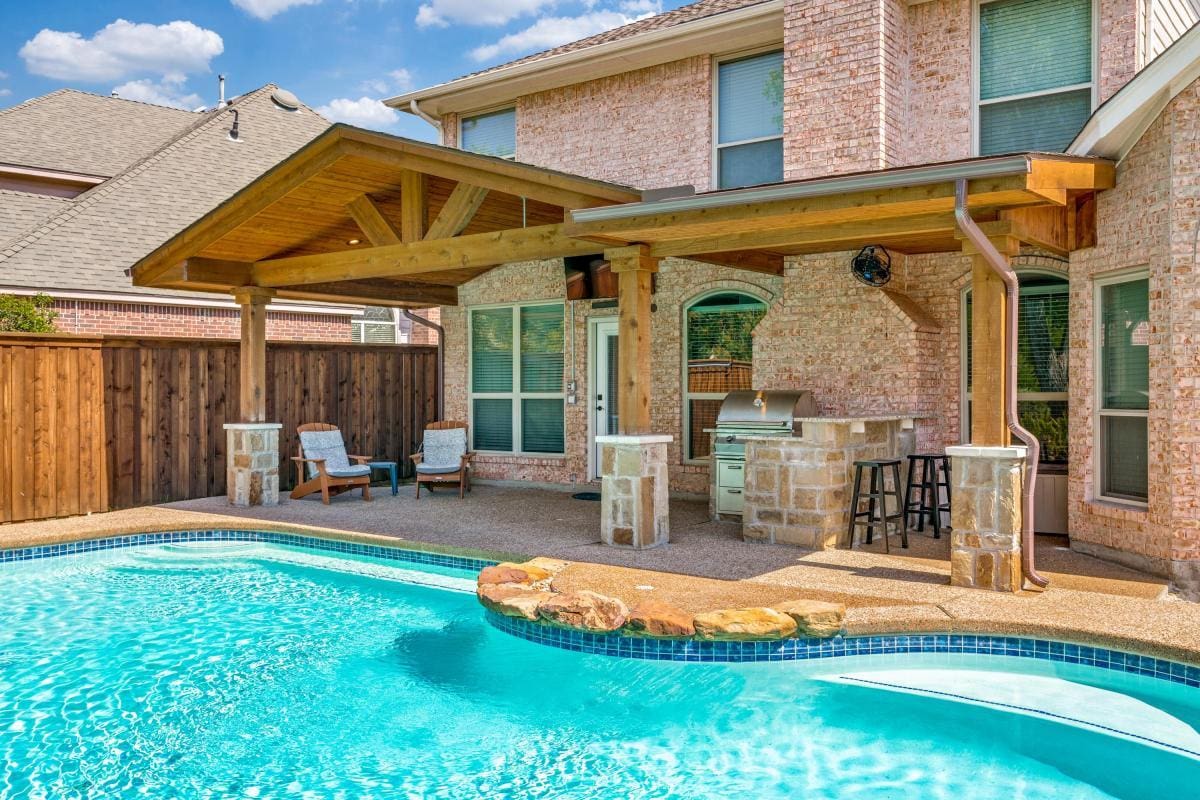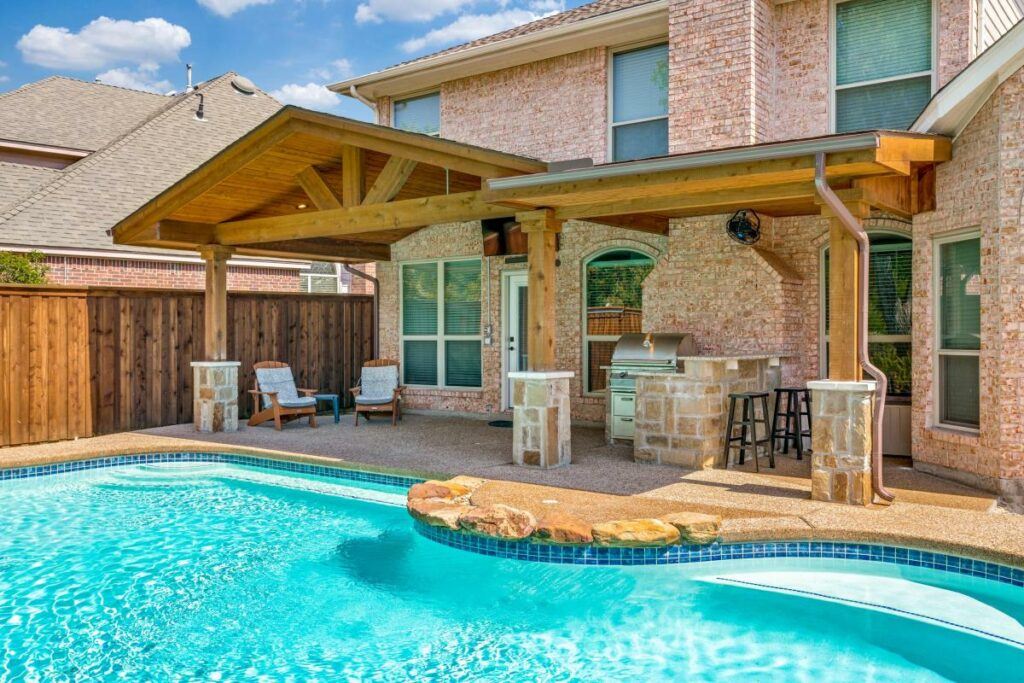 Covered patios are another option when looking into outdoor living spaces. Covered patios offer a flat and covered surface on which you can add furniture like chairs, tables, umbrellas, fireplaces, etc. Creating an inviting atmosphere perfect for entertaining guests or relaxing with family after a long day at work or school. Patio surfaces vary greatly, ranging from concrete pavers, flagstone, brick, gravel, etc., allowing you to customize your space exactly how you want it without breaking the bank!
Outdoor kitchens are popular due to their convenience factor – no need to run back inside whenever someone needs something! Outdoor kitchen setups range from simple grills to full-blown kitchen islands, complete with refrigerators, sinks, cooktops, ovens, dishwashers, ice makers, kegerators, etc., giving you everything needed for hosting large events right outside!
No matter what type of outdoor living space setup best suits your needs, there is sure to be something out there that will fit your budget and lifestyle perfectly. Whether adding a pergola onto an existing deck, building a new covered patio area, or installing a complete outdoor kitchen, we can help bring life back into your home's unused spaces. Outdoor living spaces are the perfect way to make your home feel more inviting and enjoyable in 2023!
Conclusion
Home remodeling ideas for 2023 are an excellent way to stay in your home and make it work best for you and your family. Whether it's a fresh coat of paint, kitchen upgrades, a spa-inspired bathroom, a room addition, built-in storage, or outdoor living space – there are plenty of options available to help you create the perfect space that fits your lifestyle. With careful planning and research, you can find the right home remodeling solutions that will give you years of enjoyment in your home.
Do you want to stay ahead of the curve when it comes to home remodeling ideas for 2023? Let us help! Our experienced team of design-build home remodelers will bring your vision to life and make sure that every detail is perfect. We can provide creative solutions that fit any budget, whether you're looking for a complete renovation or just some minor updates.