Can Storm Shelters or Safe Rooms Be Part of
Your Home Remodeling Ideas
Who Needs Storm Shelters or Safe Rooms?
If you live in Texas, or the midwest, or the east or west coastal areas, there is no doubt that in the last few years, most all of us have wished that we had considered home remodeling ideas that incorporated storm shelters or maybe safe rooms for emergencies. Between hurricanes, tornados and some of the severe weather events or incidents we see on news channel outlets, this type of protection may be the only thing standing between us and life tomorrow.

We all carry Homeowners Insurance Policies to stand between our homes and the damage that storm events can leave, but we can never replace those close to us. It's important to consider all available alternatives and find a way to protect ourselves and our families.
What is Best for Your Family?
From basic prefabricated concrete shell "Storm Shelters" to a complete "Safe Room", we can help you look at all your home remodeling ideas for the protection you need.
Over the past few years, we have helped several families rebuild their homes and their lives after the storms that have ripped through North Texas. Fortunately the lives were only disrupted by damaged homes and not by the loss of a family member.
The homes were another matter, but they were restored and lives continued.
Storm Shelters
Below you can see some photos taken during a recent installation of a basic storm shelter. It's not necessarily difficult if you have the experience and knowledge AND the right equipment to complete the job quickly.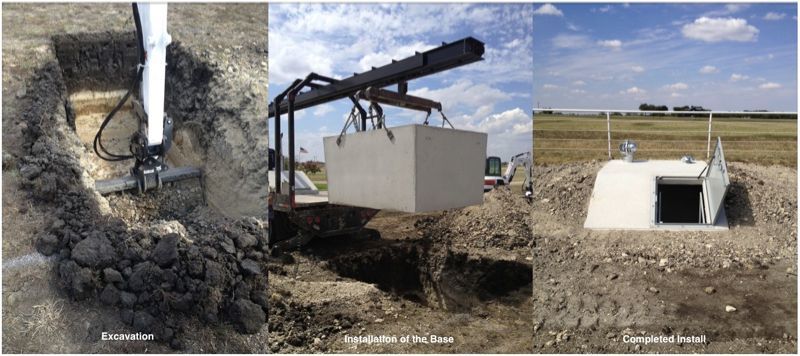 Safe Rooms
If you are interested in high-finish, hidden and secure Safe Room then we have the ability to assist you with that too. From hidden doors doors with secure locks from the inside, to high tech video and communication systems. DFW Improved can provide the right equipment to keep you in touch through anything from a storm to a potential terrorist incident.
We can assess your current home and likely find room to renovate and create such a type of room, or help you design for such a room when we help you build a custom home.
We have the ability to make it a reality for you.
DFW Improved
Our seasoned professionals have the experience to deal with complex projects. Do some "Dreaming" of your own as you stroll through our Photo Gallery for concepts and ideas.
Check out our channel on YouTube and "Like" our Fan Page on Facebook or connect with us through Twitter or LinkedIn to be notified when completed projects are posted.
For any of your interior or exterior painting, outdoor living or addition project or other typical home improvements you have, DFW Improved is the right contractor. We can help you with just about anything you can imagine, including your home remodeling ideas that might include Storm Shelters and Safe Rooms.
Call us today at 972-377-7600 to discuss your next project.
Related Images: