When it comes to planning a bathroom remodel, knowing how to choose the right materials for your bathroom remodel can make all the difference between a functional bathroom and a luxurious retreat. Whether it's a relaxing soak in the tub after a long day or a brisk shower to kickstart your morning, the bathroom is a sanctuary for many of us.
It's imperative to know how to choose the right materials for your bathroom remodel that reflect your style and stand up to daily wear and tear. During your design consultation, our designers can assess your project wants and needs and your budget requirements to help you make selections that are right for the job. This article guides you through how to choose the right materials for your bathroom remodel for your next project.
Table of Contents
Elevate Your Space with Flooring Options
The flooring landscape is evolving rapidly, with homeowners increasingly seeking materials that make a style statement and withstand the rigors of daily use. Let's dive into the top flooring trends that are transforming homes in 2023:
Ceramic and Porcelain Tiles
These perennial favorites have become the go-to choices for a luxury bathroom remodel. Apart from their impressive durability and water resistance, ceramic and porcelain tiles offer many design possibilities thanks to their availability in many shapes, sizes, and colors. Whether you're going for a minimalist Scandinavian vibe or a vibrant Mediterranean style, these tiles allow you to tailor your bathroom flooring to your desired aesthetic.
Natural Stone
Nothing quite matches the luxurious appeal of natural stone. Renowned for its timeless elegance and resilience, natural stone – encompassing granite, marble, travertine, and slate – is increasingly favored for high-end bathroom remodels. These materials provide a unique, organic look that effortlessly adds a touch of class and sophistication. However, they require periodic sealing to guard against water absorption and staining, a small trade-off for the beauty and durability they offer.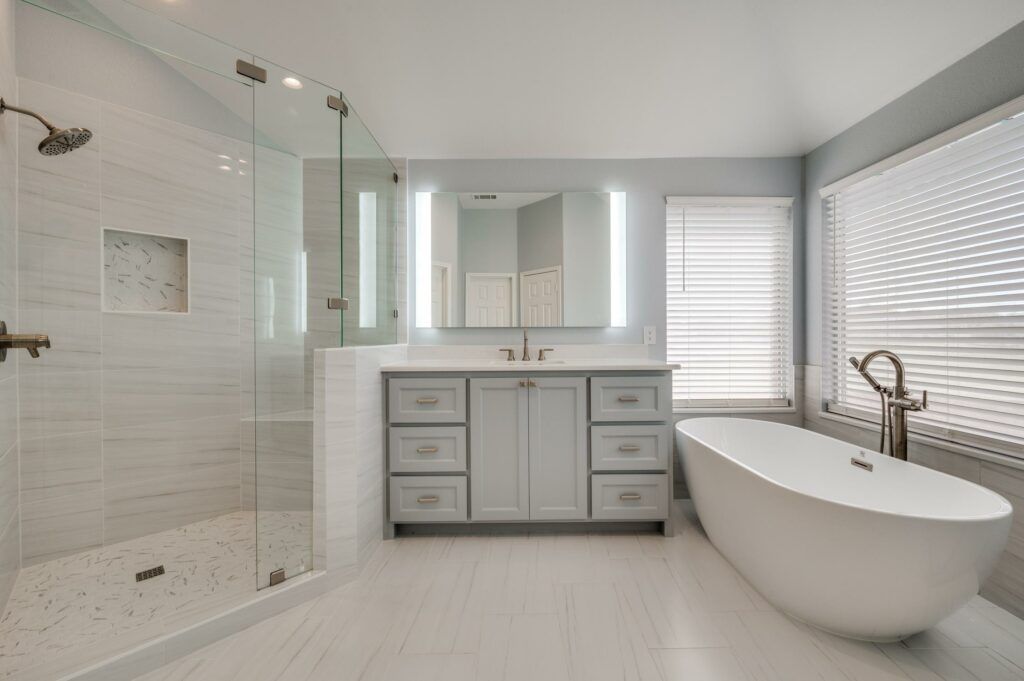 Engineered Wood
If you love the look and feel of wood but are concerned about its compatibility with moisture-prone areas like the bathroom, engineered wood is a fantastic option. This material retains the warm, inviting wood aesthetic while boasting a higher resistance to moisture and humidity, courtesy of its multi-layer construction. As a result, it's becoming a popular choice for homeowners looking to strike a balance between style and practicality.
Luxury Vinyl Tiles (LVT)
Luxury Vinyl Tiles have made a significant splash in the flooring scene. Mimicking the appearance of natural materials like wood and stone, LVT offers an affordable, water-resistant, and easy-to-install alternative. It's perfect for those who want the luxury look without the high-end price tag.
Terrazzo
A blast from the past, Terrazzo is making a comeback. This composite material made of chips of marble, quartz, granite, glass, and other suitable material, poured with a cementitious binder, polymeric, or a combination of both, provides a retro look that's becoming trendy again. Its durability, non-slip properties, and easy maintenance make it a viable luxury flooring option.
Remember, the best flooring choice for your bathroom remodel depends on your personal style, budget, and usage needs. Explore these trends and consider your family's lifestyle before making a decision.
Crafted to Perfection: Countertops
Countertops are one of the defining elements of any bathroom remodel. Their design, material, and placement can influence the overall look and feel of the room. Here are some of the most sought-after countertop trends in 2023:
Granite and Marble
The timeless appeal of these natural stones continues to resonate with homeowners. Granite and marble countertops are the epitome of luxury, exuding elegance and sophistication. Their unique patterns and colors ensure that no two bathrooms are the same. Despite their need for regular sealing to prevent stains and damage, the unmatched beauty of these natural stones makes them a popular choice for high-end bathroom remodels.
Quartz
Quartz countertops are steadily rising in popularity, offering a blend of durability, low maintenance, and aesthetic appeal. Made from one of the hardest minerals on earth, quartz countertops are arguably more robust than natural stone. They are also non-porous, which means they're resistant to staining—a common concern in bathrooms. Quartz countertops come in a broad spectrum of colors, from neutrals like creams and browns to vibrant hues like reds and blues, providing flexibility in design.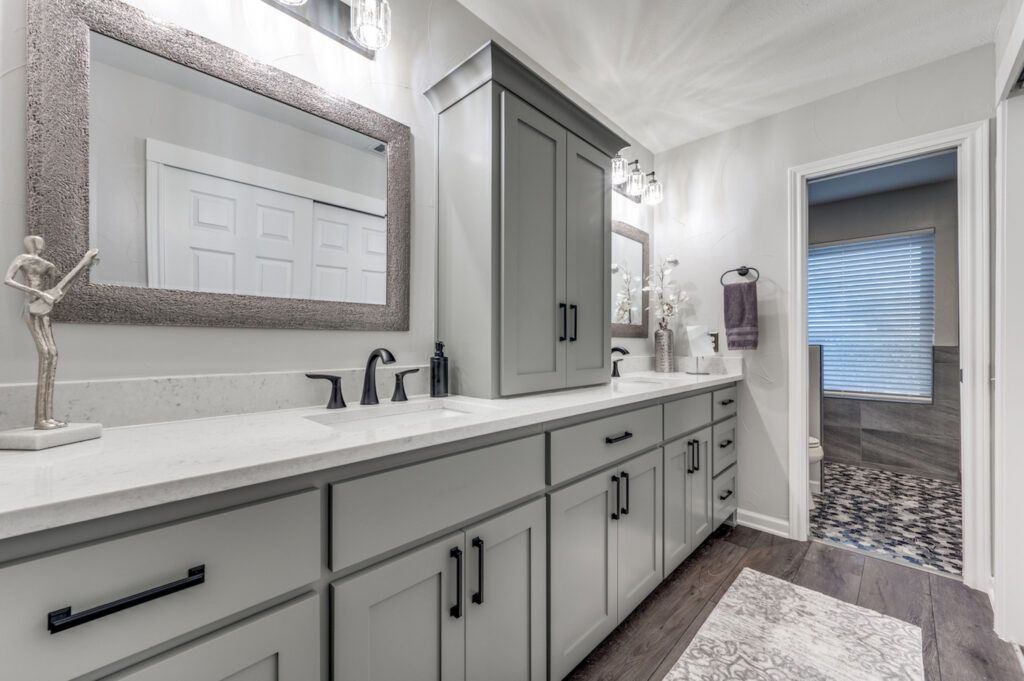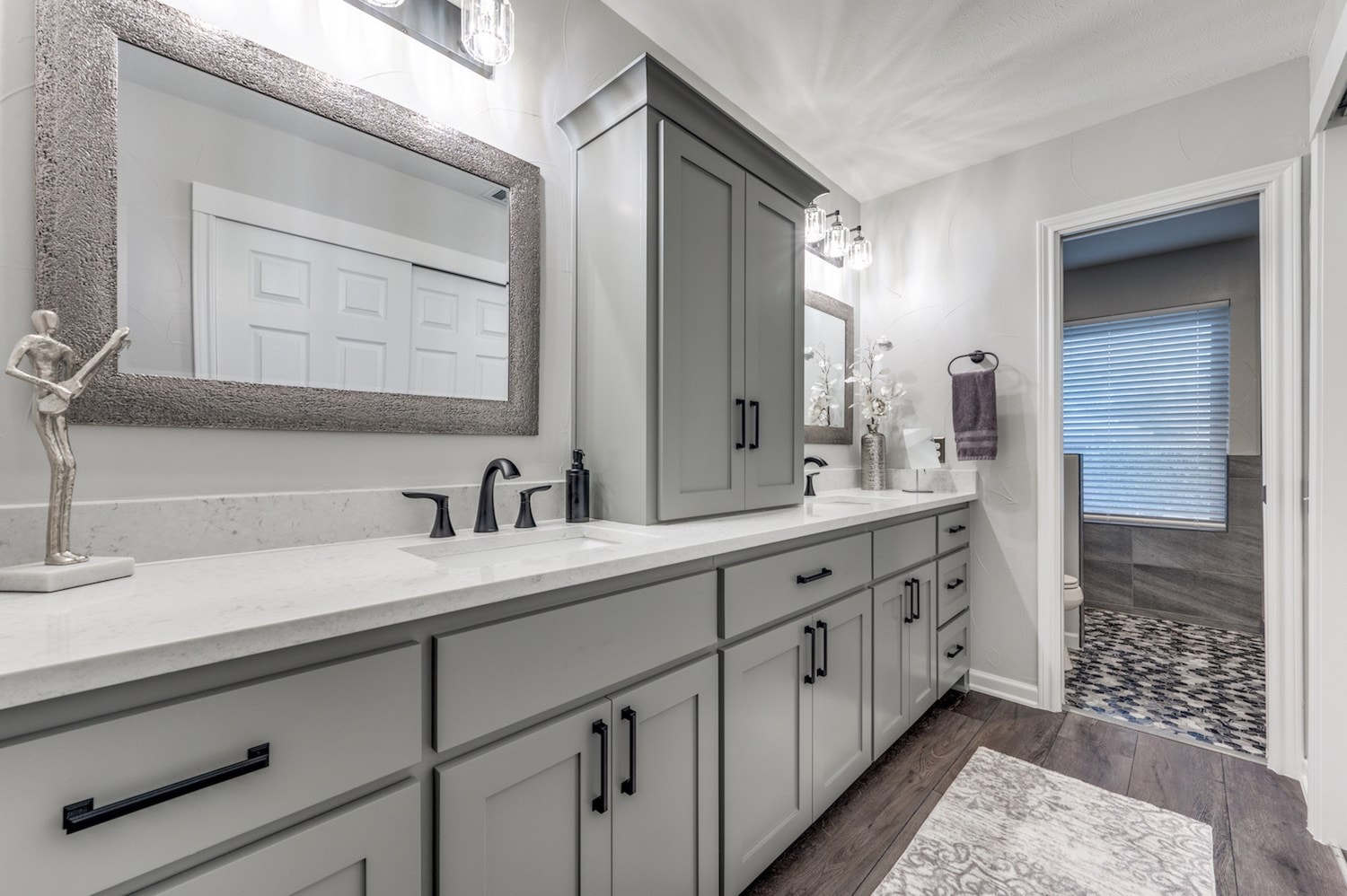 Solid Surface
Solid surface materials like Corian are an excellent choice for those who favor a sleek, modern look. These countertops offer a seamless appearance and can be easily repaired if scratched or chipped. They are non-porous and resistant to stains, making them a practical and stylish option. Available in a wide range of colors and patterns, solid surface countertops allow homeowners to customize their bathrooms to their liking.
Concrete Countertops
Concrete is another material that's gaining traction in the countertop world. Appreciated for its versatility and industrial aesthetic, concrete can be customized in terms of shape, color, and finish. While it does require sealing to prevent staining and moisture absorption, it's a unique, edgy choice for contemporary bathrooms.
Recycled Glass Countertops
As sustainability continues to be a driving force in home design, recycled glass countertops are earning a place in eco-conscious households. Made from upcycled glass fragments set in concrete or resin, these countertops offer a unique, mosaic-like appearance, marrying aesthetics and sustainability.
When selecting a countertop for your bathroom, keep in mind its durability, maintenance, and coordination with other elements in the space. Each material brings something unique to the table, so consider your lifestyle and design preferences to make an informed decision.
Cabinets and Vanities: Storage Meets Style
Cabinets and vanities form the backbone of bathroom storage and contribute significantly to the overall aesthetics of the space. With a shift towards personalized and functional design, the following trends in custom cabinetry and vanity options are taking the lead in 2023:
Solid Wood
There's no denying the classic charm of solid wood cabinets. With their inherent warmth and timeless appeal, wood cabinets provide a sense of natural beauty that's hard to replicate. The strength and durability of hardwood species such as oak, maple, or cherry make them excellent choices for bathroom cabinetry. Depending on the finish, wood cabinets can seamlessly fit into a variety of bathroom styles, from rustic to contemporary.
Custom Cabinetry
Homeowners are increasingly turning to custom cabinetry to meet their specific storage needs and aesthetic preferences. With a design-build firm like DFW Improved, which boasts its own custom cabinetry shop, you can design cabinets tailored to your exact requirements. Whether you need a vanity with built-in organizers or a wall cabinet to display decorative items, custom cabinetry can transform your bathroom into a space that's uniquely yours.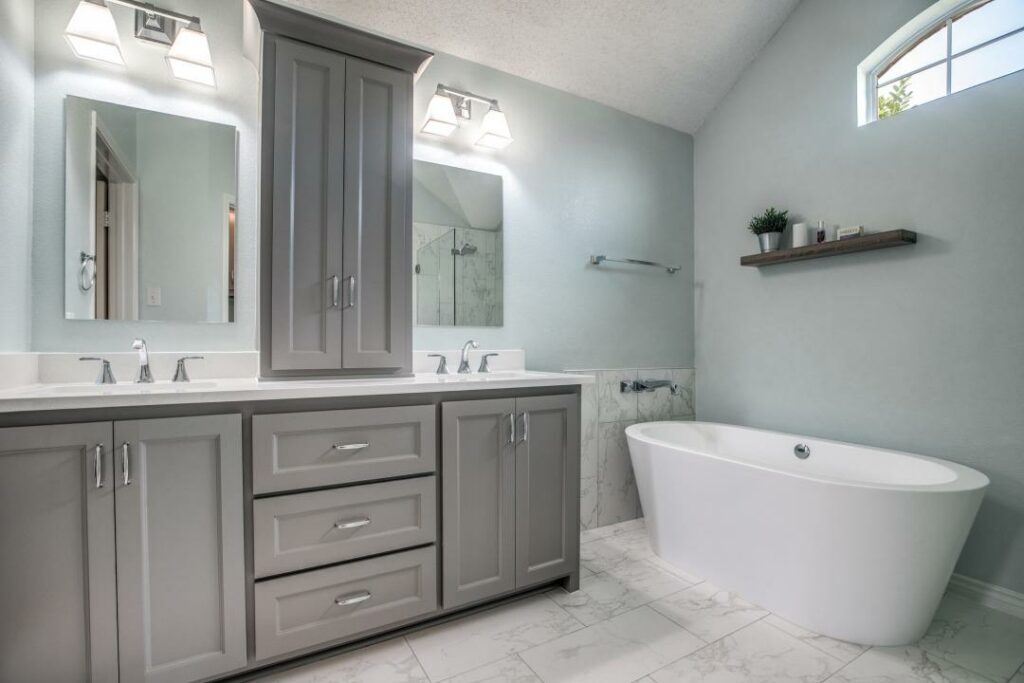 Floating Vanities
For a clean, modern look, floating vanities are gaining popularity. By mounting the vanity to the wall, you can create an illusion of more space, making it an excellent choice for smaller bathrooms. Plus, the area beneath can be used for additional storage or kept clear for an airy feel.
Furniture-Style Vanities
This trend blurs the line between furniture and cabinetry, incorporating design elements typically found in furniture pieces, such as intricate moldings, rich finishes, and ornate hardware. Furniture-style vanities add a touch of elegance and luxury to any bathroom.
Double Vanities
Perfect for shared or master bathrooms, double vanities provide ample space for two people to use the bathroom simultaneously. They offer extra storage and eliminate morning congestion, making them a practical and popular choice for families.
Mixed Materials and Finishes
Combining different materials and finishes is a contemporary trend that adds depth and visual interest to bathroom cabinetry. Think wood cabinets with metal handles, or a wooden vanity topped with a quartz countertop. The possibilities are endless!
Smart Storage Solutions
With a focus on functionality, cabinets with built-in outlets, pull-out drawers, integrated lighting, and customizable compartments are on the rise. These smart storage solutions keep the bathroom organized and ensure everything has its place.
When selecting cabinets and vanities for your bathroom, consider not just their visual appeal but also their functionality. Your choice should align with your storage needs, the available space, and the overall design theme of your bathroom.
Shower and Bathtub: A Personal Retreat
Shower and bathtub spaces are evolving from merely functional areas to zones of relaxation and rejuvenation in the home. As we move further into 2023, here are some of the leading trends in shower and bathtub design:
Ceramic, Porcelain, and Glass Tiles
Topping the list of popular materials for shower walls are ceramic, porcelain, and glass tiles. With their high water resistance and myriad design options, these materials cater to a range of aesthetic preferences. Glass tiles, in particular, are coveted for their ability to reflect light, creating a luminous, luxurious feel in the shower area.
Natural Stone Showers and Bathtubs
Natural stone is a superb choice for those seeking to elevate their bathroom to spa-like status. A bathtub carved from a single piece of natural stone is the epitome of luxury and can be a breathtaking centerpiece in your bathroom. Despite the maintenance required to keep stone surfaces looking their best, the unique patterns and textures make this material a top contender in the luxury bathroom scene.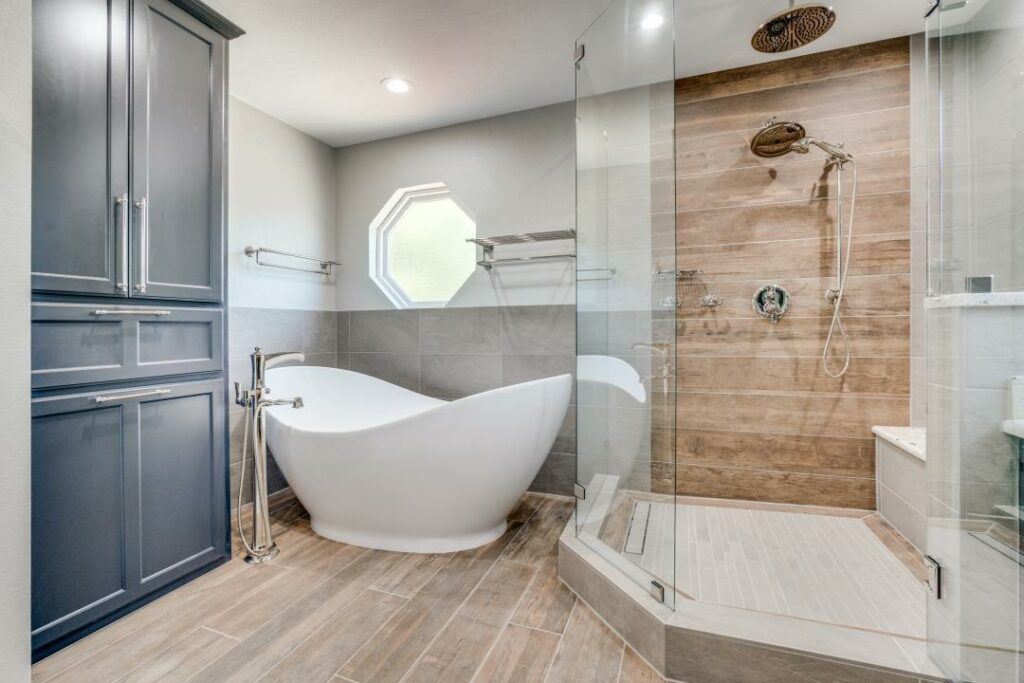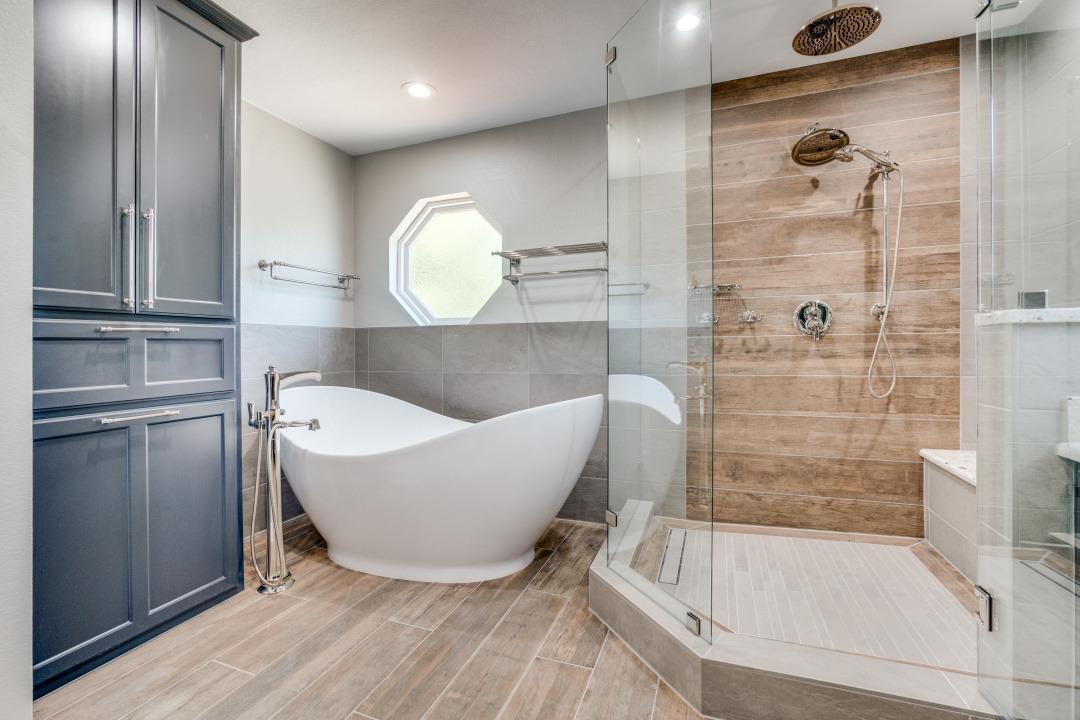 Acrylic or Fiberglass
For those seeking practicality without compromising on aesthetics, acrylic and fiberglass are stellar choices. These materials are lightweight, durable, cost-effective, and easy to clean and maintain, making them ideal for tubs and showers. They also offer versatility in design and finish, ensuring they fit in with any bathroom decor.
Freestanding Bathtubs
Freestanding tubs are becoming a staple in luxury bathroom designs. They add an air of elegance and sophistication and are available in various materials, including acrylic, stone, and metal.
Walk-in Showers
Walk-in showers, especially those with frameless glass enclosures, are becoming increasingly popular due to their sleek, minimalist aesthetic and ease of use. Some homeowners even opt for multiple showerheads, rainfall showerheads, or body sprayers for a truly immersive showering experience.
Smart Shower Systems
Technology has made its way into the bathroom, with smart shower systems that allow users to customize temperature, pressure, and even lighting and music. This personalized approach to showering is paving the way for the future bathroom.
Combination Tub and Shower Spaces
Ideal for smaller bathrooms or those who don't want to choose between a shower and a tub, combination spaces provide the best of both worlds.
The choice of shower and bathtub design and materials should be guided by the overall style of your bathroom, your budget, and your personal preference. Each of these trends brings something unique to the table, allowing you to create a functional and luxurious space.
Finishing Touches: Fixtures and Hardware
Bathroom fixtures and hardware serve both functional and decorative roles in the bathroom. They contribute to the space's overall aesthetic and play a crucial role in creating a luxurious feel. Here are some leading trends in bathroom fixtures and hardware for 2023:
Brass Fixtures
Brass fixtures have a moment in luxury bathrooms thanks to their classic and timeless appeal. They add warmth and sophistication to a space and are incredibly durable. Brass can be finished in a variety of styles — polished for a shiny, glamorous look or antiqued for a more vintage, timeless appeal. Moreover, brass fixtures pair well with various other materials, making them versatile for any bathroom.
Stainless Steel Fixtures
If you're after a sleek, modern aesthetic, stainless steel is an excellent choice. This material is not only durable and resistant to corrosion and tarnish, but it also imparts a clean, contemporary look. It's perfect for minimalist or industrial-style bathrooms. From faucets to showerheads to cabinet handles, stainless steel fixtures can unify the look of your space.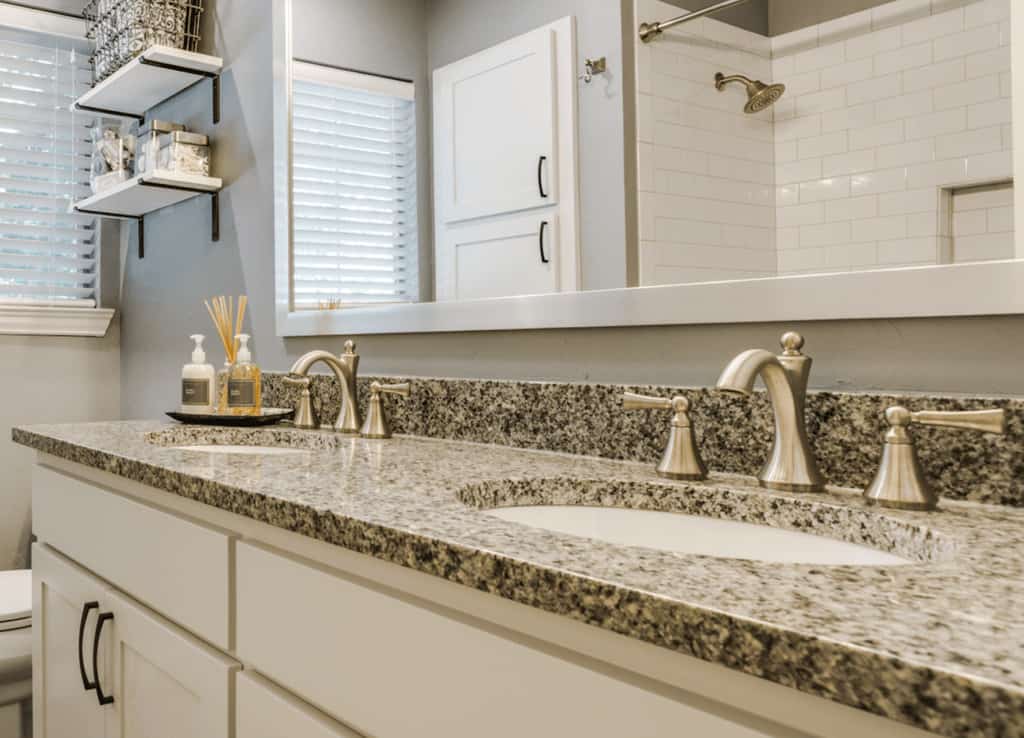 Brushed Nickel Fixtures
Brushed nickel is a top choice for a softer, more subtle metallic finish. It does an excellent job of hiding fingerprints and water spots, which makes it a practical choice for busy bathrooms. Its understated elegance blends well with various decor styles and color schemes. Brushed nickel fixtures can create a serene, spa-like atmosphere in the bathroom.
Matte Black Fixtures
Matte black fixtures are a growing trend in bathroom design. They provide a bold contrast in lighter bathrooms and add a touch of modern sophistication. Their ability to hide fingerprints and smudges also adds to their popularity.
Gold-Toned Fixtures
Gold-toned fixtures are making a comeback for a sense of opulence and glamour. Whether rose gold, brushed gold, or shiny gold, these fixtures can make a strong style statement and take your bathroom's luxury quotient up.
Smart Fixtures
With technology permeating every aspect of our lives, smart fixtures have entered the bathroom. These include touchless faucets, thermostatic shower mixers, and even smart toilets. These fixtures offer a blend of comfort, convenience, and modernity.
Eclectic Mixes
Who says you have to stick to one type of fixture? An emerging trend is the eclectic mix of different fixture styles and finishes. This can create a uniquely stylish and personalized bathroom space.
When choosing fixtures and hardware for your bathroom, keep in mind the overall design theme of your bathroom, as well as functionality and durability. Your fixtures should not just look good, but also stand up to daily use.
Related: What You Need To Know Before Remodeling Your Bathroom
Conclusion
As you embark on your journey to remodel your bathroom, remember that no matter your style, the key is to balance functionality and aesthetics. Understanding the pros and cons of each material will help you make the best choices for your unique needs and style. As you plan your luxurious retreat, it's important to focus on the overall design and the quality and durability of the materials used.
DFW Improved understands that a luxurious bathroom goes beyond surface-level beauty. It's about creating a space that resonates with your lifestyle and enhances your daily routines. Our team of experts and bathroom remodeling contractors can help you navigate the myriad of options available and select the perfect luxury bathroom remodel materials for your project. Whether it's deciding on the perfect countertop material or selecting the most comfortable bathtub, we believe that you should know how to choose the right materials for your bathroom remodel; we're here to guide you every step of the way.
In the end, your bathroom should not only reflect your personal style but also cater to your needs. After all, a truly luxurious bathroom is one that makes your daily rituals a little more enjoyable.