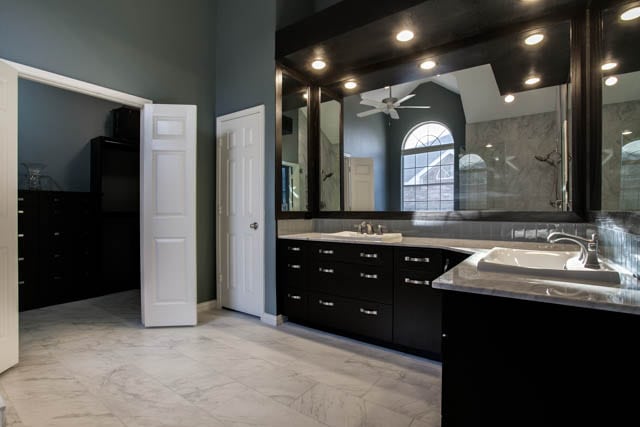 The master suite is the place for the king and queen of the home to relax, unwind, and enjoy the fruits of their labor. Needless to say, a master bath and closet need to be in optimum function in order to provide the efficiency that is necessary to feel like a retreat. Not only should a master bath and closet have a wonderful design, but also provide maximum comfort. If a modern design is what you are after, take a look at this master bath and closet. Like what you see? Here are some components that help make a master bath and closet your own relaxing oasis.
Recessed Lighting. When you are getting ready in the morning, you don't want to miss crucial details that can mar your appearance. Recessed lighting adds extra illumination to your bathroom in a stylish way. In addition to giving the illusion of more space, recessed lighting can help you to see yourself more clearly as you prepare for your day. This design trend will help your bathroom achieve a modern look and feel.
Plenty of Storage. The problem with many homes today is a lack of storage. We tend to accumulate a lot of possessions over time and without proper storage, things can get cluttered. You need the right amount of space for all of your things so that getting yourself ready isn't an inconvenience. Storage in your bathroom is also a necessity to house your collections of hygiene and beauty products. Built-ins in your closet can be tailored to suit all of your storage needs. Having built-ins also means there will be more living space in the bedroom to enjoy that won't be taken up by bulky dressers or wardrobes.
Updated Fixtures. Outdated bathroom fixtures are an eyesore. Match your modern bathroom with updated fixtures that are appealing to the eye and provide maximum function. Brushed nickel is a great finish for your bathroom fixtures because it's durable and doesn't show fingerprints or water spots, making it easy to clean.
Frameless Shower Door. The frameless glass door makes your shower appear larger and more inviting. Sliding shower doors with frames may look good, but they tend to accumulate a build up that may be unpleasant to clean.
Marble. This natural stone has the ability to turn any bathroom into a work of art. It can work within many different design styles, and provides a clean, sophisticated look.
Attached Closet. Having the closet located near or in the master bathroom has become a popular trend. This provides the convenience of getting right out of the shower or bath and into your own personal dressing room.



Click here or call 972-377-7600 to request a quote on your custom master bath and closet.