Are you ready to transform your kitchen into the heart of your home? Look no further than DFW Improved, your go-to kitchen remodeling contractor in the Dallas/Fort Worth area. With a team of experienced designers and contractors, we can help you bring your dream kitchen to life. Let's explore the questions you should ask before hiring a kitchen remodeling contractor and how we can help you create the kitchen of your dreams.
Table of Contents
Who is the Project Manager, and What is Their Role in a Kitchen Remodeling Project?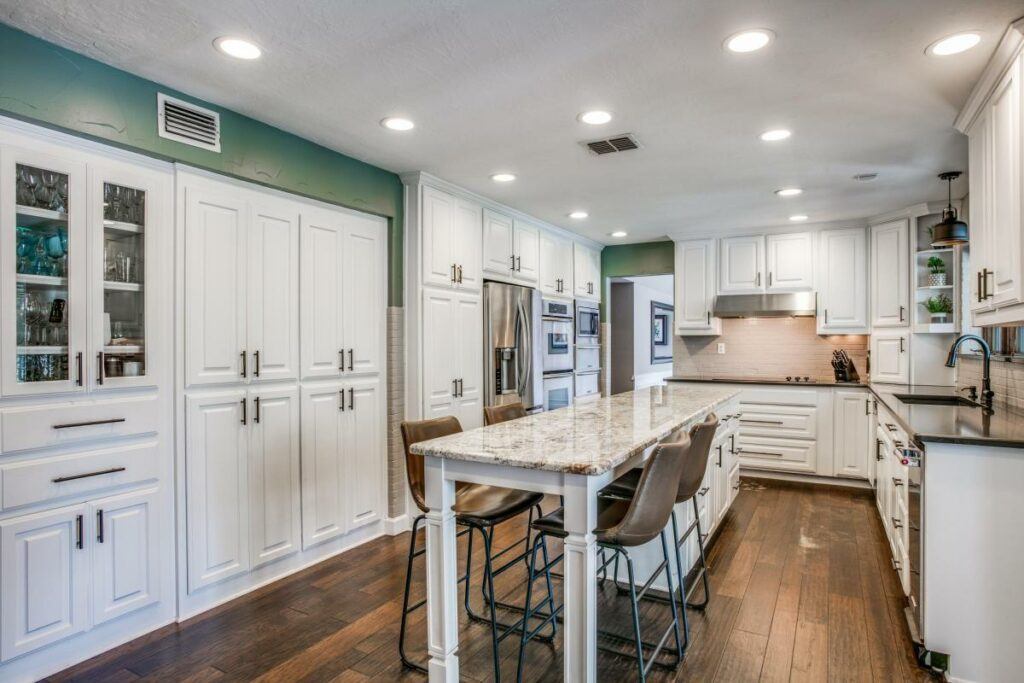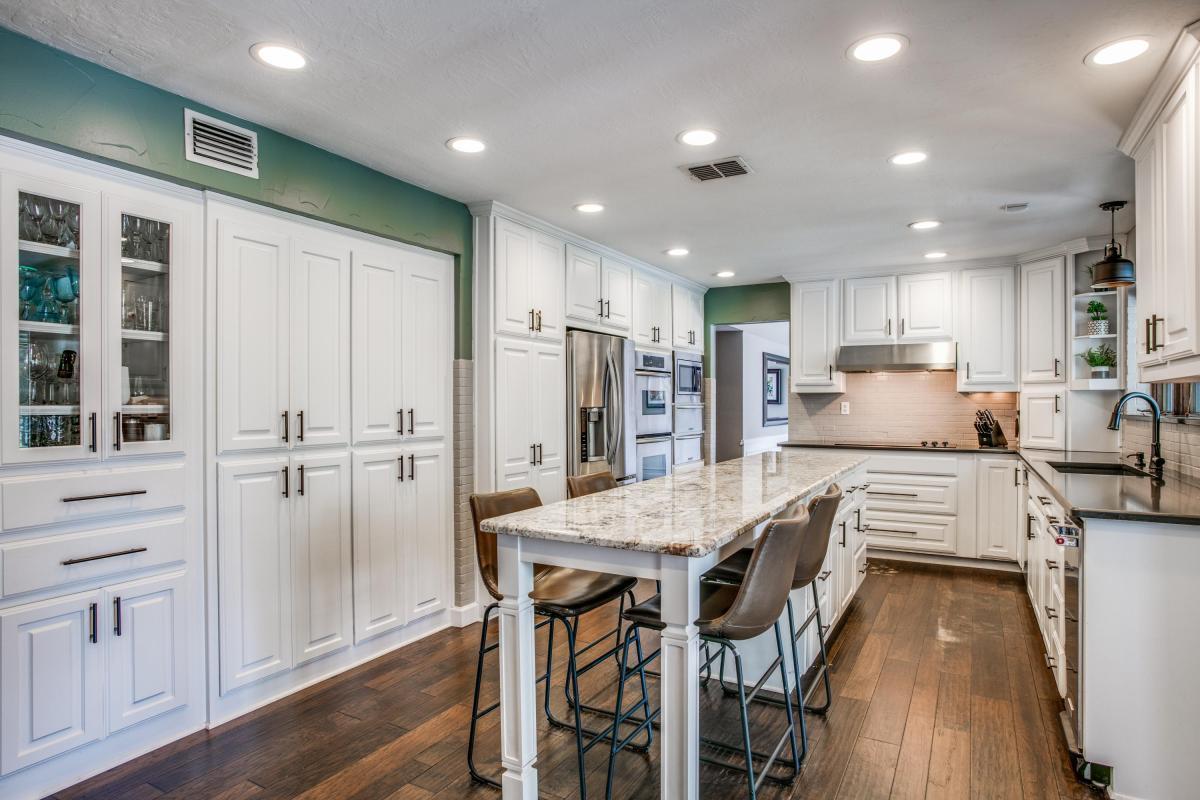 A professional kitchen remodeling contractor can provide you with a dedicated project manager overseeing every aspect of your kitchen remodel. Your project manager ensures your project stays on track and within budget, and acts as your main point of contact. They'll coordinate with tradespeople and vendors to ensure the project is completed to the highest standard.
At DFW Improved, we understand that effective communication is critical to the success of any remodeling project. A dedicated manager oversees every detail of each project, providing clients with a point of contact. Your project manager will update you on progress and answer questions throughout every stage of your project. This approach ensures that our clients have a stress-free and enjoyable remodeling experience.
What do Reviews Say About DFW Improved's Kitchen Remodeling Services?
Choosing a kitchen remodeling contractor can be daunting, so we encourage our clients to read our reviews and see what others say about working with us. We are proud to have a 5-star rating on Google, and our clients have praised us for our attention to detail, professionalism, and exceptional customer service. Our reviews speak for themselves and are a testament to our commitment to excellence.
Reviews from previous clients are essential when choosing a kitchen remodeling contractor. Choose a contractor with a proven history of exceptional customer service and delivering high-quality work. Select a contractor with a track record of excellent customer service and delivering quality work.
At DFW Improved, we are proud of our long-standing reputation for excellence in remodeling. Our commitment to quality and customer satisfaction has resulted in many positive reviews from our previous clients. We encourage our potential clients to read our reviews and see what our past clients have to say about their experience working with us.
What is the Kitchen Design Process at DFW Improved?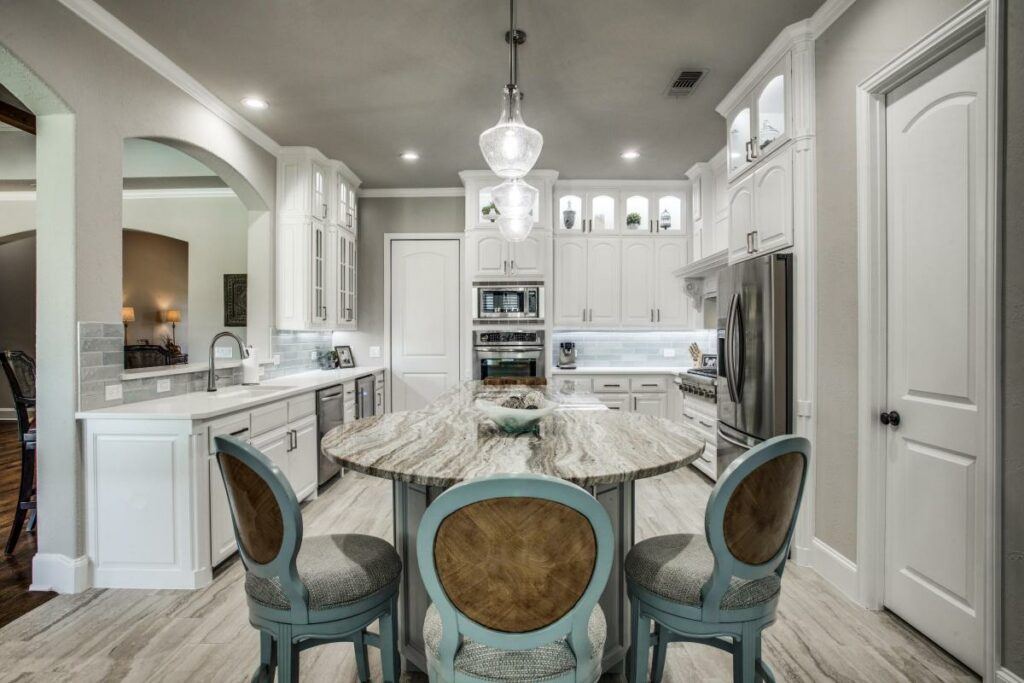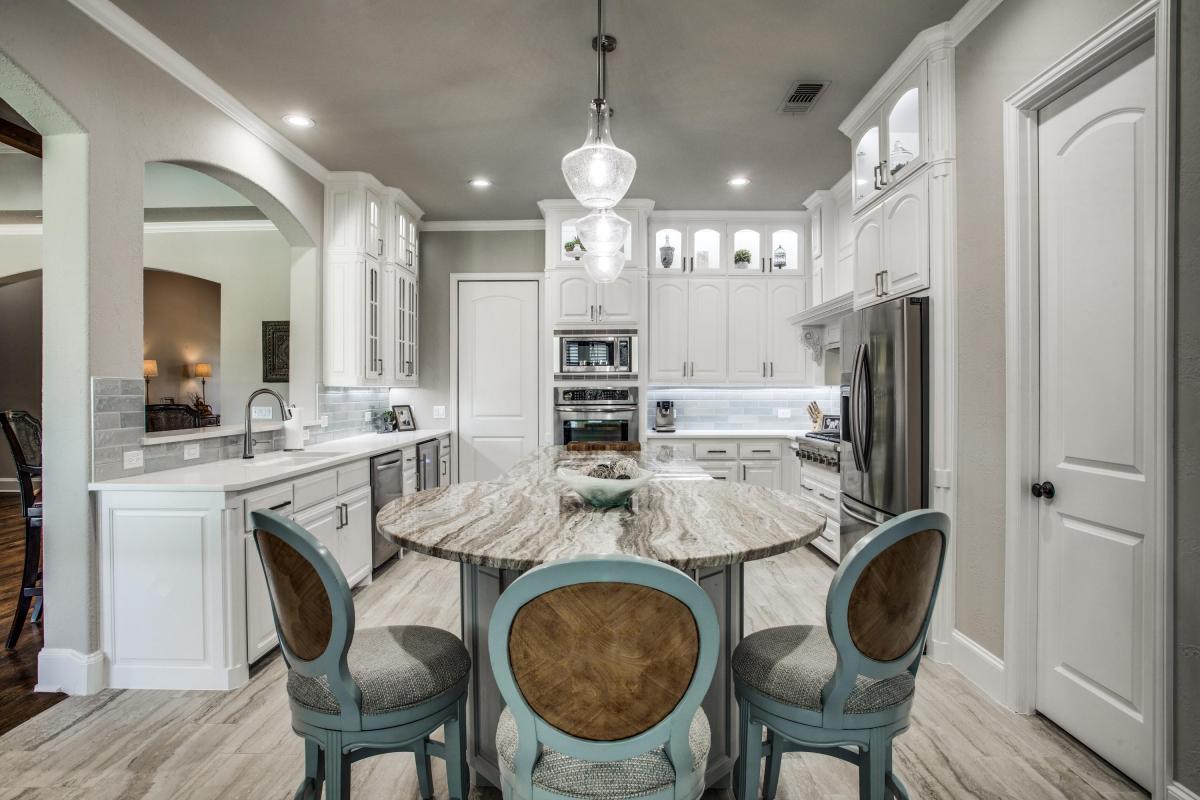 Our experienced designers will work with you to create a custom kitchen design that reflects your needs and your style. We take a collaborative approach to ensure your vision comes to life, making every kitchen functional and beautiful. From choosing the perfect cabinets and countertops to selecting the proper lighting and flooring, we will guide you through the design process to create a kitchen that you will love for years.
At DFW Improved, we understand that every kitchen remodel is unique and requires a customized approach. Our team will work closely with you to develop a process that suits your needs and timeline. We prioritize transparency and communication, and our team is always available to address your questions or concerns. Our aim is to deliver a stress-free and enjoyable experience while exceeding our clients' expectations with high-quality work.
What is the Showroom, and How Does DFW Improved Assist in Choosing Materials?
Choosing the suitable materials for your kitchen remodel is an important part of the process, and our team at DFW Improved is here to guide you every step of the way. Visit our showroom to see a wide range of kitchen materials and products and get inspired for your project. We'll assist you in choosing affordable and stylish materials, such as cabinets, countertops, appliances, and lighting fixtures. We partner with top industry vendors to offer functional and beautiful materials and products of high quality.
What is the Timeline for a Kitchen Remodeling Project with DFW Improved?
When it comes to kitchen remodeling, timing is everything. We understand that you want your kitchen back up and running as soon as possible. We take pride in creating a comprehensive timeline for every kitchen renovation project.
The timeline for a kitchen remodeling project can vary depending on various factors, including the size of the kitchen, the extent of the renovation, and the availability of materials. However, as a general rule, most kitchen remodeling projects take anywhere from six to twelve weeks to complete.
The timeline for a kitchen remodel typically broken down into several key phases, each with milestones and deadlines. The first phase is the design phase, during which we work closely with you to create a custom kitchen design that meets your specific needs and preferences. This phase typically takes one to two weeks to complete.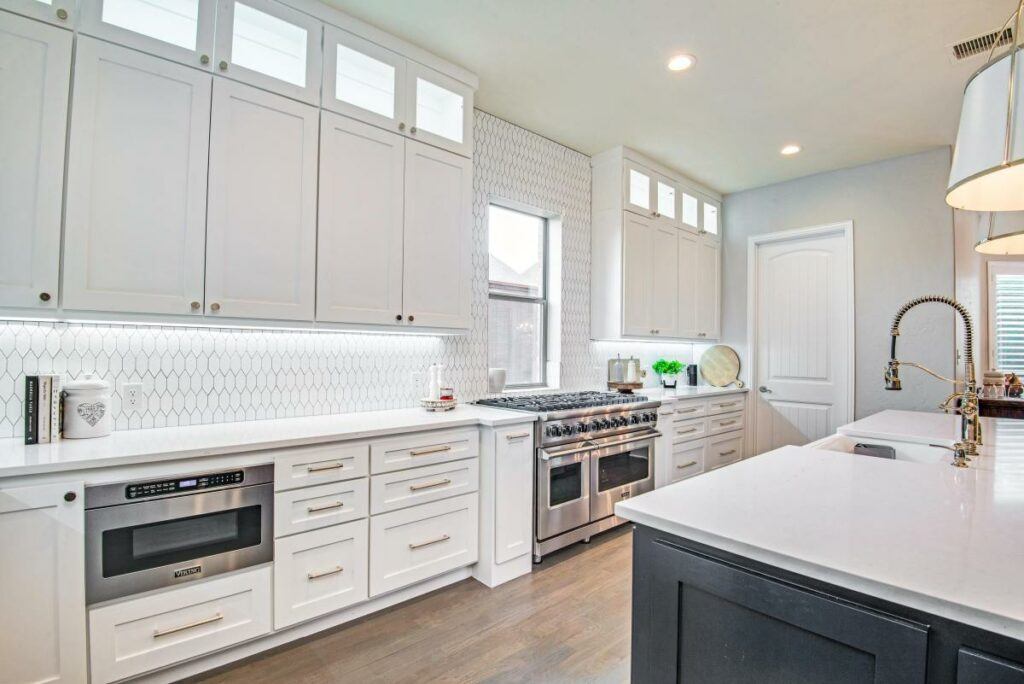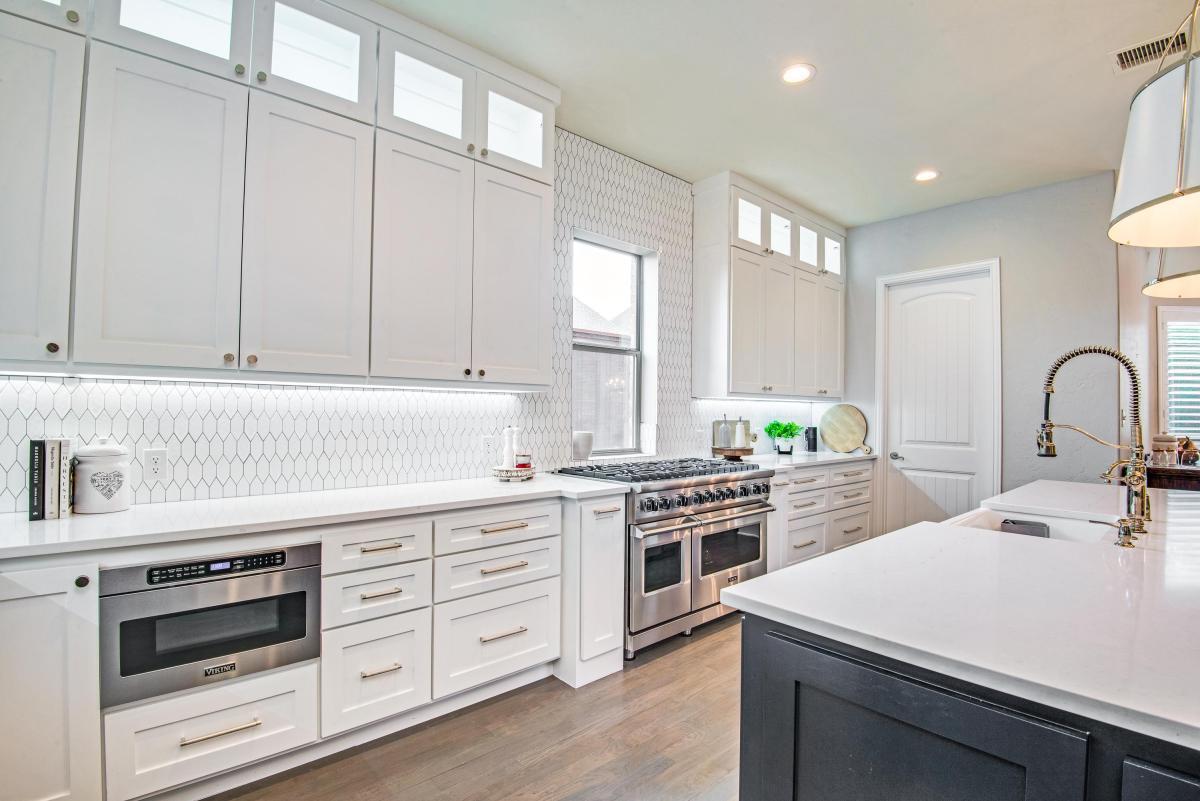 The next phase is the demolition phase, during which our team will remove any existing cabinets, appliances, and fixtures in your kitchen. This phase will take about two weeks to complete.
Next is the construction phase. We will install new cabinets, countertops, appliances, and fixtures in this phase. Depending on the project's complexity, this phase typically takes four to six weeks to complete.
Finally, we move to the finishing phase, adding final touches, such as paint, trim, and lighting. This phase typically takes one to two weeks to complete, after which your new kitchen will be ready for use.
Our project manager will keep you informed of the progress of your kitchen remodeling project, ensuring that it stays on track and within budget. While we understand your desire for a speedy kitchen completion, we prioritize quality work that takes time. Rest assured that we will do everything we can to complete your project on time and to your satisfaction.
Conclusion
DFW Improved commits to providing the best possible experience for clients who are seeking kitchen remodeling. From our dedicated project managers to our team of experienced designers and contractors, we are here to guide you through every step of the process and ensure that your project is a success. We take pride in our commitment to transparency, customer service, and high-quality workmanship, and our reviews and testimonials speak to our commitment to excellence.
If you are still wondering why you should choose DFW Improved as your kitchen remodeling contractor, there are many reasons. We have over 15 years of experience in the industry, and our team of experts has the knowledge and skills needed to bring your vision to life. We use only the highest quality materials and products, and our commitment to excellence is evident in every project we complete. Our team is dedicated to ensuring your involvement in every step of the process, understanding the importance of communication. Our goal is to exceed your expectations and deliver a beautiful, functional, and long-lasting kitchen that you will enjoy for years. Contact us today to schedule a consultation.