Frisco Chamber Ribbon Cutting at DFW Improved
As a growing remodel contractor in Frisco TX, DFW Improved continues to look for ways to get involved and give back to the local community. This past week, we celebrated our membership in the Frisco Chamber of Commerce along with one of our key business partners, PuroClean Restoration Specialists. PuroClean Restoration Specialists works with us to provide water damage restoration service to many of our clients and other local homeowners when problems arise. Their leadership team has the same philosophy on getting involved in Frisco and giving back, so we felt this was a good way for us to show our commitment together.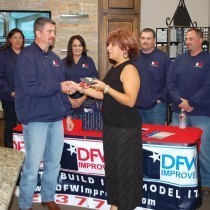 At DFW Improved, we believe it is important to be involved in our local community. Some people may think that a business is involved in their local chamber and other organizations for additional connections and business. While that is a great way to widen a business' visibility and opportunity, it's not the primary reason we joined. Instead, as a remodel contractor serving the needs of many local homeowners, we also realize their are others who could use our help and want to participate in giving back to them in order to show our appreciation.
How Does DFW Improved Give Back within the Local Community?
We live and work in these local communities and want to have more opportunities to find meaningful ways to give back through our time and participation in local families in need. We have, at selected times helped to provide food, materials and labor to help other families in our communities. We, at DFW Improved, are thankful for every new remodeling project we're awarded and believe giving back is a way to express our thanks.
DFW Improved – Local Remodel Contractor in Frisco TX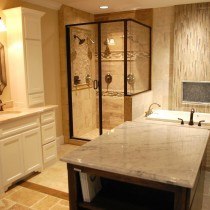 As a seasoned remodel contractor in Frisco, our professionals have the experience to deal with everything from simple issues to very complex projects. We invite you to do some "Dreaming" of your own as you look through our gallery of home remodeling ideas for concepts and ideas for your next bath or kitchen remodel idea. If you're interested in having us provide an estimate at no cost, complete our website form to get immediate attention and schedule an appointment. You can also Call Us Today at 972-377-7600.
Related Images: