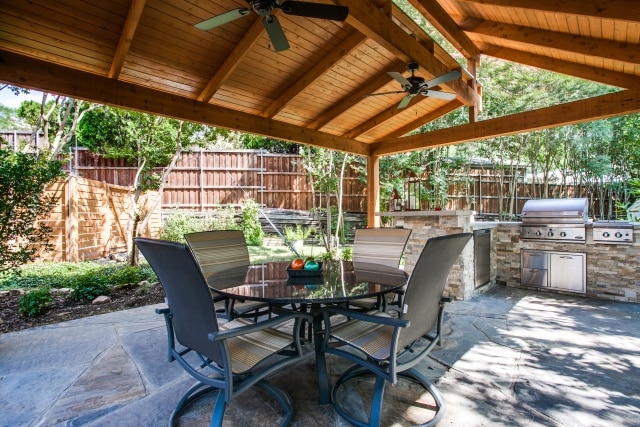 With the approach of warmer weather, you may find yourself wanting to spend more time in outdoor living spaces such as your deck, patio, or porch. By decorating any outdoor zones with the same level of care and personal touch as you would inside, you'll be sure to make your outdoor space a prime spot for enjoying all of the beauty nature has to offer.
Display a Multitude of Potted and Hanging Plants
Potted plants can make any area feel more relaxing. By choosing a variety of different plants and planters, your entire outdoor living space will serve as a haven from the busy indoor world. For plants you plan on setting directly on your deck or patio floor, choosing large, tall varieties provides a tropical feel and allows each plant to be sturdy enough that it won't easily tip over. Planters come in all shapes, colors, and sizes, so shop around until you find the perfect style for the mood you want to create outside. Neutral colors promote rest while bright colors are more invigorating. But since there are no rules, you can always mix and match.
Its hard to beat hanging baskets during the warmer months of the year. They can be placed nearly anywhere, are easy to care for, take up zero walking space, and provide exceptional beauty of all shapes and colors. Hanging flowers will often continue to bloom the entire season, while many hanging plants such as ferns, ivies, and spider plants will continue to thrive for years if they are taken inside during cooler weather.
Keep Your Outdoor Living Space Organized
When everything has its place, your outdoor space will be inviting for guests, and easy to clean for you. Keeping pool toys and towels neatly stored in all-weather baskets or cabinets keeps them protected and clean until you need them. Keeping an outdoor dining area separated from recreation areas helps keep your meals sanitary, without spoiling the fun for those that wish to splash in the pool or play a game of catch. For example, if you have a covered space, you may wish to reserve that area for dining, while you place a weatherproof storage container in another zone to store outdoor toys and games.
When it Comes to Decorating, Don't Hold Back!
Take advantage of your open outdoor space by decorating with colorful, easy to clean outdoor furniture, pillows, rugs, and more. Hanging colorful wall art or sculpture adds serious flair, and small shelves can be added to display smaller accessories. Add centerpieces or focal point to your seating areas, whether it's a freshly picked bouquet of flowers to a lovely fountain filled with various water plants.
Outdoor lighting offers another unique opportunity to show off your style. You can't go wrong with soft candlelight, and lanterns add that special touch while protecting the flames from breezes. Hanging a string of lights from tree branches serves double duty as decoration and safety lighting, while solar lights placed along pathways guide the way with enchantment. Whatever you're preferences are, don't hold back when it comes to decorating your outdoor living space!
Enjoy your custom outdoor living space this summer! Click here to request an estimate, or call us at 972-377-7600.