Estimated reading time: 4 minutes
The first step in any home renovation project is to make a plan of what you want to do and to know your budget. We hear it all of the time, how much does it cost to remodel a bathroom? It depends. If you are thinking about renovating your bathroom, here are a few things to consider and to plan for before beginning your bathroom remodel.
Size Matters
Before you start buying fixtures for your new bathroom, measure everything. Exactly how much space you have to work with is one of the most important things to know before a bathroom remodel. While it might seem as though toilets are all similar, they do come in a range of different dimensions. Picking the wrong size for the space you have can negatively impact the function and flow of the space.
Keep measuring as you purchase any fixtures and furnishings. This is very important if you intend to do any tile work. The measurements listed on the outside of the box may not be accurate for the size of the tiles inside of it. Some of these measurements refer to the size of the actual tile, while others include the grout space in the measurement. Failing to take things like this into consideration before you start installing could cause many problems as you begin working on the project.
Selections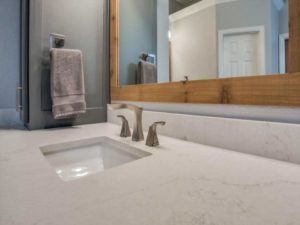 Consider what type of sink, countertops, tile, etc. you plan to include in your bathroom. These seemingly small details can greatly influence other choices you will need to make. Often these choices change due to style, function and life stage. Our design-build team is great at walking you through the choices and helping you make these decisions.
On sinks you will want to consider how it will mount:
Self-rimming sinks are the easiest to install, especially if you are trying to reuse an existing countertop.
A vessel sink requires a shorter cabinet underneath, otherwise, you will have to stretch awkwardly every time you need to wash your hands.
An under-mount sink opens up more space on the countertop and is easier to clean around.
If you need more space in your bathroom, install a corner sink to open up a lot of room in the space.

Hide the Toilet
If possible, include a barricade to block the view of the toilet from outside of the bathroom in your redesign. People typically leave the door to the bathroom open whenever the bathroom is not in use. Most people would not consider the toilet an aesthetically pleasing sight. Simply hiding the toilet behind a wall or cabinet adds a level of refinement and privacy to the bathroom.
Design for Your Needs
Any time you plan a remodeling project, it is very important for you to consider how you typically use the space. Someone who uses the bathroom like a spa where they can relax and unwind will value different features than someone who only uses it to take a quick shower. Create a space that fits your likes and needs. After all, you are the one who is going to be using it.
Another thing many people worry about when remodeling a bathroom is how buyers will look at the bathroom if they decide to sell their home in the future. This topic tends to come up when someone is thinking about getting rid of a bathtub that they never use. Unless you are putting your home on the market right away, don't worry about what buyers might think. Trends change and buyers can have different opinions. Choose a design that makes you happy. To get what you really want, you might start to wonder, "how much does it cost to remodel a bathroom?"
How much does it cost to remodel a bathroom?
When remodeling your bathroom, it's important to consider who will use the space and your budget. What are their personal needs, design style and of course, what is your budget? With so many beautiful and innovative fixtures and materials available, selections and prices can be overwhelming, so it's important to narrow down your choices and know what you want. A bathroom remodel in DFW can typically range anywhere from $15,000 to $50,000 and beyond, depending on your material selections, so you want to get it right. Taking the time to visit our showroom can really help you make these decisions.
Ask Us About Things to Consider When Remodeling A Bathroom