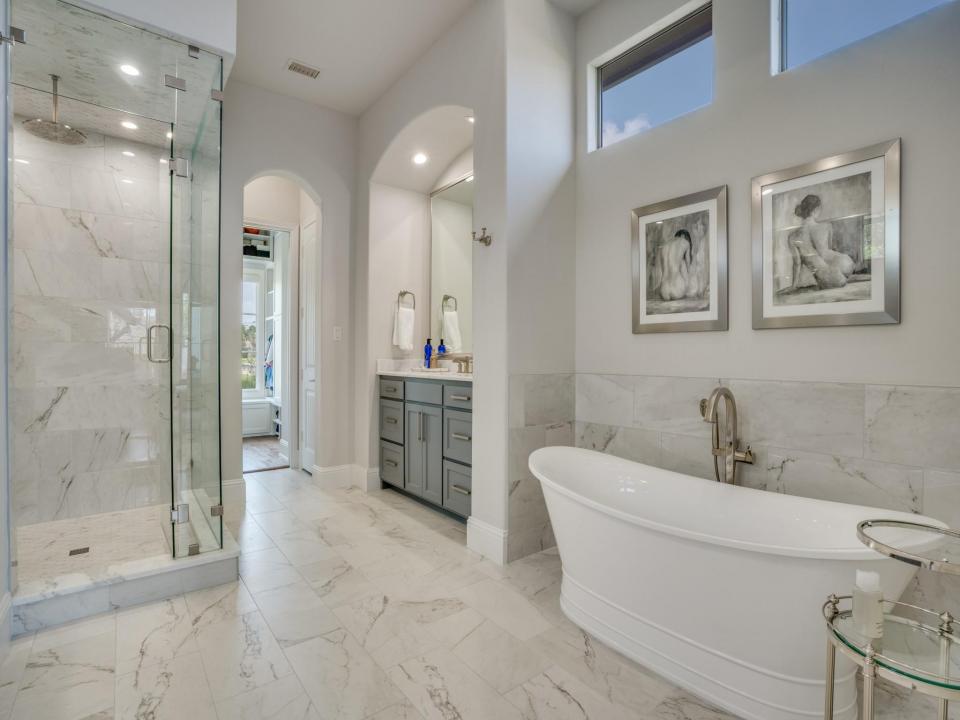 Many new bathroom remodeling trends are coming to light. Bathrooms are undoubtedly one of the most essential rooms in a house; no home is complete without a functional bathroom. Therefore, homeowners will usually begin by remodeling the powder room. It doesn't hurt that bathroom remodels are easier on the pocket than many other parts of the home.
Recently, homeowners have moved away from just functional spaces and towards stylish spaces for maximum relaxation during alone time. With this shift, many more bathroom remodeling trends have been explored, with every passing year bringing something new to experiment with.
If you're thinking about bathroom remodeling trends in 2021, here you'll find interesting ideas to explore depending on your needs, taste, and budget. Find out more about what the next year has in store for bathroom remodeling.
Table of Contents
The Interior/Exterior Bathroom
The most exciting trend is the shift from enclosed bathroom spaces to a more open floor plan, especially for bathrooms attached to sleeping quarters. The hottest new thing is creating something between an external and internal bathroom.
There are tons of benefits if you're thinking in this direction – plenty of floor space to expand outwards, unending natural light and a serene atmosphere for self-care. Of course, you would have to go with more nature-centric elements such as wooden, ceramic, or vintage fixtures.
Subway Tiles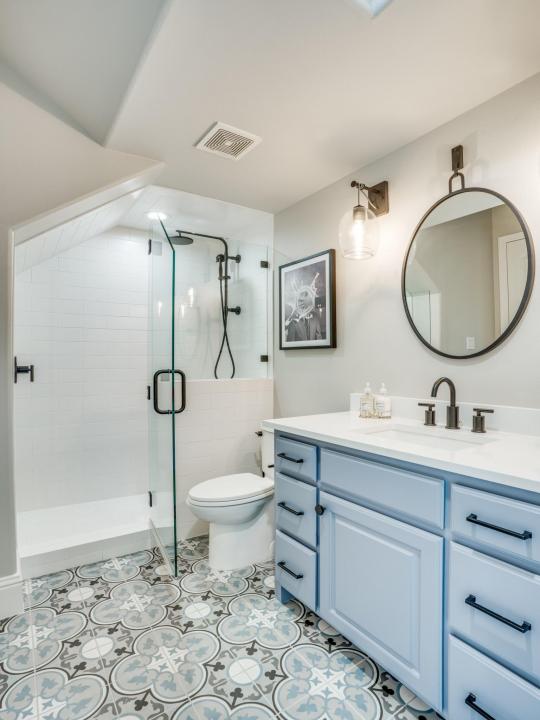 Subway tiles are the little black dress of bathroom décor – they are classic, timeless, and work well with most fixtures and décor styles. These tiles are so named because they can be found in subway stations, and they can make small bathrooms look more spacious. White is the most common choice, but they come in various colors, patterns, and textures.
Subway tiles won't go out of style, and there are dozens of application options – with dark grout for contrast, with mosaic accent tiles to break the pattern, or applying marble-like printed subway tiles. If you choose monochromatic tiles, use other fixtures and painted walls to break the monotony.
Tiles are an excellent option to include texture/patterns. You can apply them in small doses or as the main accent feature – the key is to balance it out. If you have patterned or textured tiles, consider the tiles as your main accent feature and ensure everything else complements them.
Statement Colors and Bold Patterns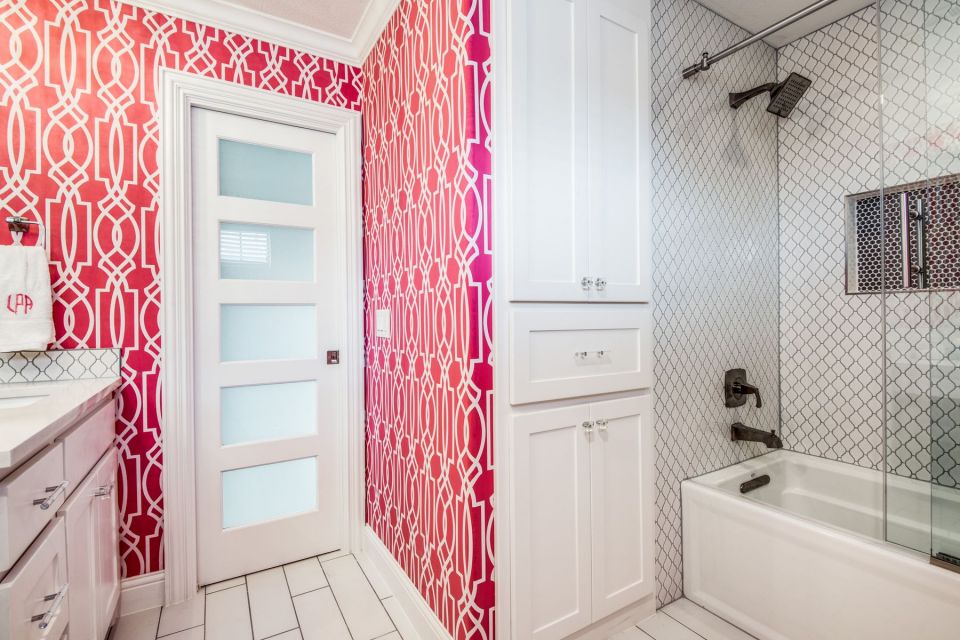 For the longest time, bathroom colors have been limited to white, beige, and gray shades. However, don't be afraid to go bold with vibrant colors and patterned wallpaper for your upcoming remodels. Paint an accent wall in your favorite color or layer a few colors on fixtures in the room.
Natural or neutral color schemes won't go out of style quickly, and they make an easy backdrop for layering your lights and fixtures. 'Moody' color-absorbing tones like navy blue, burgundy, and forest green are excellent alternatives to pastel shades.
Finish your vanity set-up with a colorful washbasin in your favorite color. For smaller commodes, bold, medium-sized patterns can create the illusion of space without overpowering the room. Just remember to balance patterns with the rest of your choices.
If you aren't the wallpaper type, use paint to accent your walls. Use paint to highlight your favorite color in your tile or wallpaper choice – do this on the vanity or mirror frame for the best effect. Choose a few colors to play with so that the room doesn't look too mix-and-matchy.
New Plumbing Finishes
You can't talk about bathroom remodels without considering the plumbing to support your fixtures. Plumbing design in 2021 will be more concise – you are likely to see more wall-mounted toilets, showers, and faucets (supported by floating vanities), among others. This new finishing style is not only attractive; cleaning the bathroom floor becomes a hundred times easier.
We'll be seeing more of external plumbing, particularly if you're going for a vintage scheme. If your pipes are visible, then you must think of aesthetics as well as strength and longevity. Metallic finishes of silver, copper, gold, and bronze can contrast against other bathroom features.
Another bold and unusual trend is putting the mixture on the side of the sink. This not only looks fresh, but it is also practical – where you have a narrow tabletop or cabinet, arranging the crane this way saves valuable space.
Mirrors and LED Lighting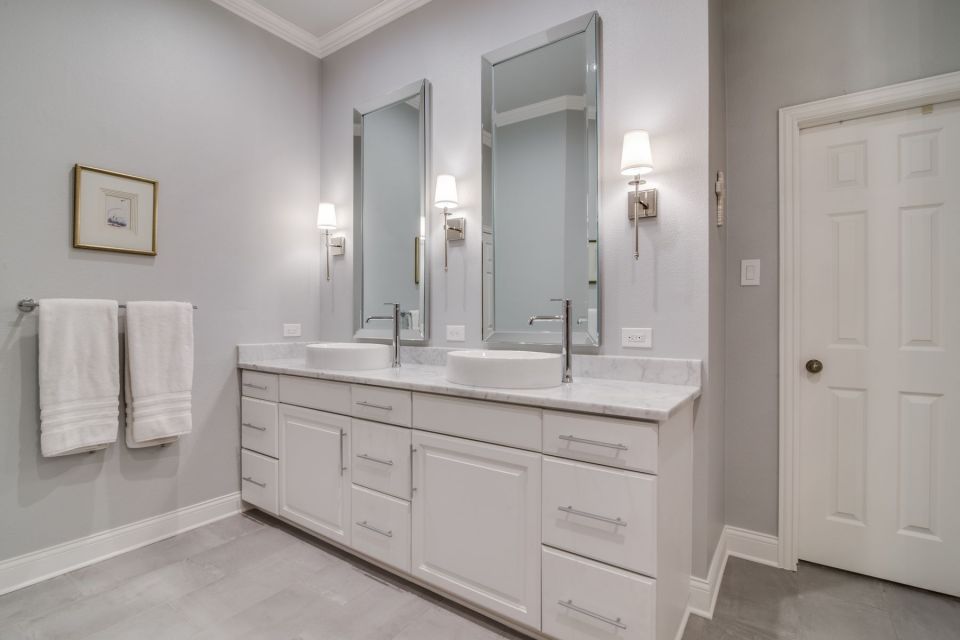 Large mirrors are still desirable for bathrooms of all sizes, with one significant adjustment: frameless mirrors. Where once mirror frames were the defining feature of the vanity, most homeowners have opted for one or more frameless mirrors – usually circular, oval, or rectangular with rounded or perpendicular edges. Mirrors aptly placed can make a room look larger, apart from serving their functional purpose.
The bathroom's brightest area should be at the mirror/vanity, which is why mirrors with LED lighting are becoming more common. You can also place spotlights on a lowered gypsum ceiling.
Crystal or glamorous lighting fixtures are currently in the limelight. For more pizzazz, choose larger lights – chandeliers, drum pendant lights, or giant floor lamps – to make a statement with your lighting. 2021 is the year of statement lighting.
The Classy Matte Black Bathroom Remodeling Trends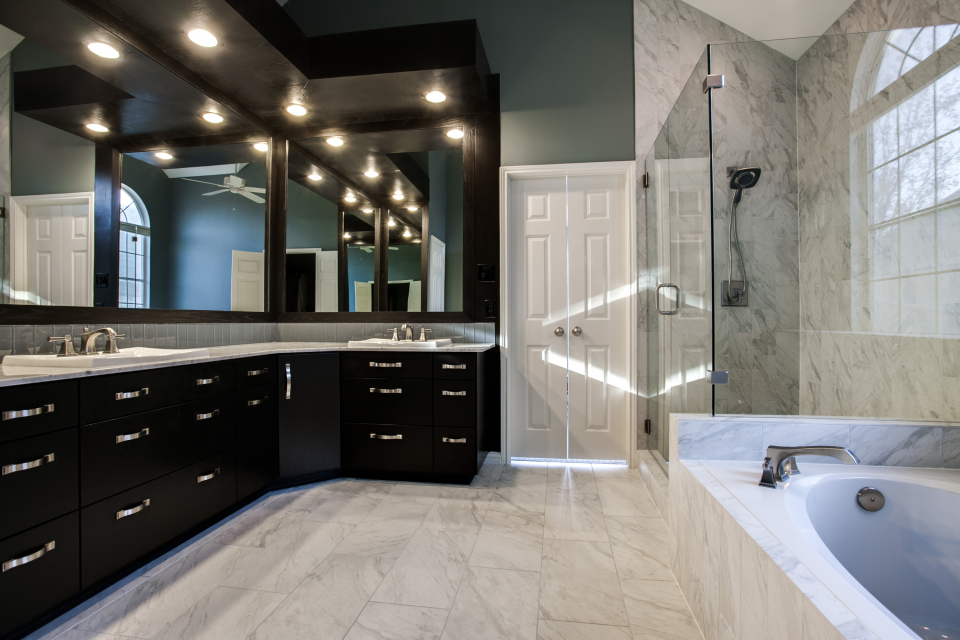 Matte black is the newest bathroom trend, whether on walls or fixtures. Matte black never goes out of style, and the muted tone works with virtually every other design trend. Use matte black fixtures for a chic and timeless design.
You can also choose matte black for window, door, and mirror frames, tiles, washbasins and bathtubs, curtains, faucets, toilet seats, or lighting fixtures. If desired, you can have your entire bathroom be matte black with plumbing and lighting fixtures in metallic shades.
Frameless Transparent Glass Shower Doors
Traditionally, shower doors and frames were encased with clucky aluminum or vinyl frames, but this has now been replaced by frameless glass. Frameless shower screens are neater and easier to clean, as they leave one less surface for unsightly dirt buildup.
A frameless and transparent screen also makes the bathroom look bigger, unlike the frosted glass screens that were once popular for privacy. Additionally, if natural light comes from the shower side, frameless transparent enclosures allow maximum light inwards so that the whole room is brighter. These enclosures are especially ideal for smaller bathrooms since they leave the entire room visible, creating an illusion of space.
Vintage Bathroom Remodeling Trends Fixtures
Antique/vintage bathroom fixtures are making a massive comeback in the 20s. Use these fixtures if you want your bathroom to feel like something out of an early-1900s movie. A vintage brass bath mixer and visible shower pipes in stunning 'old metal' finishes are bathroom remodeling trends to be embraced in the coming year.
Brass tones go well with glossy wall tiles – if you have those. Include a small rug and candles in the bathroom to create your own movie-like bathroom.
Wooden Touches
There are limitless options to incorporate wood into your bathroom for an earthy feel. First, you can use wood to create an accent wall. Alternatively, use wood for window and door frames, the vanity/cabinets and doors, and even your bathtub (but be sure to protect it from water damage).
Wood is quite costly to install and maintain – especially in a wet environment. Therefore, you can opt for smaller changes to bring bits of wood into the bathroom space – laundry baskets, mirror frames, or towel rails, for example.
Plants and Greens
Plants and greenery add that nature-y feel to the bathroom and contrast the stone, wood, and ceramic/porcelain surroundings. Choose perennial plants with minimal care needs, and place them where there's adequate natural light throughout the year. If you don't want the job of caring for a live plant, you can choose from a wide selection of faux plants.
Alternatively, you can bring some green into the space with paint and tiles. Whether on cabinets, frames, or walls, green evokes a sense of harmony, calm, and oneness with nature. Bold shades of green communicate luxury and harmony, while softer shades lighten up the room and give that airy nature feeling. That's precisely what you need in a room dedicated to alone time and relaxation.
Conclusion
Many other bathroom remodeling trends are coming up. One article cannot exhaust every single trend to look out for in the coming year, from uniquely shaped tiles and marble walls to sunken bathtubs and painted murals.
The most important considerations for bathroom remodeling trends are your needs and preferences. Don't jump onto an idea just because it looked lovely in a picture; instead, ask yourself whether it's what you need and want in your most private space.
Take your time to look for the best ideas within your budget, and always work with reputable contractors. If your budget allows it, consulting with an interior designer can help to bring the various aspects you need from your space in a balanced and harmonious way.