When it comes to renovating your bathroom, you want to meet your practical needs while also exuding a sense of luxury. Your bathroom should be a sanctuary, a place where you can unwind, rejuvenate, and enjoy the highest level of comfort. In fact, the blend of function and luxury in a bathroom remodel should not only be a consideration but a priority. At DFW Improved, we want to understand your unique lifestyle and help transform your bathroom into a practical and luxurious space.
Table of Contents
Create a Spa-Like Experience
Creating a spa-like experience in your bathroom is more than just an aesthetic choice; it's an investment in your well-being. Experience a bathroom blending high-end spa luxury with the familiar comfort of home. From the moment you walk in, the ambiance and features transport you to a world of calm. The attention to detail sets the stage for the ultimate self-care experience. With the right blend of functional and luxurious features, you can transform your bathroom into a rejuvenating oasis that offers a respite from the daily grind.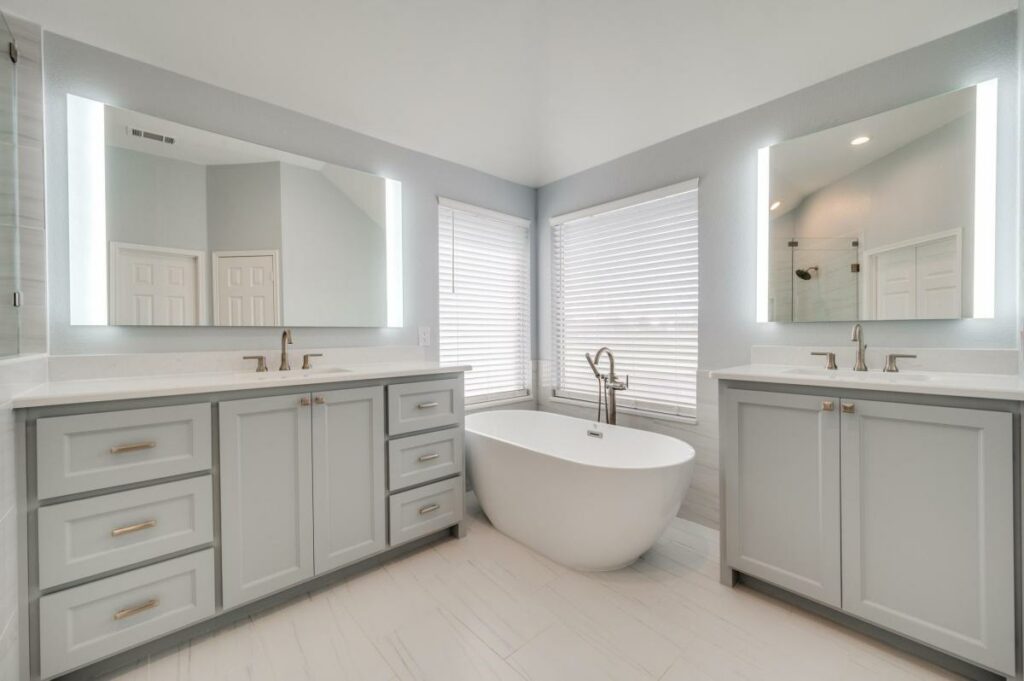 Integrate Relaxing and Rejuvenating Features
When beginning your bathroom renovation, the most crucial thing to remember is to understand your lifestyle and how you plan to use the space. Bathrooms have evolved from simple, practical rooms into plush, spa-like retreats with soothing ambiance and rejuvenating features. Whether you're unwinding after a long day or hosting guests, a luxurious master bath is vital. It should feel like an extension of your home's luxury, even in shared spaces. Incorporate elements like steam showers, soaking tubs, or heated floors to elevate the experience.
Maximize Storage for Functionality
Efficient storage solutions are the cornerstone of a functional bathroom, particularly in smaller spaces. A clutter-free bathroom appears more spacious and organized and contributes to a more relaxed and luxurious atmosphere. Whether you're unwinding after a long day or hosting guests, a luxurious master bath is vital. It should feel like an extension of your home's luxury, even in shared spaces. Thoughtfully designed storage options can effortlessly enhance your bathroom's functionality and aesthetic appeal.
Incorporating Built-in Solutions
Functionality is key when determining how to blend function and luxury in a bathroom remodel. Implement built-in shelving, cabinetry, or a vanity with ample storage to help declutter your bathroom and keep all your essentials within easy reach. Your bathroom will feel more spacious and welcoming when everything has its place.
Invest in Quality Materials
The choice of materials is paramount in the quest to blend function and luxury in a bathroom remodel. Opt for high-quality, long-lasting materials like natural stone, marble, or porcelain that are beautiful and easy to clean and maintain, further enhancing the functionality of your bathroom.
Personalize Your Bathroom
Personalization is the key to creating a bathroom that feels like a sanctuary. A bathroom remodel provides the perfect opportunity to infuse your space with elements that are uniquely yours. Create an environment that exudes comfort and luxury by incorporating colors, textures, and designs that reflect your style. Whether you gravitate toward a modern minimalist aesthetic, a classic vintage look, or a mix of styles, personalizing your bathroom allows you to create a space to unwind and rejuvenate. Tailoring your bathroom to your tastes not only enhances the luxury of the space but also deepens your connection to it, making every visit a delightful experience.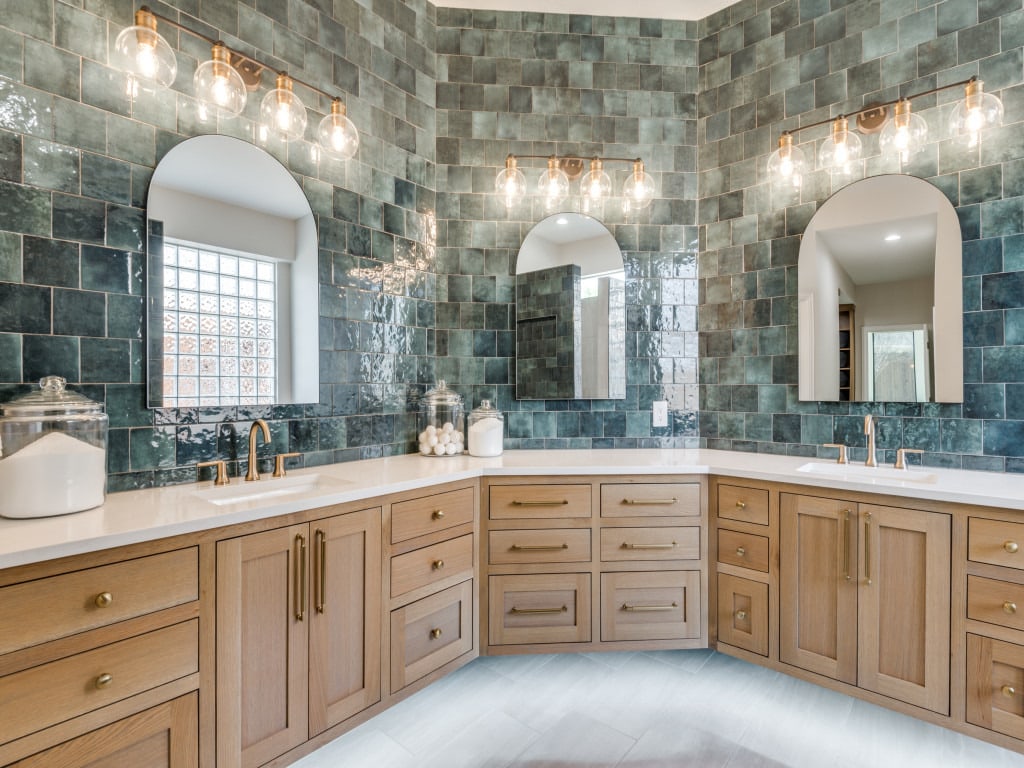 Reflect Your Style and Preferences
Your bathroom should mirror your personality and taste. Choose finishes, fixtures, and accessories that resonate with your style and harmonize with the rest of your home. Personalizing your space adds a touch of luxury and makes your bathroom feel like an integral part of your living area. Experiment with different materials, patterns, and colors to create a cohesive look that speaks to your personal style. Consider custom cabinetry, unique tile designs, or personalized hardware to add a one-of-a-kind touch to your bathroom. Your personalized bathroom should look beautiful and feel like a valid extension of your home and a reflection of your individuality.
Prioritize Proper Lighting
Lighting plays a pivotal role in enhancing your bathroom's functionality and luxury. The proper lighting can accentuate design elements, create a welcoming atmosphere, and improve the practicality of the space. By prioritizing proper lighting in your bathroom remodel, you can create an inviting and user-friendly space. When planning your bathroom lighting, it's essential to consider the different layers of lighting that will best serve your needs, from bright task lighting for grooming to ambient lighting for a relaxing ambiance. Proper lighting adds a touch of luxury to your bathroom and significantly improves its functionality, making daily routines more comfortable and enjoyable.
Incorporate Ambient and Task Lighting
Effective lighting can significantly transform the overall appearance and ambiance of your bathroom. Introduce ambient and task lighting to establish a balanced and functional lighting scheme. Ambient lighting offers overall illumination and sets the bathroom mood. Task lighting is crucial for activities like shaving and makeup. Combine recessed lighting with wall sconces or vanity lights for a cohesive, task-specific lighting design. Additionally, explore options like dimmer switches, which allow you to adjust the lighting intensity according to your needs, creating a customizable, spa-like experience. By thoughtfully layering ambient and task lighting, you can blend function and luxury in your bathroom, creating a space that's both practical and inviting.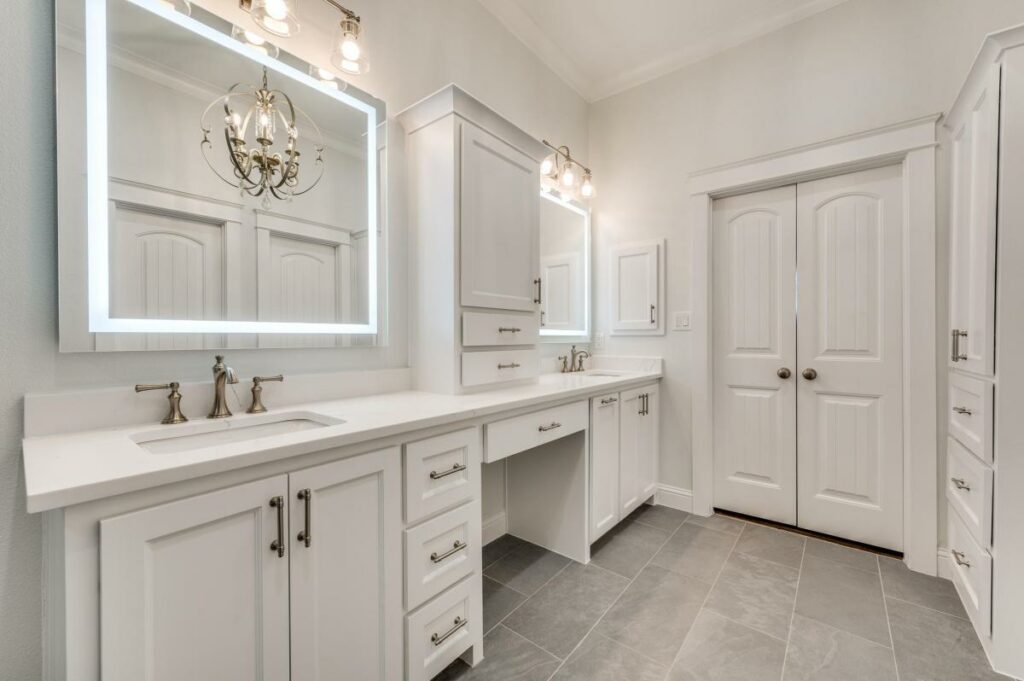 Upgrade Plumbing Fixtures for Efficiency
Upgrading your plumbing fixtures is a crucial aspect of any bathroom remodel for aesthetic purposes, efficiency, and convenience. Modern plumbing fixtures offer various options designed to enhance your bathroom's functionality while adding a touch of luxury. Efficient fixtures conserve water, reduce energy, lower bills, and enhance the bathroom experience. In addition to their practical benefits, modern fixtures come in various styles, finishes, and innovative features, allowing you to add a touch of luxury to your bathroom and create a truly tailored space.
Opt for Modern and Functional Fixtures
The right plumbing fixtures can make a substantial difference when blending function and luxury in a bathroom remodel. Choose efficient fixtures like low-flow toilets and sensor faucets to boost bathroom functionality and modern luxury. Advanced fixtures conserve water, reduce maintenance, and enhance the shower or bathing experience. Moreover, modern plumbing fixtures come in a wide range of designs and finishes, allowing you to select options that perfectly complement your bathroom's aesthetic. From contemporary faucets to rainfall showerheads, the right fixtures can elevate the look of your bathroom. Efficient, luxurious plumbing upgrades transform your bathroom into a spa-like oasis, blending function and luxury.
Conclusion
When you're looking to blend function and luxury in a bathroom remodel, planning carefully and considering your unique lifestyle needs is essential. Our skilled team can guide you through this process and help you strike the perfect balance between practicality and luxury in your bathroom. We'll ensure your bathroom seamlessly continues the lifestyle and luxury your home embodies.
Contact DFW Improved today to start your journey toward a bathroom that effortlessly blends function and luxury. Your dream bathroom is just a phone call away.