Luxury and comfort are ever-evolving, ceaselessly redefining our perceptions and expectations. We are excited to guide you through the extraordinary trends dominating the luxury home remodeling industry in 2023. These trends transform our abodes into sanctuaries that epitomize relaxation and luxury. Journey with us as we delve deeper into these trends and how they redefine the essence of a 'home.'
Table of Contents
The Future is Now: Intelligent Homes
No longer a sci-fi dream, smart homes have become the quintessence of modern living. Incorporating cutting-edge technology into our homes has moved beyond luxury – it's often seen as a necessity.
Advanced systems enable homeowners to manage home features like lighting, security, and heating via voice commands or smartphone taps.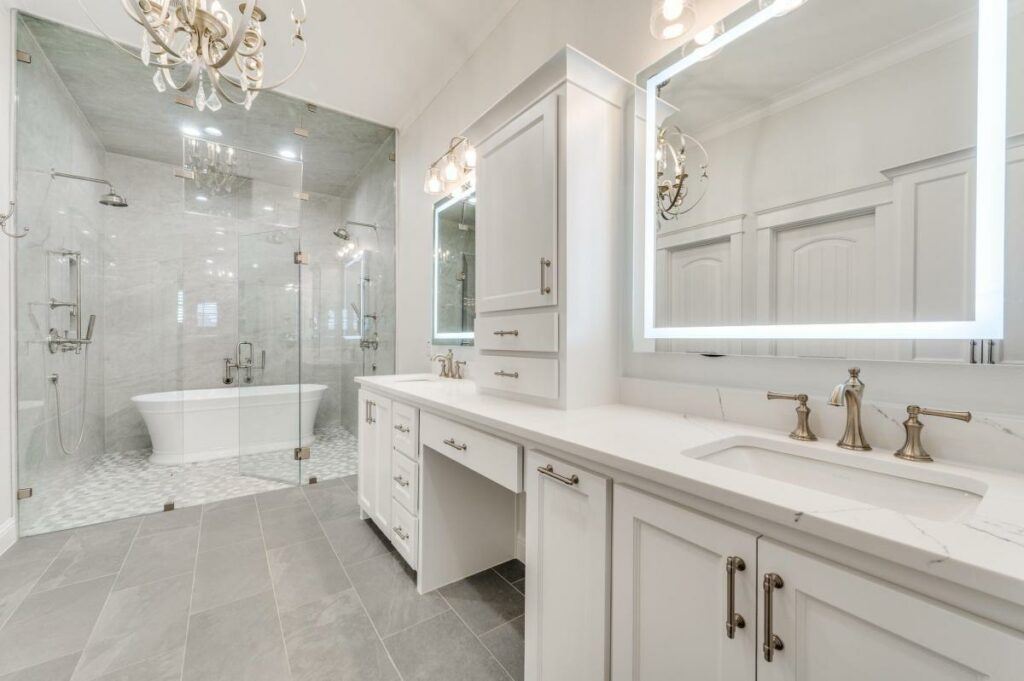 This trend is not just about the allure of commanding your home appliances; it's about converging convenience, efficiency, and security into a singular lifestyle package. Imagine the comfort of preheating your oven while you're still at the grocery store or scheduling your home's lights to give the impression of occupancy while you're away.
Home automation is not limited to controlling appliances or managing energy consumption. Instead, it's about an intelligent system that learns your lifestyle and adapts accordingly. By doing this, you save time and make your life easier.
At DFW Improved, we offer you the best smart home technology. Our team will work with you to understand your needs and expectations, designing a system that brings convenience, luxury, and security to your fingertips.
Home is Where Wellness Resides
As the lines blur between our busy lives and the tranquility of our homes, the focus on health and well-being has become paramount in home remodeling. Luxury is no longer just about opulence; it's about creating spaces that nurture the mind, body, and spirit.
Our designs incorporate wellness spaces into residences to provide a sanctuary for homeowners. These spaces are not just rooms; they are havens of serenity designed to rejuvenate you. Imagine the convenience of a personal yoga studio, a meditation room enveloped in calming hues, an indoor garden filled with purifying plants, or a bathroom that offers a spa-like experience.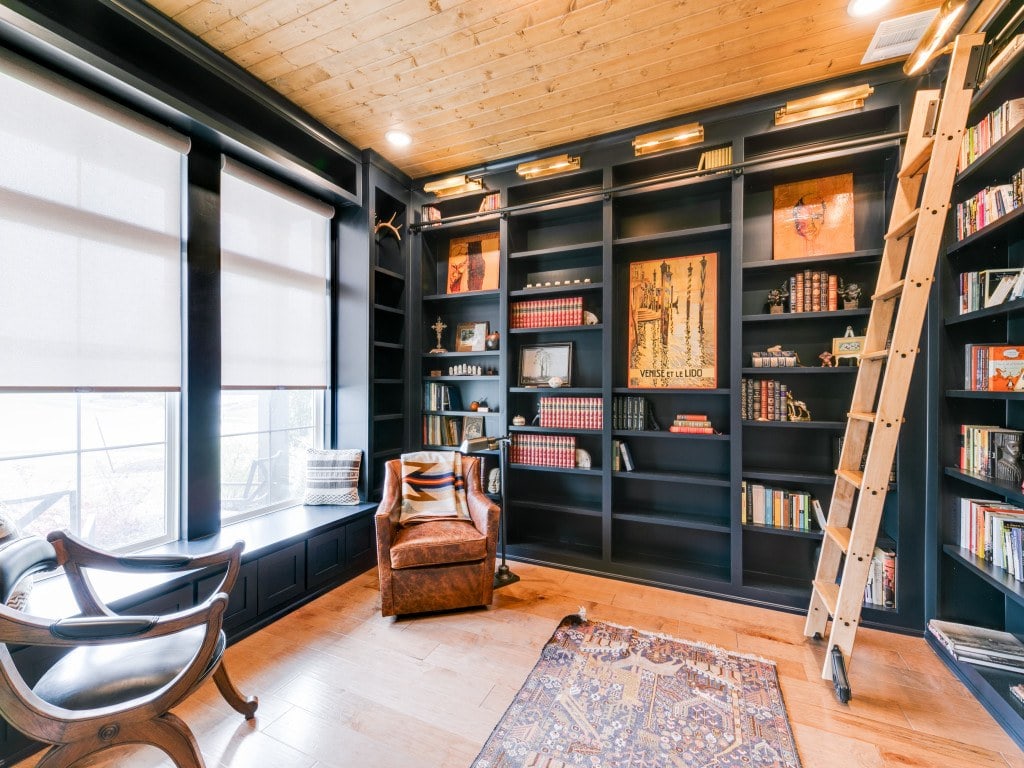 Every element in these wellness spaces can be curated to promote relaxation and rejuvenation. Our remodeling services ensure your home becomes your wellness retreat. From natural materials and soothing color palettes to calming light fixtures.
Moreover, we also acknowledge the significance of personal hobbies and passions in wellness. If you're a book lover, we could incorporate a cozy reading nook in your wellness room. If painting relaxes you, we'll create an art studio. At DFW Improved, our goal is to craft spaces that resonate with you, encouraging positivity and peace.
Luxurious Outdoor Living: The World Beyond Your Walls
Embracing the outdoors is a concept that has been introduced previously, but 2023 sees a resurgence of outdoor living in luxury remodeling. There's a newfound yearning for a connection with nature, a desire for open spaces that offer relaxation and entertainment.
We have moved beyond the basic patios and garden spaces to create luxurious outdoor living areas. These include stylish al fresco dining areas for family meals under the stars, state-of-the-art outdoor kitchens for BBQ enthusiasts, and heated patios that make outdoor lounging possible year-round.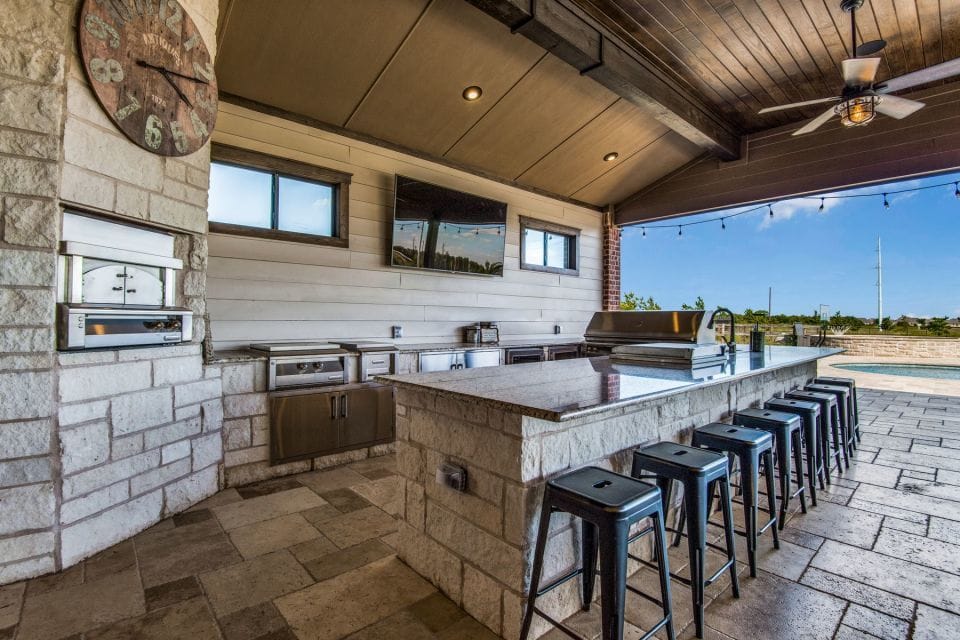 We aim to transform your outdoor spaces into an extravagant extension of your home, providing you with the luxury of a retreat without stepping outside your property. Every outdoor remodeling project we undertake focuses on creating an oasis that reflects your lifestyle and preferences, a sanctuary that you can retreat to whenever the mood strikes.
But designing an outdoor oasis is not just about adding features; it's about creating a seamless transition between your indoor and outdoor spaces. Our designs aim to expand your living spaces, blurring the lines between the interior and exterior of your home.
From selecting the right doors and fixtures that withstand the elements while complementing your indoor decor to choosing outdoor spaces that enhance your home's aesthetic appeal, our experts will guide you through every step of creating your dream outdoor oasis.
Luxurious and Sustainable: Crafting Eco-Friendly Homes
The turn of the new decade has witnessed a growing trend toward sustainability in every aspect of our lives, and home remodeling is no exception. Luxury and eco-friendliness are intertwined, with homeowners opting for remodeling that respects and compliments the environment.
Our remodeling services integrate the principles of sustainability into luxury design. We can utilize eco-friendly materials, whether reclaimed wood for your floors, recycled glass for your countertops, or organic paints for your walls. We also encourage using energy-efficient appliances and systems.
The aim is to reduce our carbon footprint and create homes harmonious with nature. Sustainable luxury is all about crafting homes that are aesthetically pleasing, comfortable, and, most importantly, respectful of our planet's resources.
We also focus on energy-efficient design principles, such as maximizing natural light and ventilation and ensuring proper insulation, which help in reducing energy consumption. The goal is to create a beautiful, luxurious, energy-efficient, eco-friendly home.
By choosing DFW Improved for your eco-friendly remodeling project, you're not just choosing a home that reflects your taste and lifestyle but one that also represents your commitment to environmental sustainability.
Bespoke Storage Spaces: A Place for Everything
A clutter-free home is the epitome of luxury. Therefore, customized cabinet and storage solutions have become vital to luxury home remodeling in 2023. This trend reflects a move towards greater functionality and personalization, focusing on creating practical and elegant homes.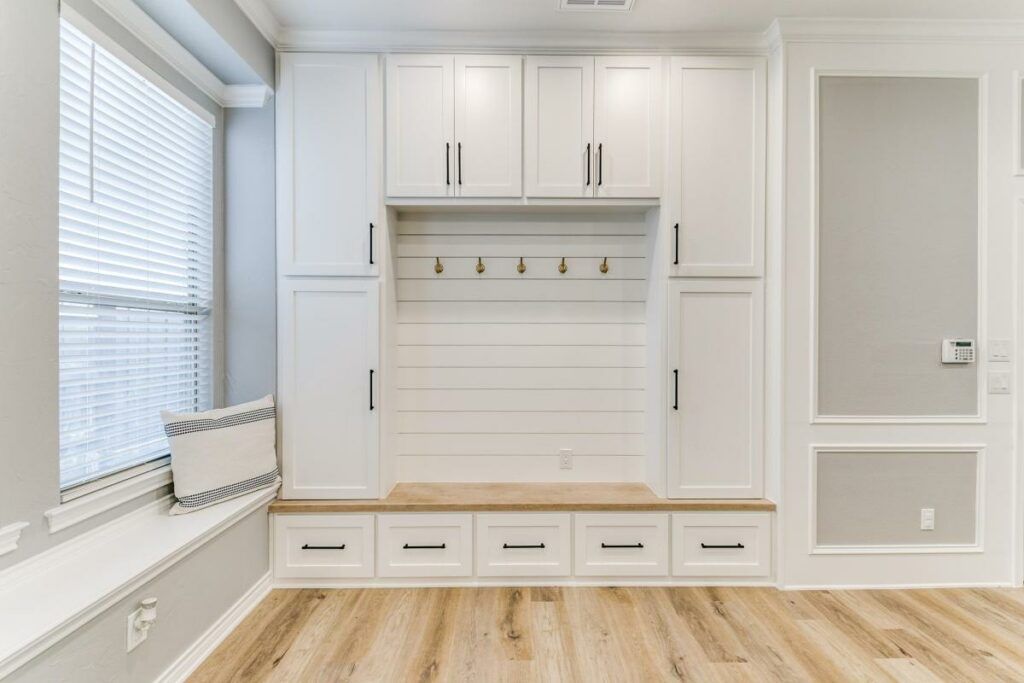 We offer bespoke cabinet and storage solutions that cater to your unique needs and preferences. From walk-in closets designed to accommodate your extensive wardrobe and accessories, to adaptable shelving units for your cherished book collection, to innovative furniture pieces that double as storage – every element is designed to maximize space and enhance aesthetics.
We understand that your belongings are not just 'things.' They are reflections of your lifestyle, your journeys, and your tastes. Therefore, our custom cabinet and storage solutions aim to provide them with a deserving place in your home, ensuring that everything you own adds to the charm of your space instead of creating clutter.
The beauty of custom cabinet and storage solutions lies in the details. We consider the tiniest specifics – the types of items you need to store, the space available, your access needs, and even the aesthetics of your interior decor. Whether creating a shoe rack that fits all your footwear perfectly or designing a display case that showcases your cherished memorabilia, no detail is too small for us.
Illuminating Luxury: Statement Lighting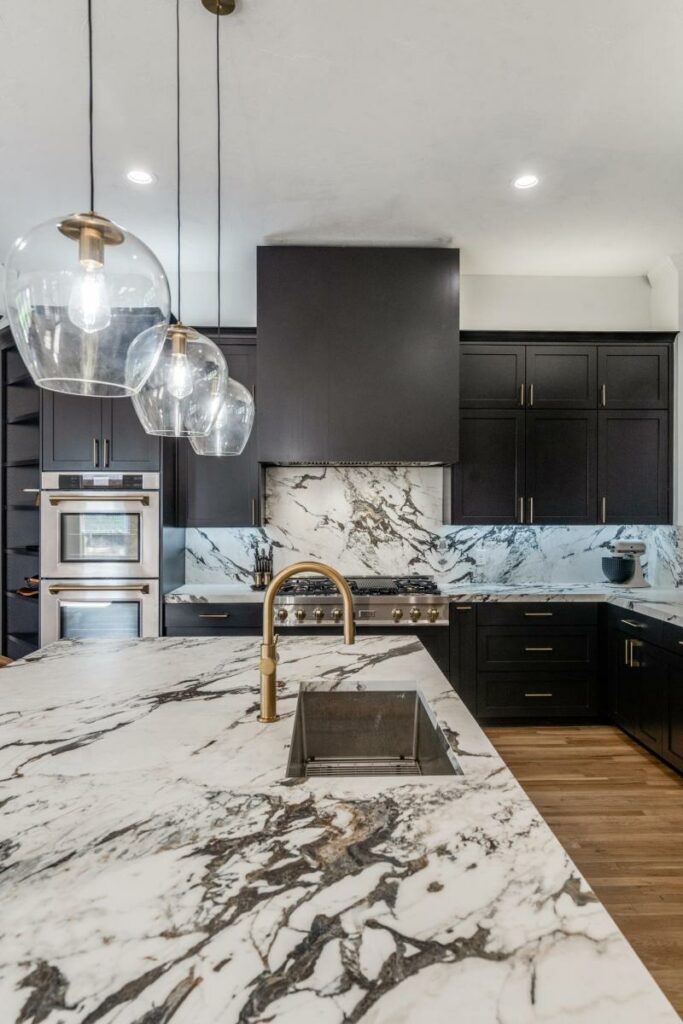 Lighting plays a pivotal role in setting the ambiance of a home. But in 2023, lighting is not just about illuminating spaces; it's about making a statement. Luxury homes are embracing the trend of incorporating bold, creative lighting fixtures as focal points and works of art.
Whether it's oversized pendant lights that add drama to your living room, geometric chandeliers that infuse a contemporary touch to your dining space, or artisan floor lamps that blend functionality with art – the lighting in your home reflects your style and personality.
Our experts can guide you in choosing lighting fixtures that complement your interiors, lifestyle, and preferences. We aim to create well-lit spaces that exude warmth and charm, making your house feel like a home.
But the significance of lighting extends beyond aesthetics. Proper lighting can make a room appear more spacious, hide design flaws, and affect mood. Therefore, we pay special attention to the placement, intensity, and color temperature of lights to create the desired ambiance and make your home more comfortable and enjoyable.
Multifunctionality: The Fusion of Luxury and Practicality
One of the most notable trends in luxury home remodeling in 2023 is the creation of multifunctional spaces. As we spend more time at home, spaces that serve multiple purposes have become essential.
Our remodeling services focus on creating spaces that are adaptable and versatile. A spacious kitchen that doubles as a cozy family room, a guest room that also serves as your gym, and a dining room that transforms into a functional home office – the possibilities are endless.
We understand that every square foot of your home is precious. Therefore, our designs aim to maximize your living space without compromising comfort or luxury. The result is a home that caters to your varying needs, a space that adapts and transforms with your lifestyle.
In creating multifunctional spaces, we focus on flexibility.
Our designs feature flexible spaces that let you transform your home according to your needs. We also ensure that the room's design elements blend seamlessly with the rest of your home. Whether it's a single room addition, remodeling of an existing room, or adding a separate structure, we provide a cohesive look for aging in place, a home gym, or a cabana.
Conclusion
The trends shaping luxury home remodeling in 2023 are a testament to the evolving definition of luxury. Today, luxury is not just about opulence; it's about creating homes that reflect your lifestyle, preferences, and aspirations. It's about merging aesthetics with functionality, tradition with innovation, and luxury with sustainability.
With us at your side, you're not just upgrading your home but crafting an extraordinary living experience. Are you ready to redefine your concept of home and elevate your living? Reach out to our remodeling experts for your next home remodeling project. Experience the mesmerizing blend of style, innovation, and luxury that only the future of home remodeling can provide. Together, we can craft a sanctuary beyond just meeting your needs and create a home that captures your dreams and mirrors your aspirations. It's time to step into the future of luxury living.
The key to achieving these luxurious remodeling trends lies in personalization. It's about understanding your lifestyle, needs, and goals and uniquely designing your home. With DFW Improved, you can be assured of a remodeling service that combines your dreams with our expertise, creativity, and commitment to quality. It's time to experience the difference that personalized luxury can make. So, are you ready to step into your dream home? Discover the latest 2023 luxury home remodeling trends! Contact our experts for your next home remodeling project. Together, we can create a home that is a testament to your taste, reflects your personality, and celebrates your lifestyle.