If you're like many people, you've spent a lot of time creating the perfect look inside your home. Whether you've achieved that or it's still a work in progress, now is the time to think about how to improve outside of your home. By covering your patio or building a pergola, you can create an outdoor living room.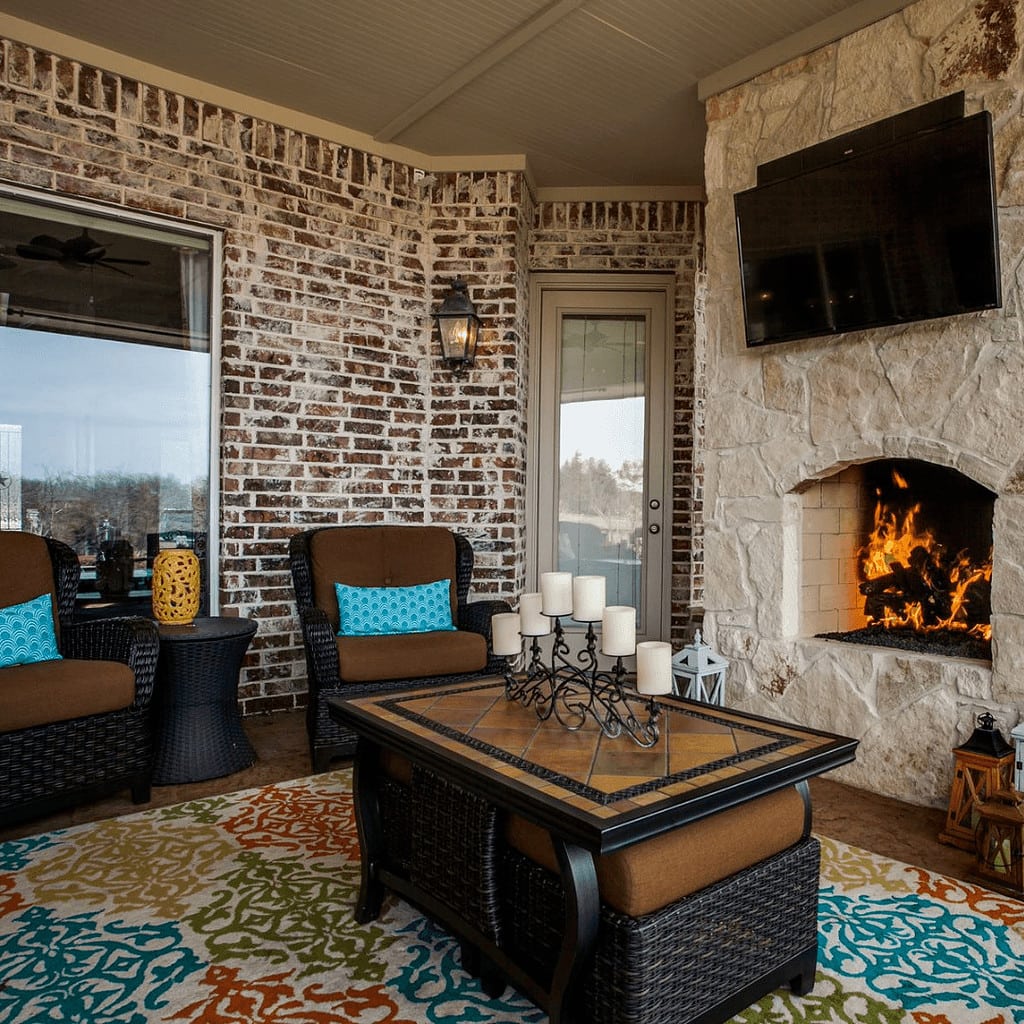 Whether you use it as a space to entertain, a backdrop for family time, or as your own quiet place to relax, outdoor living space adds value and functionality to your home and enjoyment to your yard. When you create an outdoor living room, you start to enjoy the benefits immediately.
Table of Contents
Add Space to Your Home
An outdoor living room gives you additional space where you can live, relax, and spend your time. Outdoor spaces are typically used as a hybrid of a living room and dining room. If you like to grill, that space can also double as an outdoor kitchen. This provides an extension of your home's available living space, making your home the ideal destination for parties, events, or simple dinners with your family. The first step is determining what type of outdoor living room is right for you.
Covered Patio or Pergola
Both options offer shade solutions which can bring relief on the hottest summer days, but there are differences between the two. A patio cover is a typically an open-air roof extension, whereas a pergola is a self-supported structure with latticed roof beams. Homeowners these days frequently add retractable canopies and covers to pergolas to offer additional sun and rain protection.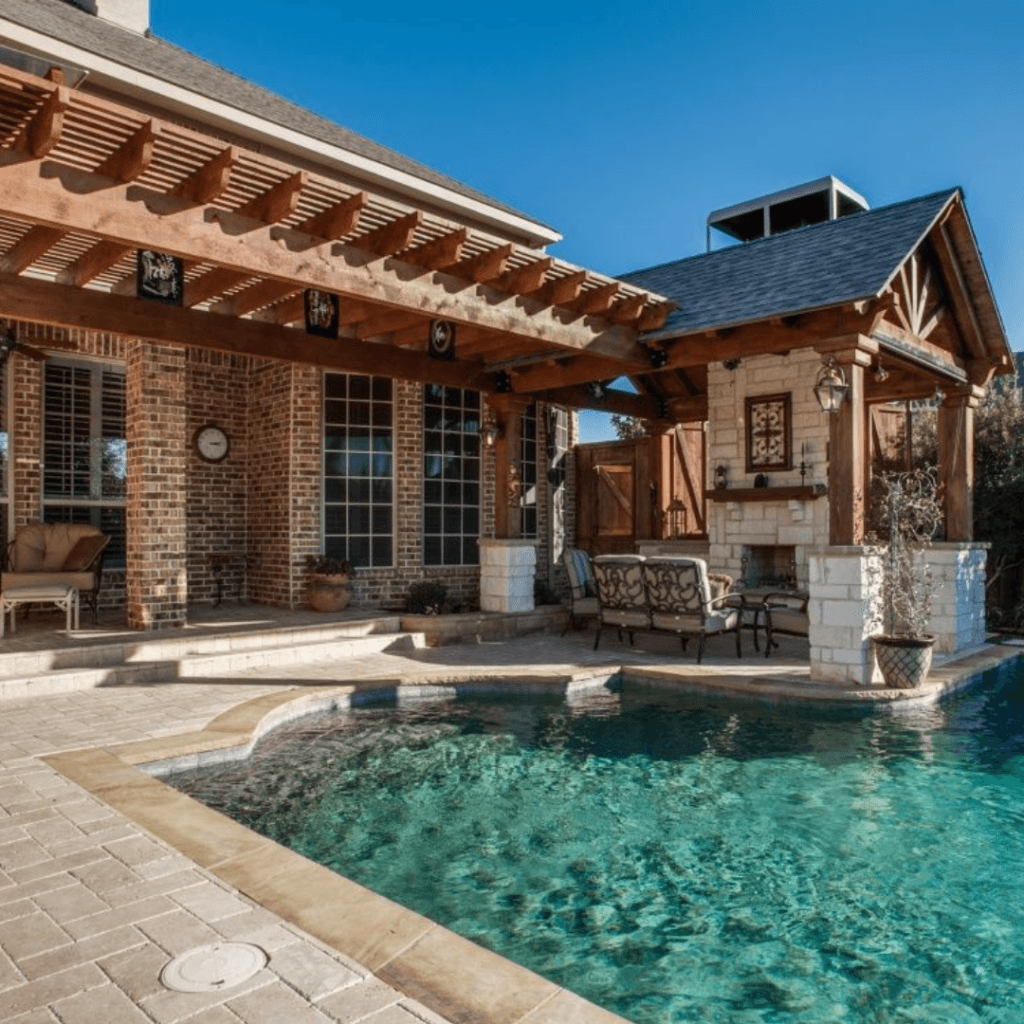 Since covered patios are essentially an extension of your home, they tend to be slightly more expensive. However, if your primary goal is to have a fully covered area that can provide more extensive coverage from the elements, then a covered patio might be right for you. Ultimately, depending on your home needs and style preferences, both covered patios and pergolas are wonderful options for transforming your home and creating your own unique outdoor living area.
Furnish your Outdoor Living Room
Once your patio is covered or your pergola is installed, it's time to furnish your outdoor living space. A few things to consider when you start furnishing will be overall aesthetics, durability, weather conditions, and functionality. Cast aluminum patio furniture is the classic choice due to its lightweight and durability against the elements. However, if you decide that aluminum doesn't fit in with your design sensibilities, then you might want to look into synthetic resin or teak wood furniture.
If you choose synthetic resin, make sure you go with a High-Density Polyethylene wicker for your synthetic resin or else it will likely crack or become brittle. Teak is a favorite wood for outdoor furniture. Unlike pine or cedar that should be stored indoors during the winter or inclement weather, teak furniture can last up to fifty years outside. All of these furniture materials come in a variety of designs and styles and can complement almost any design style.
Build an Outdoor Kitchen
The kitchen is the most popular room in the house for a reason. It's where people gather to eat, socialize, and make lasting memories. An outdoor living room is the perfect place to add a kitchen to your home and transform your backyard into a gathering place. It's always easier to entertain outside, especially when you have an outdoor kitchen or grill where you can do all the cooking. And why stop at just a kitchen or a grill? You could add a pizza oven or fire pit to host homemade pizza parties and s'more nights. The team at DFW Improved is ready to help you build cabinets, select countertops, and help install a stove or grill that will make cooking and entertaining easier and more efficient.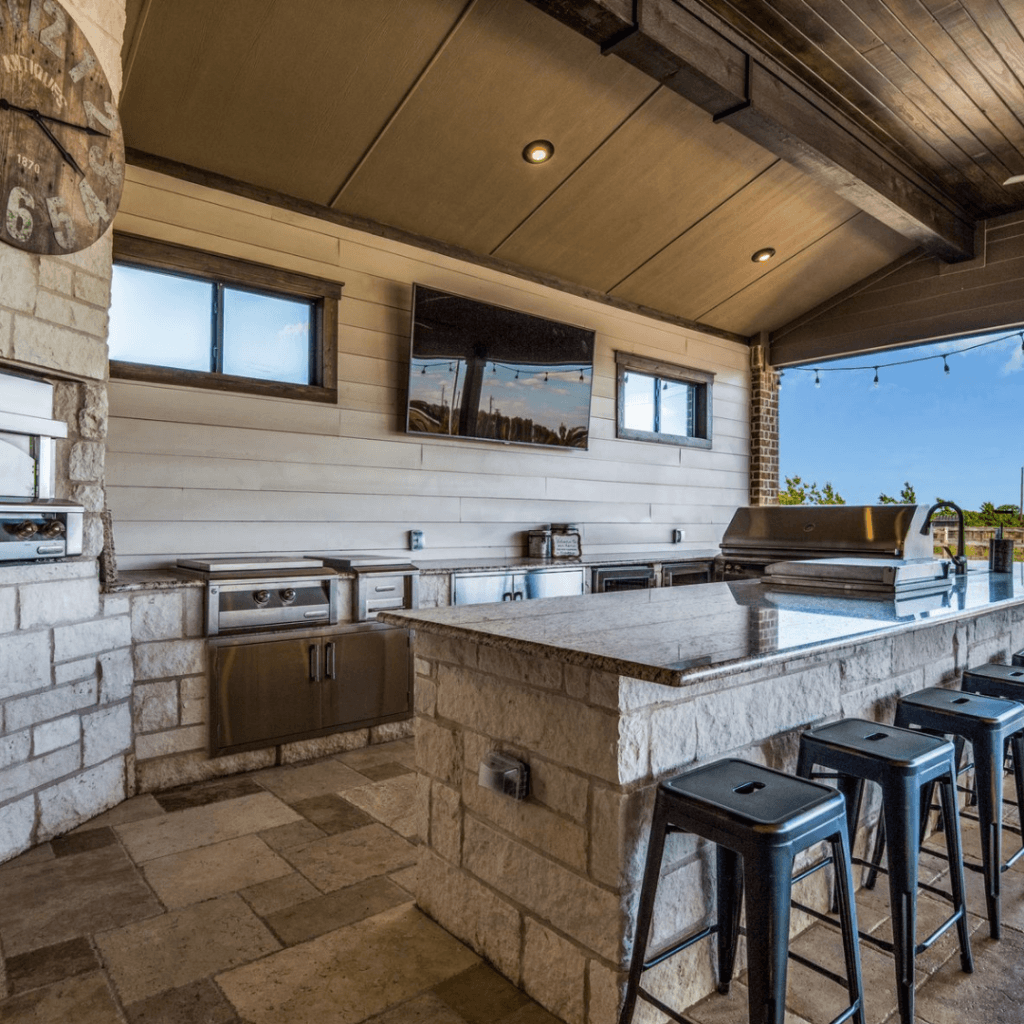 Improve Your Comfort
Covering your patio or building a pergola allows you to create an outdoor living room with similar comforts to other rooms in your house. It also allows you to enjoy nature without being affected by the weather. A patio cover allows you to hang drapes or shades to block wind and bugs while protecting your outdoor furniture. Outdoor umbrellas can work wonders in providing extra coverage from sunlight on your patio as well. Decorating and furnishing your outdoor living space can turn a plain backyard into a place that truly feels like your own.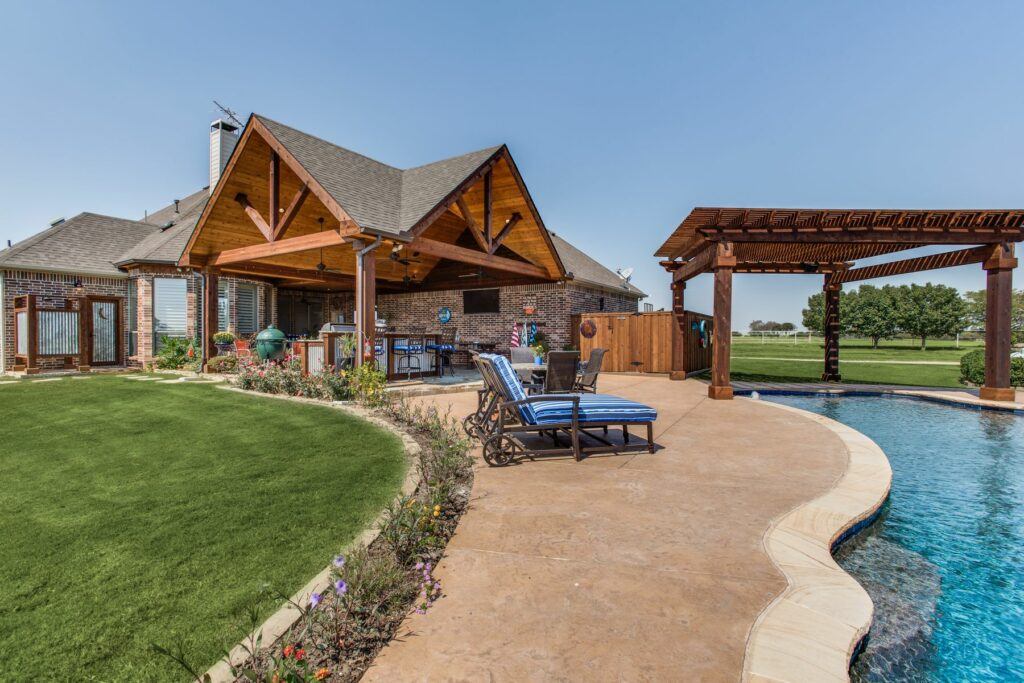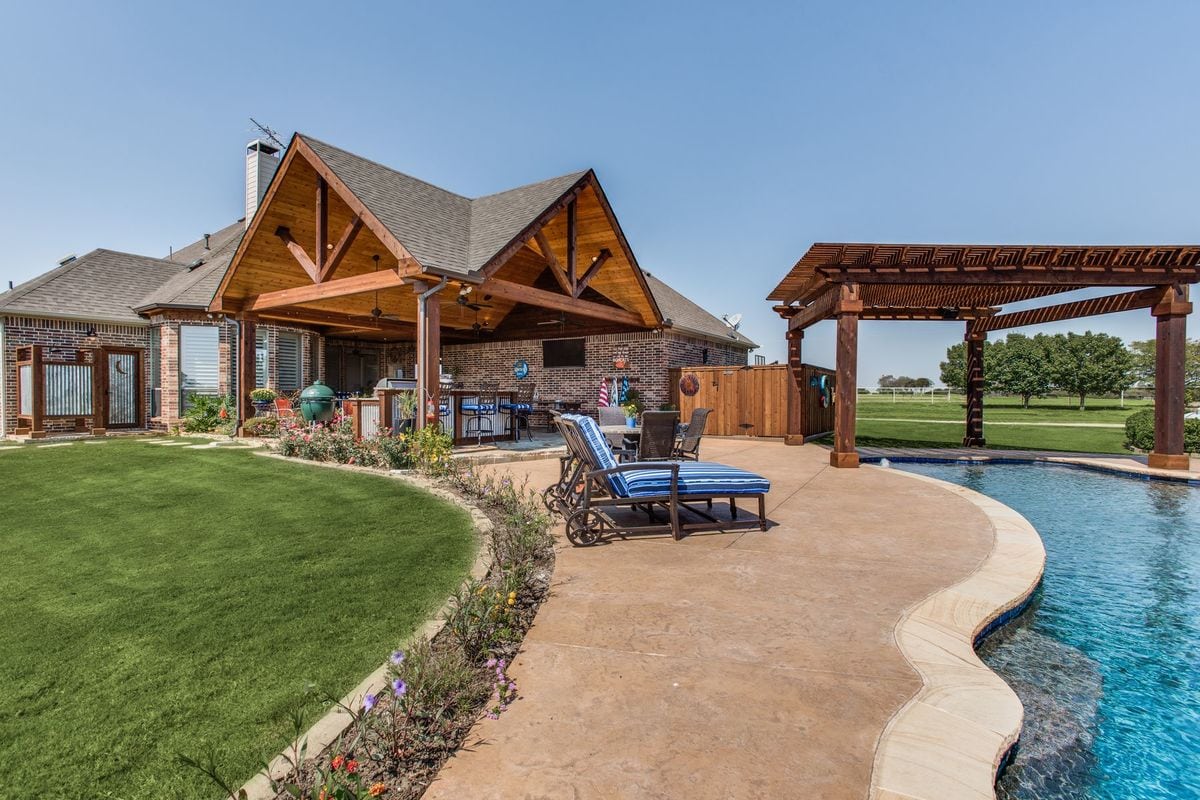 Pick your style
Common styles include Boho Chic, Farmhouse, Mediterranean, Asian Inspired, or Rustic. Picking what's right for your house will depend on your current home design, patio space, and personal tastes. Your patio flooring will also greatly inform your personal style choice. Will you be building on cement, wood, tile, brick, or poured concrete? What other features outside your house will you want to incorporate into your patio? Incorporating a pool or outdoor fire pit can really shape your patio style, as can existing walls, trees, or garden plots.
Have Fun Decorating
Let's face it, it's fun getting to decorate a new room. When the space is protected from the elements, you can be a little more generous with how you decorate it. It's not uncommon to see curtains, rugs, throw pillows and wall art in an outdoor living room. You can bring almost any comfort you enjoy inside, outside. Feel free to get creative and try the decorations you've always toyed with doing indoors. Add a splash of color to your throw pillows, exercise your arts and craft skills and paint some chairs, add a brightly colored backsplash to an outdoor kitchen, or repurpose some vintage furniture. With an outdoor living room, the backyard truly is your canvas.
Entertain in Style
When you create an outdoor living room, it provides you with an extra space to entertain. Your new space is sure to 'wow' friends and family with your beautiful pergola or patio cover. You could even elevate your party game by adding a sound system to the patio to set the mood for a casual dinner party with friends, while also setting the stage to clear your furniture and dance. A well-designed outdoor living room can set the stage to maximize the time you spend with friends and family to ensure your conversations extend long into the night.
Increase Your Home's Value
Whether you create an outdoor living room for more space or to entertain, a well-planned outdoor space increases your home's value and makes it more appealing to potential buyers. If you decide to include additional features, such as an outdoor fireplace or kitchen, you will further increase the value of your home.
DFW Improved would be delighted to transform your outdoor living space into reality, regardless of your patio style and vision. Contact us today to schedule a consult and provide you an estimate.