The dropping of the temperatures and falling leaves are two signs that colder weather is coming. Nearly everyone is familiar with spring cleaning, but most rarely think about the fall equivalent. Just as important as spring cleaning, doing home maintenance and repairs in the fall can help keep your home from being damaged or losing heat in the winter. It can also keep your home and yard looking in the best shape possible. As homeowners, there are several checks and home maintenance items that are important to take care of to prepare for the change in seasons. Follow these maintenance guidelines to help reduce your winter workload.
Table of Contents
Indoors
Heating Unit & Fireplaces
This is the time of year to get your heating unit checked. It's likely been unused over the summer months, so you'll want to have a professional come in to make sure the unit is working properly. It's also a good idea to have any ductwork checked for leaks or damage. This will help save a bit on your heating bill and increase the heating unit's life. Fireplaces should also be inspected and cleaned before using them this winter.
Air Leaks
Ductwork isn't the only place a leak can spring up. Redo the caulking around windows, vents, and doors. This will help keep the heated air in your home and reduce the amount of stress on your heating unit. It'll also help keep cool breezes from blowing through. Check the roof for loose shingles and any damage to keep water from getting in and warm air from escaping.
Pipes
Don't forget to check all of the water pipes in your home. Look for any leaks and repair any that you find. Take this time to prepare pipe insulation for indoor and outdoor pipes before cold weather sets in. The insulation can save you a lot of trouble from frozen pipes. Also, redo the caulking around the bathtub and sinks to keep water from seeping into the walls or counters.
Kitchen
Fall and winter home maintenance is a great time to tackle the kitchen. Always remember to replace or clean the filter cover for your vent hood, removing all built up grease and debris. Remove and replace the filter for the refrigerator water supply to help keep your water clean and usable. Check the supply line on the refrigerator and the dishwasher to ensure that there are no leaks at any of the connection points. Check the dishwasher drain line for any kinks, and check the doors and interior of the dishwasher for rust. While you're at it, take some time to clean the bottom of the dishwasher of all excess food or debris.
Laundry
When doing home maintenance, be sure to inspect the water supply lines at the wall box and verify that no water is dripping. Inspect the water drain line and ensure that it is firmly attached to the wall drain. Your dryer vent line should also be inspected for dust and debris. Be sure to clean all ducts and surrounding areas. Dryer vent dust and debris is a fire hazard and should be removed at the earliest sign of buildup. Birds and Animals love to build nests and homes next to or inside a warm air source. Check that the exterior dryer vent is fully functional and free of any obstructions for complete air flow.
Bathrooms
Clean the discharge or supply part of your faucets in the bathrooms. This usually has an Aerator installed that can be turned and spun off. The filter has a small screen that catches debris and mineral buildup. If left unattended and not cleaned, mineral deposits can build up and cause the flow of water to decrease and eventually stop. It is also important to use this time to turn on any bathtubs or sinks that don't get used often. The hot/cold water cartridges can freeze up over time when not used, causing you to have to replace the faucet or valve completely.
Always be sure to inspect showers, tub drains, and P-Traps. This includes cleaning out debris that may have built up. Inspect the rubber seals on overflows and sink pop ups and replace them as needed. The rubber gasket on a sink or overflow is the last line of defense before water leaks into the surrounding areas in your home's walls. It is also typically the first piece to break. A rubber gasket that fails at a vanity cabinet can leak into the lower cabinet and not be seen until the floor collapses. A $5.00 repair could end up saving you thousands of dollars.
Check for leaks in your pipes and continuously running or dripping water in your toilets. If your toilet is over 5 years old, is used often, and is on the 2nd story, consider replacing the wax seal. Leaks are extremely common as toilets get older but are avoidable with preventative maintenance.
Smoke and Carbon Monoxide Detectors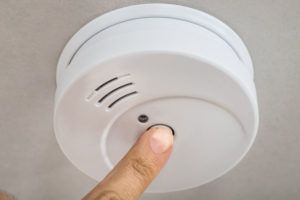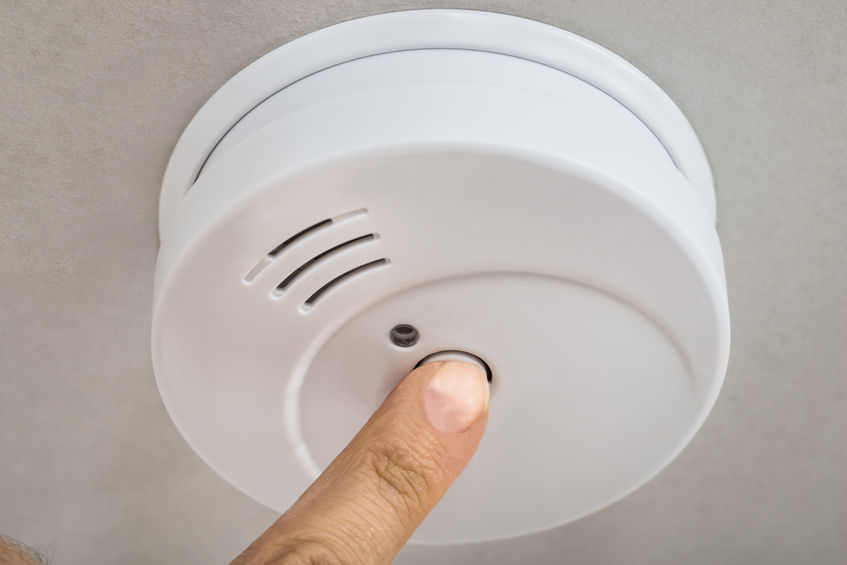 An important part of fall home maintenance is replacing the batteries in your smoke and carbon monoxide detectors, or even replacing the units entirely if needed. Hold down the test buttons and ensure that all alarms go off throughout the home if they are wired together. If a unit is beeping or has an indicator light flashing, refer to the units' information guidelines to determine the cause of the alert. If a unit is constantly chirping and you can't diagnose it, it is best to replace it immediately and not just unplug it.
Winter Supplies
As winter weather rolls in, take a look around your home and determine what winter supplies you need to restock. Do you have an alternative heat source and fuel for that source? Enough batteries for flashlights? Blankets? Once you've figured out what you need, consider gathering it all together in one place for easy access if it's ever needed.
Outdoors
Yard Maintenance & Outdoor Living
All of the beautiful fall colors collecting in your yard are nice to look at, but they could lead to some pesky problems. Dying foliage and other debris stacking up around your home make an ideal home for a host of insects and other creepy crawlers. These pests often find their way into your home during cooler weather. Keep leaves raked up and away from your house to reduce the risk of infestations.
This is also the time to prepare your outdoor living space for colder weather and the harsher elements. Make sure your outdoor kitchen appliances are covered and protected, and clean and store or cover your outdoor furniture so that it's ready to use when you need it next.
Sprinkler Systems & Faucets
Preparing your sprinkler system and outdoor water pipes and faucets for freezing temperatures is a crucial step to fall and winter home maintenance. It's important to make sure that your sprinklers are turned off in the winter. But don't forget, even when your sprinklers aren't turned on, water still sits in the pipes underground. This means that once the temperatures drop, your pipes are in danger of freezing and damaging your entire system. Calling a professional to come and winterize your sprinkler system before the freezing temperatures hit is the best option to ensure that your sprinklers are ready and running efficiently come Spring.
Roof
Fall is the perfect time to perform all of your roof maintenance as we prepare for the cold winter weather. The hot summer heat will take a toll on your roof shingles and vent pipe flashings, making your roof unsuitable for the potentially harsh winter climate. A roof inspection is recommended to check the overall condition of your roof. With the potential for granule loss, broken or worn down seals, and damaged shingles, your home could be at risk for water leaks and air loss.
Gutters
This is also an important time for keeping gutters clean. With all the leaves and debris blowing around, gutters can get clogged or damaged easily. Rain water can overflow out of clogged gutters and create a mess of your yard.
Walls, Windows & Doors
Check the seals on your windows and doors to help prevent warm air from escaping and cool air from entering in. This could pose a huge problem with your electric bill and cause your house to sit at an uncomfortable temperature all season. Replace damaged or worn down seals and cracks, and take the time to caulk if needed. Make sure all hinges are in good, working condition, and that your doors and windows shut properly and completely.
If you find any siding or trim that needs to be repaired or replaced, it's important to do so. Not replacing cracked or rotted siding can also result in water leaks or warm air escaping from the inside of your home. This would also be a good time to give your house a fresh coat of paint. Not only will this help conceal the repairs, but it will also freshen up your home for spring.
Hiring a Contractor
There are always things that a homeowner can, and should, take care of on their own throughout the year. But there are also other home maintenance projects and repairs that are jobs for skilled contractors. For example, a sagging roofline tends to indicate a deeper problem. Adding new shingles will only be an expensive "Band-Aid" for what is really going on underneath. Contractors know and understand the different layers and components of a home. They can easily figure out what it may take to repair the damages properly and efficiently, saving you time, money, and stress.
Learn More: Why DFW Improved
Can A Handyman Handle It?
If you need a pet door installed or a fence painted, a handyman may be an adequate choice. However, many more complicated home maintenance projects require more in-depth knowledge and understanding. For example, construction expertise and plumbing proficiency are both required when a wall must be opened to fix a leaky pipe. A general contractor isn't a solo operator or a one-man band. He's a team player with an array of professionals at his disposal to call upon when the job demands it. An experienced contractor also has the management skills to oversee the team and ensure that all work meets the requirements of the building code as well as your expectations.
What We See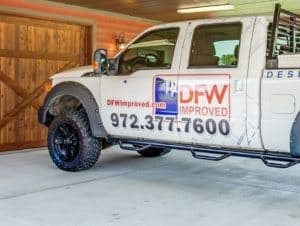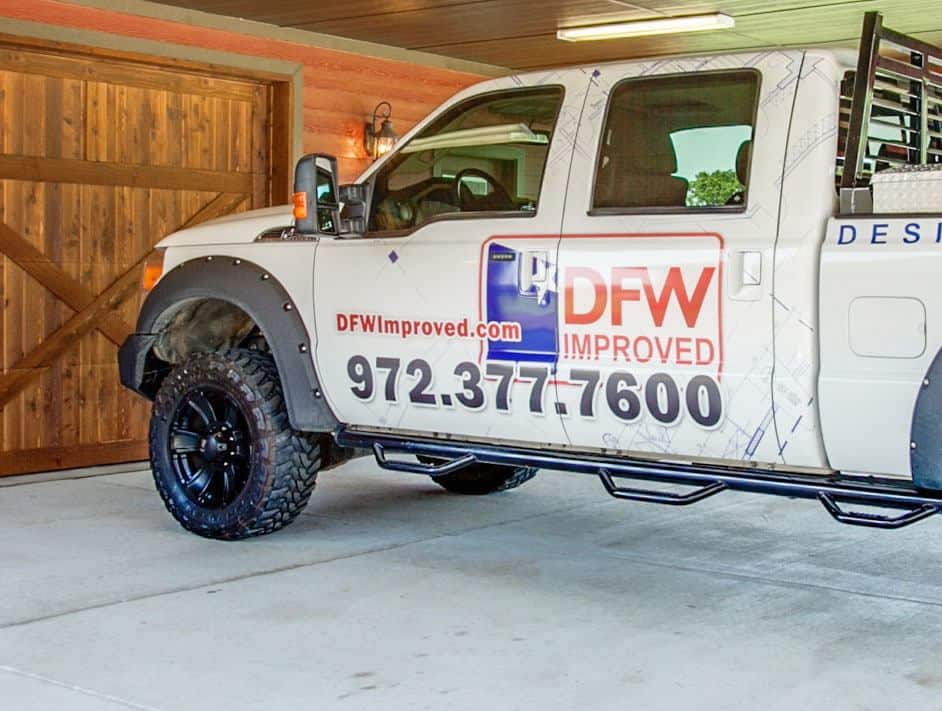 At DFW Improved, we often receive calls for simple repairs that end up pointing us to bigger issues. For example, cracks at the corners of windows or in the ceiling could indicate that there is a problem with the foundation of your home. A bowing ceiling could be caused by a problem with the joist supports. And one rotted piece of exterior corner trim may mean that the rest is not far away from needing to be repaired as well.
Unfortunately, there are ways to 'cover up' all the issues that can come up in a home. Doing home maintenance projects yourself or calling a handyman to come and work on the repairs may get it done cheaper now, but you could end up paying a lot more later. Band-Aids don't stay on forever. While a handyman addresses the initial problem, contractors see the various layers of your home and take care of all of the issues lying beneath the surface.
What About Licensing?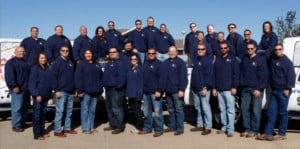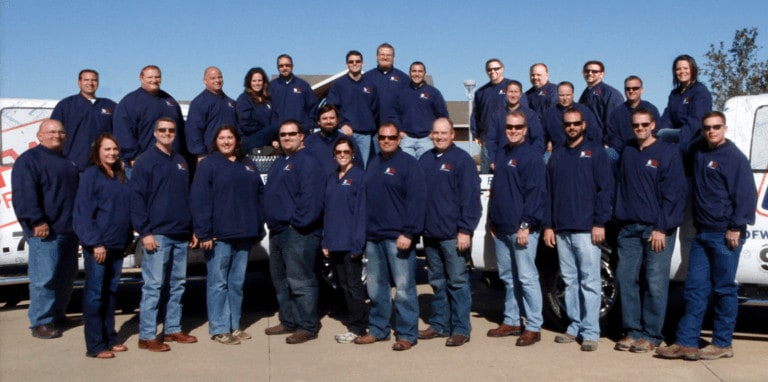 In Texas, no license is required for a general contractor or a handyman. However, certain specialty trades that are frequently a critical part of home maintenance, repair, and renovation do require licensing. The common denominator is that these license-holders must pass an examination and/or provide other proof of professional experience and proficiency. Contractors in these trades are also required to carry a certain level of liability insurance to protect homeowners.
The Texas Department Of Licensing And Regulation (TDLR) regulates contractors that install, repair, or maintain air conditioning or heating systems. The TDLR website cautions Texas homeowners that "contracting with an unlicensed individual for air conditioning or heating repairs can be hazardous." Similarly, the TDLR also requires licensed electricians for any work that involves installation, maintenance or modification of electrical wiring indoors or outdoors in a home or business. To install major appliances in a home, the state requires a Residential Appliance Installer license. The Texas State Board of Plumbing Examiners regulates the testing and certification of plumbers who repair, replace, maintain or install any plumbing in residential or commercial structures.
Do Contractors Have Insurance?
As we mentioned, licensed contractors are required to carry a certain level of liability insurance. General liability insurance protects you if someone working for the contractor on your property is injured. If you hire someone who isn't insured and they enlist a buddy to help, you could end up financially liable if an accident occurs. Most reputable contractors also carry workers compensation insurance. Because they're in business to stay, established contractors have invested considerable money in getting and retaining proper insurance. Most contractors are more than happy to show proof of current insurance on demand.
When it comes to fall and winter home maintenance and repair, make sure that it gets done correctly. Hiring a contractor can save you time, money and energy, and give you peace of mind so that you and your family can enjoy your home all season long.